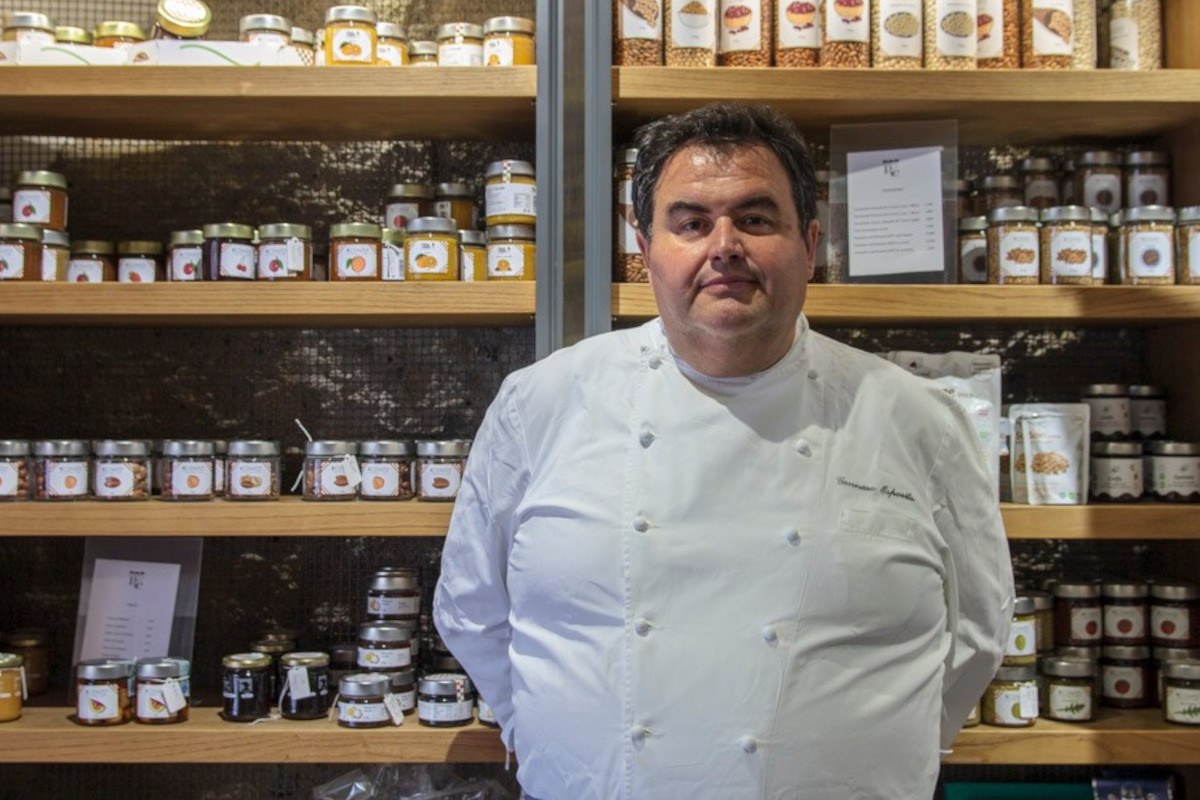 The Mediterranean Diet (in 2010) and Japanese cuisine (in 2013) are two food models recognized by UNESCO as an Intangible Cultural Heritage of Humanity. Together they form a combination of culinary traditions, which "married" on March 29 in Campania thanks to an idea of Alma Seges – a fruit and vegetable producers' cooperative from Campania. At its headquarters in Eboli (Salerno), the cooperative hosted a delegation of restaurateurs they met during the latest edition of Foodex Japan in Tokyo.
After a tour of the company's facilities, a fusion aperitif was offered by Michelin-starred Chef Gennaro Esposito (pictured), who created a twinning of flavors between products from the Sele plain and topics from Japanese food trends. The symbol of this meeting were artisanal colombas prepared with fruits from the Sele plain, a top-of-the-line Alma Seges food for Easter, and a well-wishing sign of friendship to fly together in foreign markets.
Discover authentic Italian food and beverage on the Italianfood.net platform
"We decided to propose to Europe and Eastern markets very interesting products based on fruits and vegetables, processed and packaged with artisanal methods only. Modern and innovative agriculture" explained Alma Seges President Aristide Valente, "which proudly carries the name and history of the Sele plain."
WHAT JAPANESE LIKE ABOUT ITALIAN CUISINE
Over the past decade, the popularity of the Mediterranean Diet has greatly increased both in Japan and the rest of Asia. What the Japanese prefer about traditional Italian cuisine is the use of high-quality raw materials, as well as the care behind simple and tasty dishes. That is the love for the products of the earth, the respect for seasonality and nature, and the consistent biodiversity that comes to the table.
JAPANESE RESTAURATEURS ON TOUR AT ALMA SEGES
The Japanese restaurateurs were taken to Alma Seges' production premises, and then to the processing workshops where they could appreciate the sensory experience and range between flavors thanks to tastings curated by Gennaro Esposito.
"Food companies must look at the market with different eyes, focusing on seasonality and the transformation of excellence but also with artisanal methods, as was once done. With ethics and respect for the naturalness of the products," said Chef Esposito.
AN APERITIF HALFWAY BETWEEN CAMPANIA AND JAPAN
Among the dishes of ancient rural cuisine that were reintroduced were Giardiniera sauce, spring onion and fennel vegetable Genovese sauce, pumpkin cream, small salads, and a wide variety of vegetables in many combinations, all in fusion pairings between the Mediterranean Diet and trendy Japanese food. All dishes were dressed with extra virgin olive oil.
SELE PLAIN'S "EASTER COLOMBA" IS A SIGN OF FRIENDSHIP
The meeting ended on the sweet notes of Easter colombas, prepared with care and attention according to a recipe created by Chef Gennaro Esposito and made exclusively with high-quality ingredients and typical local fruit: pellecchiella del Vesuvio apricot, annurca apple, cinnamon, berries, local oranges, and pistachios and white figs from Cilento.
The visit is part of the Campania region's program of initiatives, in agreement with the Italian Embassy in Japan, to support typical local products.
© All rights reserved