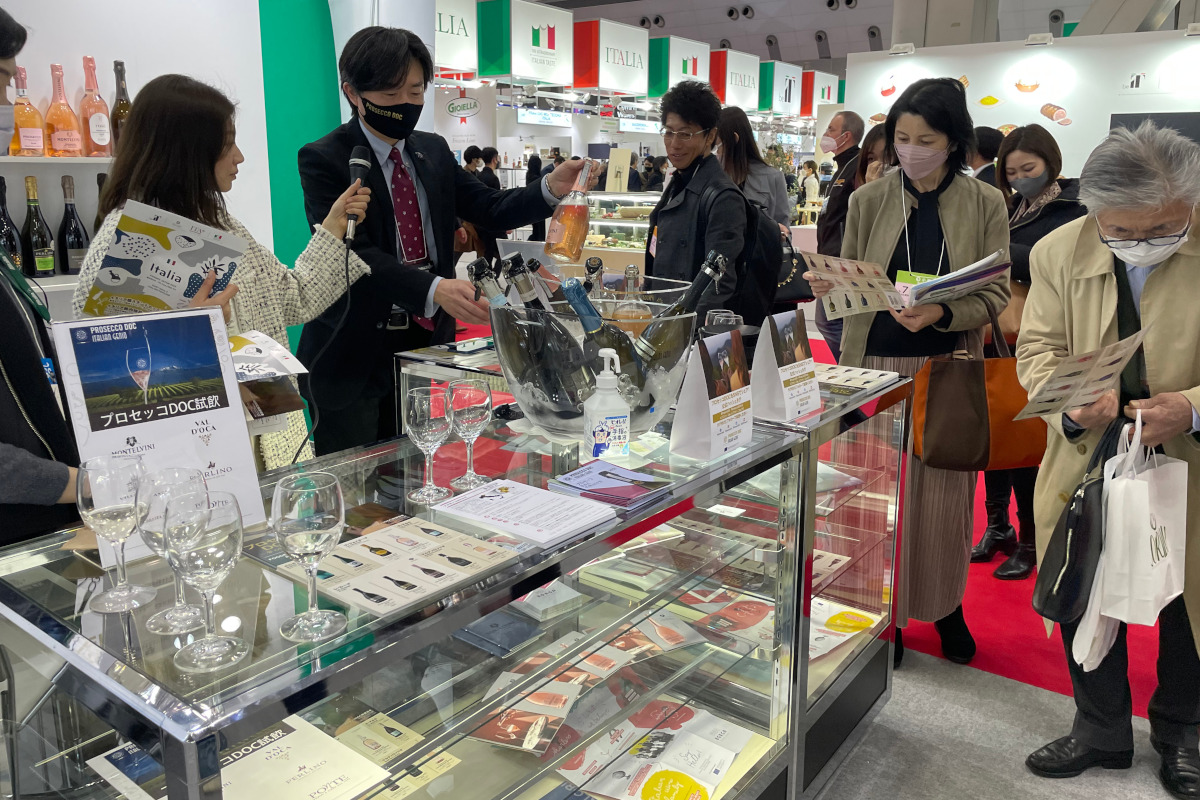 The mission organized by the Prosecco DOC Protection Consortium to promote Italy's most famous sparkling wine in one of the most demanding markets – Japan – has recently, and successfully, ended. At the moment, Japan is one of the best markets in Asia for Prosecco DOC, with an import trend increasing by +5 percent from 2022 to 2021, amounting to about three million bottles. The mission was organized in collaboration with the Italian Trade Agency Tokyo, the Italian Embassy, and the Italian Chamber of Commerce in Japan (ICCJ).
The President of the Prosecco DOC Consortium, Stefano Zanette, says, "Japan is a difficult and demanding market, coveted by all especially in the luxury segment as the average consumer demands a lot. But he is also able to appreciate quality. This recognition is an important result, which encourages us to continue toward a continuous search for improvement in quality."
Discover authentic Prosecco and Italian sparkling wines on the Italianfood.net platform
FOODEX JAPAN
For the fifth time, the Consortium attended Foodex Japan. The 48th edition of Asia's largest specialized food&beverage exhibition was held in Tokyo Big Sight Hall.
This year Foodex Japan exceeded 73,000 visitors, up from 33,000 in 2022. Over the course of the four-day exhibition, at the Consortium's booth manned by a professional sommelier and brand ambassador of Prosecco DOC in Japan, Mr. Akira Mizuguchi, industry professionals, journalists, and wine enthusiasts had the opportunity to taste more than 23 types of Prosecco DOC offered by Cantine Borga, La Gioiosa, La Marca, Le Rughe, Martellozzo, Masottina, Montelvini, Perlino, Torresella, Val D'Oca, Villa Sandi, and Viticoltori Ponte.
AFTERSHOW FOODEX BY ILIF
Prosecco DOC was also the star of the Aftershow organized by I Love Italian Food (ILIF), a spin-off event of Foodex Japan intended to celebrate Italy's F&B, at the residence of Ambassador Gianluigi Benedetti. About 120 selected guests, including top chefs, journalists, influencers, and stakeholders were present. They tasted labels from Bottega, Botter, Ca' Bolani, Cantina Pizzolato, De Stefani, La Gioiosa, Le Rughe, Mionetto, Perlino, Tenuta Sant'Anna, Terre dei Buth, Torresella, Villa Sandi, Viticoltori Ponte, and Zonin, accompanied by a menu of Italian products of excellence created by Neapolitan pizza-maker Peppe Errichiello.
MIMOSA DAY BY ICCJ
Prosecco DOC was also a partner and official sparkling wine of the third edition of the Mimosa Day, organized by the Italian Chamber of Commerce in Japan (ICCJ) in Tokyo. ICCJ General Manager Davide Fantoni says, "We are extremely happy with the results, and also with the fact that brands linked to the most effervescent moments of life, like Prosecco Doc, accompanied this initiative giving a message of solidarity to Japanese women."
This year's theme was the Yellow Sustainability understood in all its forms, not only environmental and economic but also social and ethical. The goal was to bring out the historical value of World Women's Day and to promote the achievement of gender equality in a country where there is still little awareness of the issue.
Then, Prosecco DOC was once again the star of the toast at the Italian Ambassador's residence in Tokyo to accompany the panel discussion about "Sustainability & inspiring female leaders" supported by Enel X Japan. In attendance were 50 guests from major Japanese companies, including representatives from Asahi Corporation TV, Mitsubishi Research Institute, and the Bank of Italy. They were given a bottle of Prosecco DOC Institutional in 200 ml size.
A "Prosecco DOC By the glass" campaign was also launched in early March in more than 60 restaurants which invited their customers to consume Prosecco DOC by the glass or bottle, giving them a free Prosecco DOC gadget and a sachet of Italian herb seeds.
INTERFM – RADIO DISCO BY DJ OSSHY
As a symbol of Italian style and an official partner of Mimosa Day, Prosecco DOC was also the center of attention during an interview conducted by DJ Osshy and Ms. Sayoko with the Prosecco DOC Consortium's Promotion Manager, Tanja Barattin, on Radio Inter FM's highly-followed Radio Disco program. The interview was followed by a live toast, of course with Prosecco DOC.
IWATSUKA SEIKA – RISOUNO
Prosecco DOC's trip to Japan continued in Nagaoka, at the New Otani Hotel, for the press conference launching RISOUNO! It is a new 100% Japanese rice-based snack with Italian flavors, created by the celebrated Chef Ochiai of the La Bettola di Ochiai Restaurant – the most famous Japanese chef when it comes to Italian cuisine in Japan – in collaboration with the Iwatsuka Seika company, a giant in the production of rice crackers.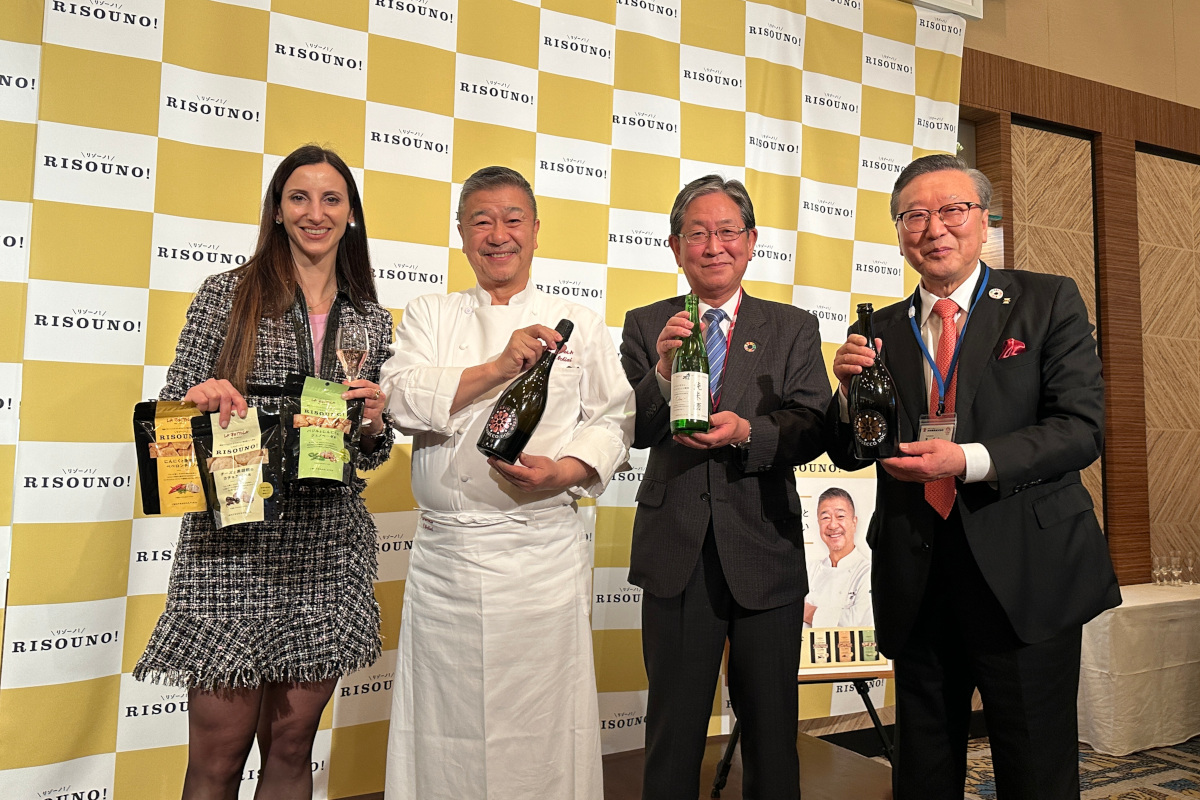 Available in aglio olio e peperoncino, pesto genovese, and cacio e pepe flavors, the new baked goods were presented by TV moderator Emily Nakata to an audience of more than 80 guests including national and regional press, bloggers, influencers, restaurateurs, and high-profile retail chains. All snacks were paired with Prosecco DOC and Yoshigawa sake, from the oldest sake producer (over 470 years of history) in the Niigata region. RISOUNO! products will be presented in Italy too, in the Consortium's booth, within the upcoming Vinitaly 2023 trade show.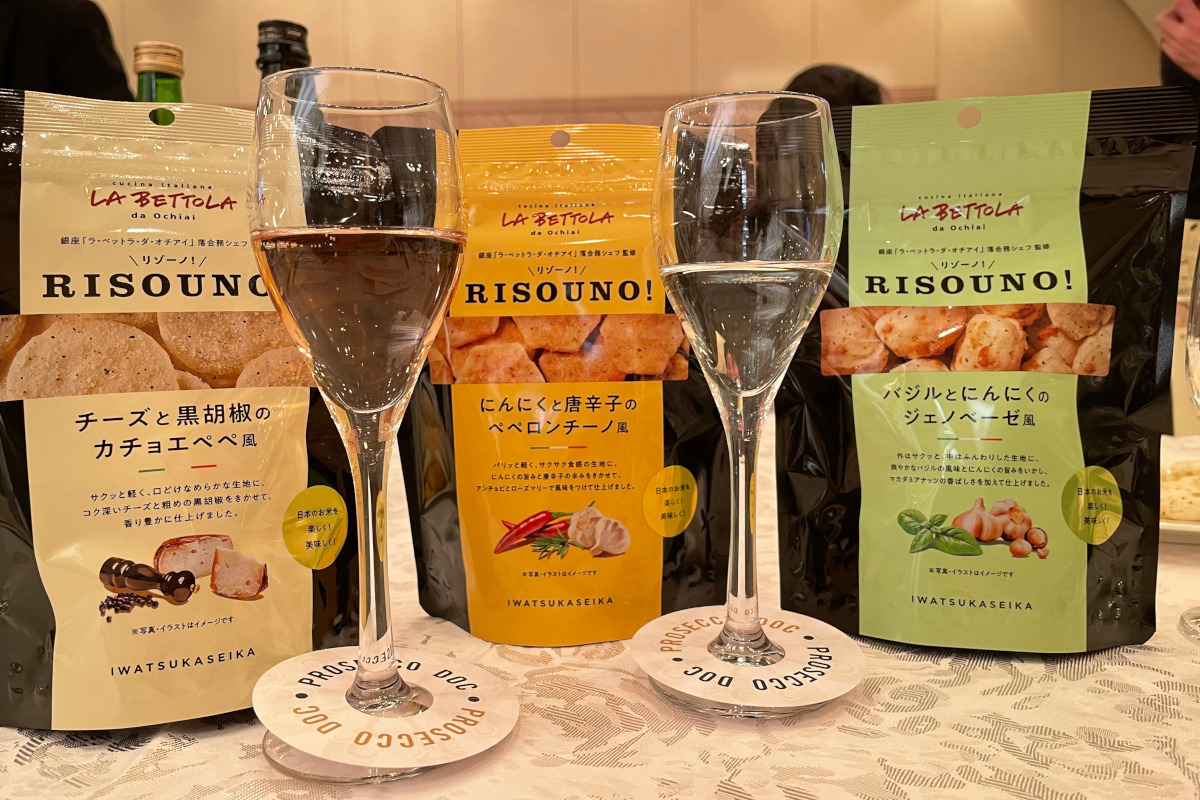 MARTINOTTI PROSECCO BAR E CAFFÈ
Martinotti Prosecco Bar & Café, a landmark for sparkling wines from Veneto and Friuli in Tokyo, hosted some promotional activities. Run by bartender Hiro Nagashima, the bar has a wine list offering a wide selection of Prosecco, as well as a rich assortment of Prosecco-based cocktails. Martinotti is one of the main supporters of Prosecco DOC in Japan, and it constantly encourages its promotion among customers.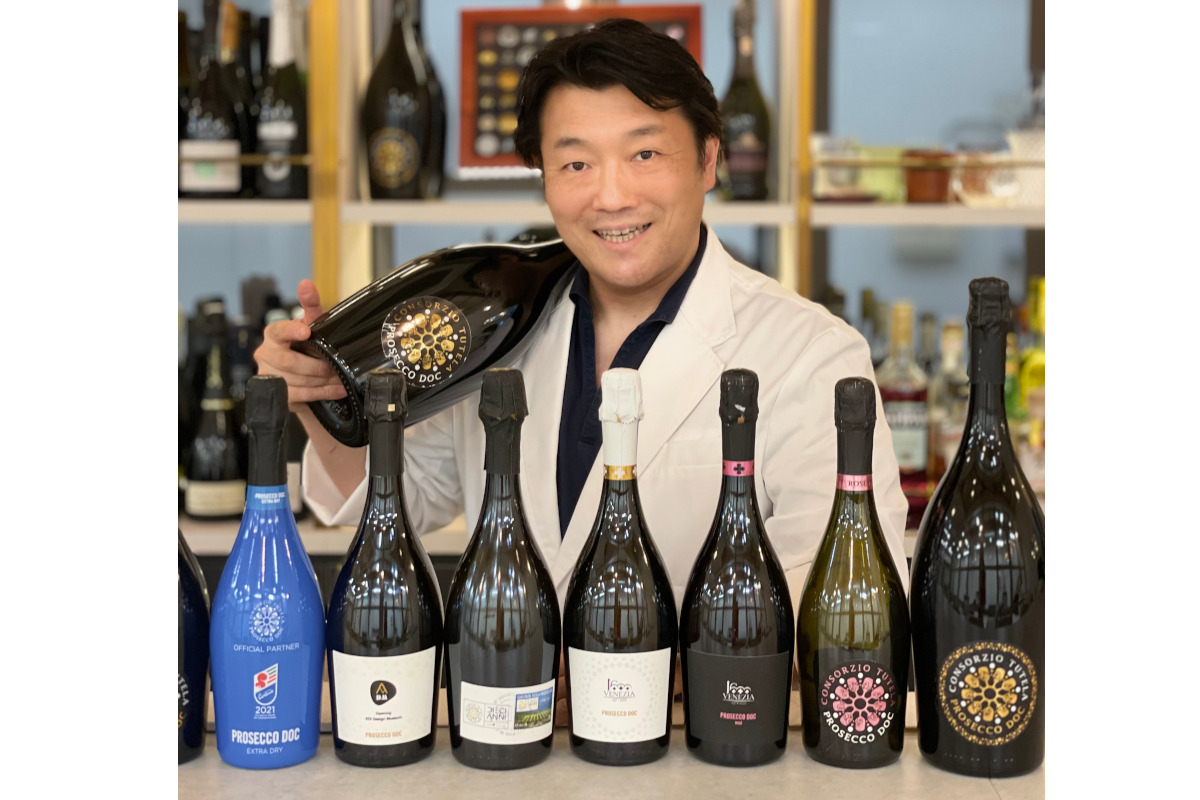 PROSECCO BAR THE ROYAL PARK CANVAS – GINZA CORRIDOR
The list of Prosecco DOC supporters now also includes the Prosecco Bar inside the recently opened The Royal Park Canvas hotel in Tokyo's central and very popular Ginza district. The new venue has chosen to be a promoter of the world's most consumed sparkling wine, supporting the spread of the Italian lifestyle culture.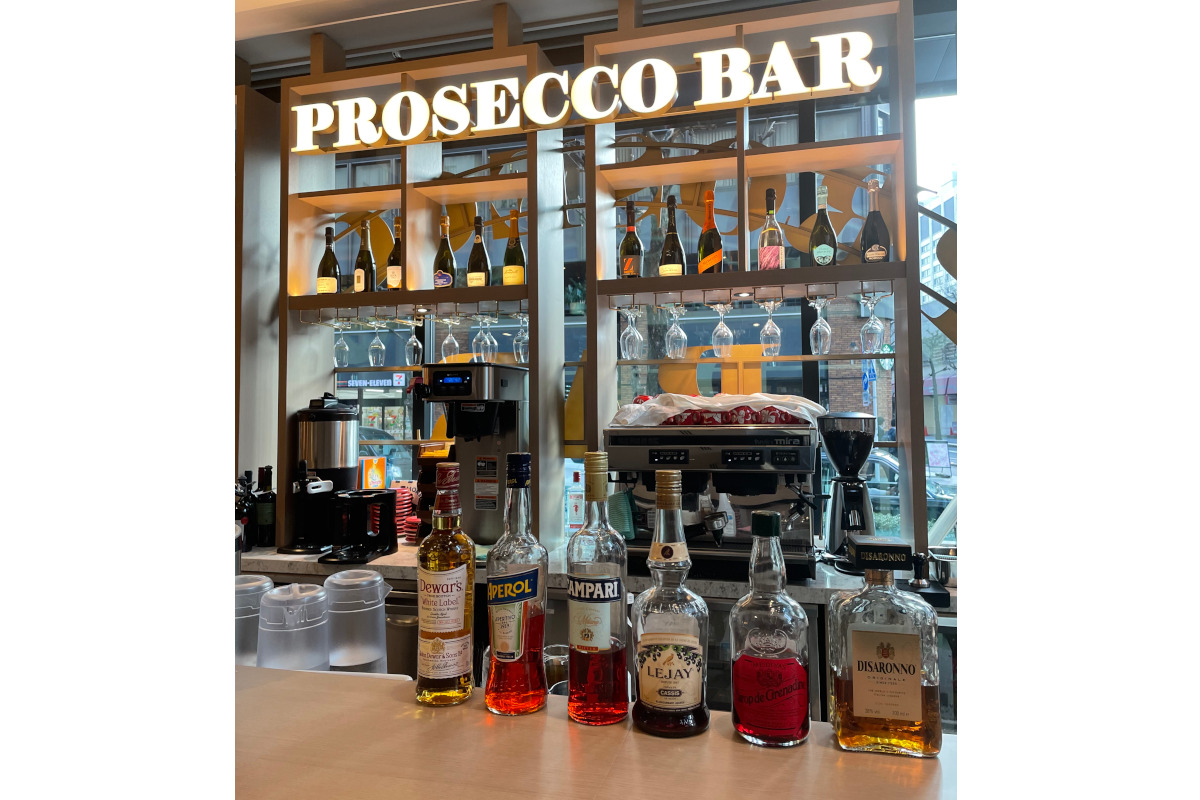 © All rights reserved