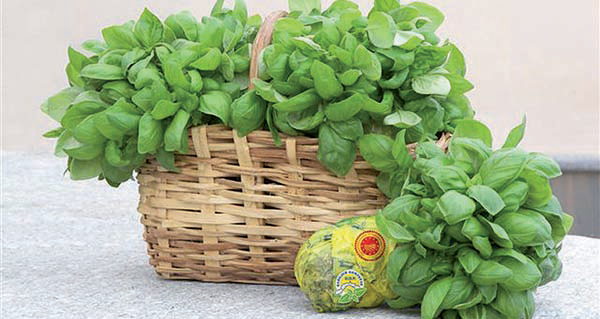 "Pesto" and "Genoese pesto" jars can be found in supermarkets across the world. However, if we consider that only 10% of true pesto is exported, it's easy to see how the vast majority of what is sold as pesto isn't actually pesto. It's a case of true "Italian sounding" products.
PESTO, A GROWING BUSINESS IN THE US – The pesto market is a considerable business in the US worth about 120 million euro. However, a closer look will reveal that this pesto is produced locally, or at least not in Italy, and made with different ingredients, for example with canola oil or with basil from California. In the States, as well as in other countries, jars of pesto sauce that is stabilized with a thermal process (which damages the characteristics of the basil), or a chemical process (i.e. by adding preservatives) can often be found in supermarkets.
THE GOAL, TO OBTAIN THE EU PROTECTION – For this reason, the main goal of the Consortium of Genoese Pesto is obtaining an EU protection. It would be a significant achievement, since pesto is the second most sold sauce in the world after tomato sauce. "Since pesto is considered a sauce and not an intellectual property, we haven't been able to obtain the PDO and PGI certification," said Daniele De Rosa, president of Consorzio Pesto Genovese. "We have only obtained the GTS at the moment, which is a bland certification. Consorzio's certification is currently valid only locally. Only Coop and Conad recognize our logo, which certifies the 'disciplinare'". This is a set of rules which defines not only the place of production (the entire territory of the Liguria region) and the production phases of true pesto, but also the ingredients to use: PDO Genoese Basil (not less than 25%), Italian extra virgin olive oil, PDO "Parmigiano Reggiano" or "Grana Padano" cheese, PDO Pecorino cheese, garlic (grown in Italy), pine nut grown in the Mediterranean area (obtained from Pinus Pinea), walnuts (optional) of European origin (obtained from "iuglans regia"), sea salt produced within Italy).
© All rights reserved