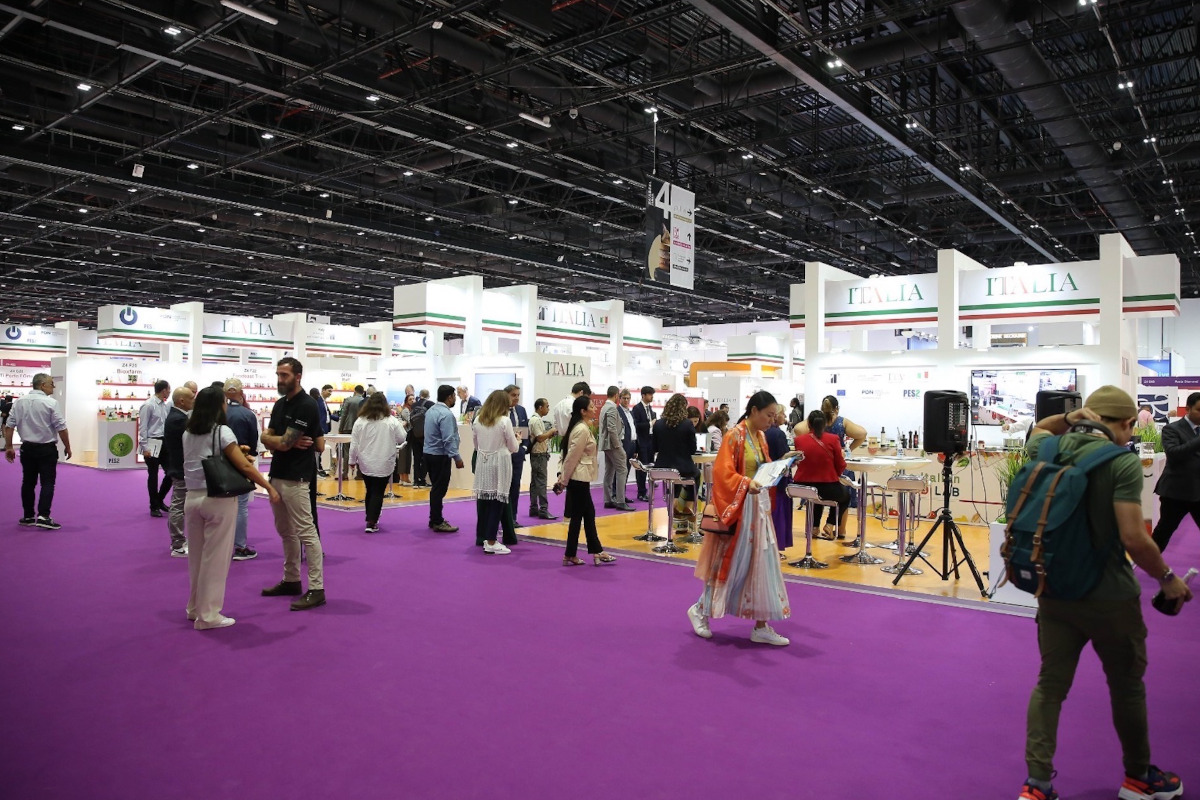 Renowned for its rich culinary heritage, Italy is making headlines for a different kind of recipe – its commitment to organic food and sustainability. The Italian Trade Agency (ITA) is set to make a profound statement at the Speciality Food Festival in Dubai (Dubai World Trade Centre, 7-9 November), spotlighting Italy's journey towards becoming a greener and more sustainable nation.
Discover the authentic Italian food and beverage on the Italianfood.net platform
Italian agri-food global exports reached an all-time high value of 60 billion euros in 2022, growing by 17% yoy. In the first half of 2023, sales reached 32 billion euros. Also in the UAE, the demand for Italian agri-food products reached a new record value of 419 million euros in December 2020, a growth of 40% on the previous year.
A wide sample of authentic Italian food products is being showcased at the Speciality Food Festival 2023, the trade show dedicated to fine food in Gulfood Manufacturing. Once again, Italy represents one of the largest foreign participants with more than 300 exhibiting companies.
ITALIAN FOOD EXPORTS
The most exported Italian products are wines and beverages (8 bln euros), pasta and cereals (7 billion euros), and fresh fruits and vegetables (5.5 billion euros). A recent significant increase affected extra virgin olive oil, cheeses, and cured meats.
ORGANIC FOOD SPEAKS ITALIAN
Organic food has also widely contributed, by reaching a record value of 3.4 billion euros in 2022, to the growth of Made-in-Italy product sales around the world. Last year, exports grew by +16% compared to 2021. The estimated total value of export sales in 2023 is 3.6 billion: +203 % compared to 2012, an almost triple increase in value in a decade.
Italian cuisine is considered one of the best in the world thanks to its variety of tastes and healthy dishes. The high-quality ingredients, along with the high safety standards throughout the food production process, contribute to its global success and reputation.
In 2023, organic food accounted for a substantial 5.5% of Italy's total food exports, showing the country's commitment to sustainable and organic farming practices. Italy is a leader in promoting and exporting organic products, and this is reflected in the high share of organic exports in the agricultural food industry. This upward trajectory not only reflects a strong global demand for Italian organic food but also underscores the country's dedication to environmentally conscious farming practices.
A delicious taste of such a culinary treasury will be offered in Dubai during the Speciality Food Festival 2023 the Italian Food Lab, where Michelin Star chefs – as well as other Italian chefs working in the most prestigious Emirates restaurants – will prepare original recipes for the UAE's public with 100% authentic and genuine Italian ingredients. The Italian Food Lab is organized by the Italian Trade Agency (ITA) in cooperation with the Italian Ministry of Foreign Affairs.
COMMITTED TO SUSTAINABILITY
Lorenzo Fanara, Ambassador of Italy to the UAE, said: "The Speciality Food Festival in Dubai is an unparalleled opportunity for Italian businesses seeking expansion, as it provides a significant platform to promote organic-certified and sustainable agri-food products, both in the global market and in the UAE. This event is also a great chance to demonstrate Italy's commitment to sustainability, which goes hand in hand with its culinary excellence where tradition, quality, and eco-consciousness coexist. Italian cuisine is globally renowned for its delightful tastes and healthy dishes, attributed to the meticulous use of high-quality ingredients and stringent safety standards throughout the production process. This year's Festival also coincides with the VIII edition of the Week of Italian Cuisine of the UAE, which will celebrate the richness of Italian food with many initiatives all across the UAE."
Amedeo Scarpa, ITA Dubai Director, added "Our successful role in promoting Italian agri-food SMEs is testified by the double-digit increase of exports to the UAE, where customers pay every day more and more attention to quality, safety, and authenticity of the products they eat. With 230 million euros worth of Italian agri-food products exported to the Emirates in the first half of 2023 (+20% compared to 2022) and a forecast of 460 million by the end of the year, trade relationships between Italy and the UAE are becoming stronger year after year. With the motto Sustainability is SustainabITALY, we are committed to boosting Italian organic-certified and sustainable products as a concrete contribution to next COP28 which will be hosted in the UAE next month".
© All rights reserved