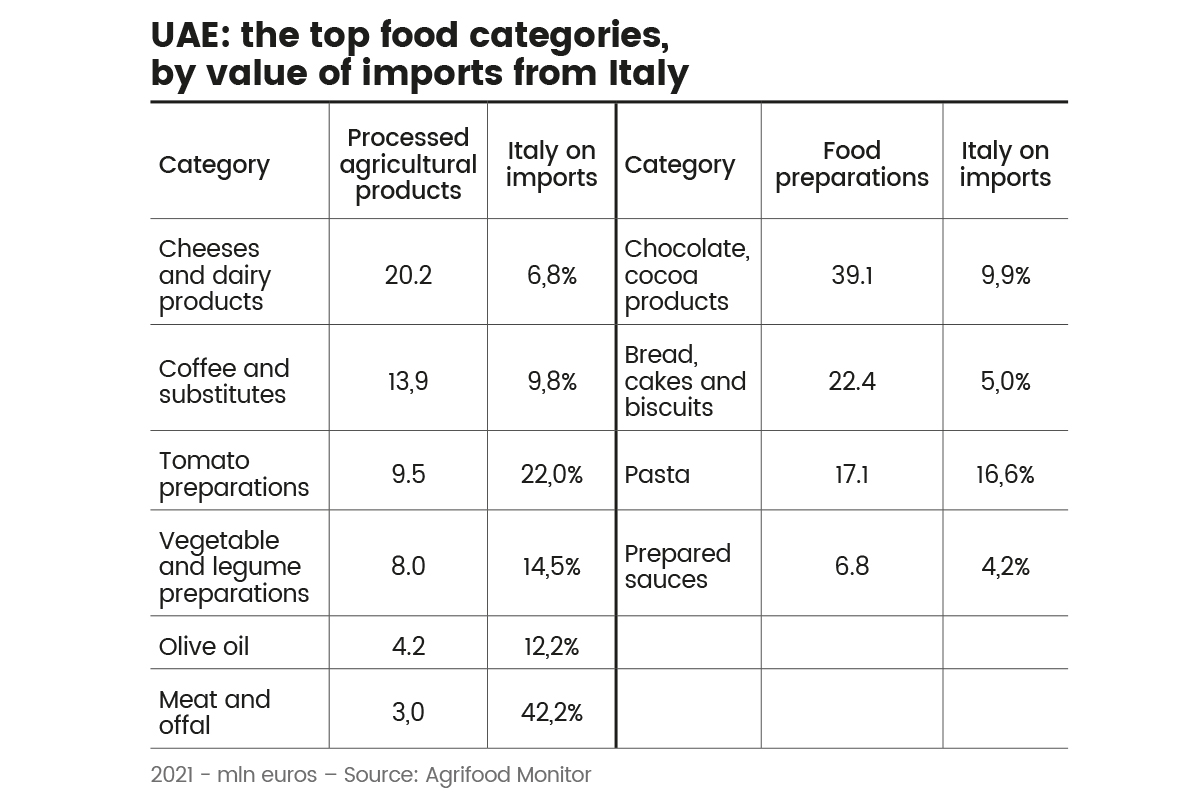 In the UAE, 90% of the population is foreign and much of the food is imported. This results in a very high foreign F&B penetration rate, so much so that 9 out of 10 citizens in the past year have consumed an imported product at least once. And the leading exporting country is Italy, with a 43% share.
The UAE are a highly strategic outlet market for Italian agri-food exports. But how is consumption evolving? And what eating habits has the pandemic consolidated over the past two years?

TOP PURCHASED CATEGORIES IN UAE
On the podium of the most purchased products citrus fruits stand out above all others, as they are rich in vitamin C, followed by sunflower oil, which is widely used for home frying, bananas, and pickles. Bucking the positive trend in sales of these foods is the decline in baby food (-49%), coffee (-35.8%), sweeteners (-24.1%), tomato derivatives (-22.6%), and sugar (-14.4%), caused substantially by repeated shutdowns in the out-of-home due to the Covid pandemic. 
On the other hand, e-commerce is doing very well with a +255% surge in f&b in 2020 alone compared to 2019, for a value of US$412 million. This trend is set to continue, as sales are expected to exceed US$620 million by 2025 (source: Euromonitor).
According to estimates for the period 2021-2022 in the retail trade channel, the top five product categories characterized by the strongest growth in sales were baby food (+9.1%), followed by cheese (+7.1%), and vegetables (+6.5%). In fourth position were sauces and spices (+6.3%), and finally fruits (+5.5%).
MORE WELLNESS IN THE SHOPPING CART
Due to the pandemic, the resident population with middle and upper income levels has developed a growing interest in healthy and natural foods. Supermarkets and specialty stores have created separate in-store sections to meet this demand.
Consumers are also directing their purchases to free-from products for specific food intolerances, such as celiac disease. 
The healthy food market is considered among those that will experience the most significant growth. Its value is estimated to reach US$2.2 billion by the end of 2023 (source: Euromonitor). The driving categories are natural and functional (fortified) products, while organic products remain in the rear.
© All rights reserved