In 2021, export sales of Italian PDO and PGI food and wine products reached 10.7 billion euros. The share of the "PDO Economy" in total Italian exports is 21%. This depends on a double record: food exports reached 4.41 billion euros (+12.5% year-on-year), while export sales of Italian wine in 2021 yielded 6.29 billion euros (+13% over 2020).
According to the latest report by Ismea research institute for Qualivita association, double-digit export sales growth (in 2021, compared to 2020) has been recorded by the main categories: from cheeses (+15%) to balsamic vinegar (+11%), and meat products (+13%). The wine segment is driven by PDO wines (+16%), followed by sparkling wines (+25%).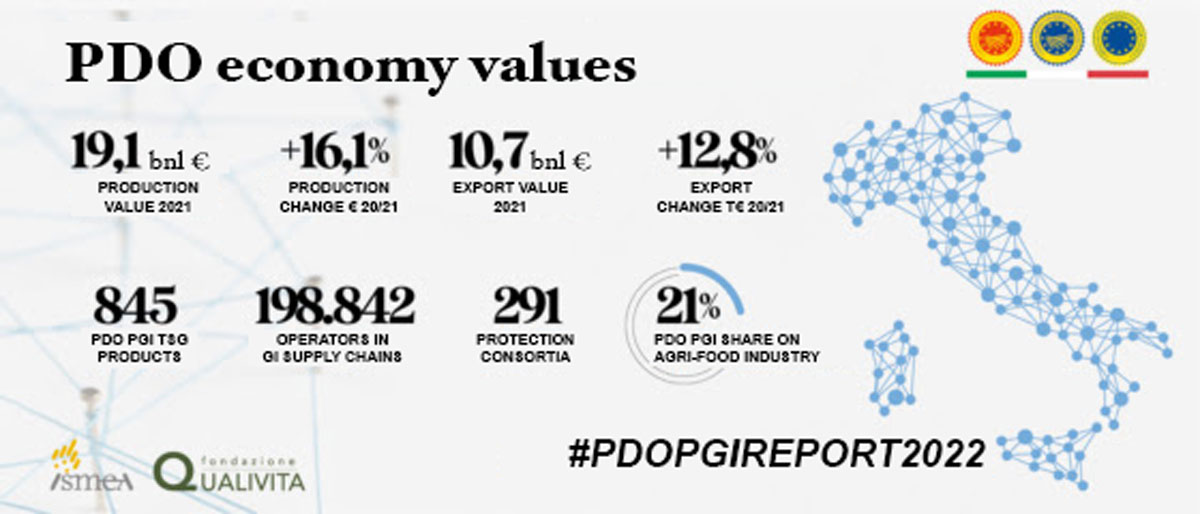 Discover authentic Italian F&B on the Italianfood.net platform
DESTINATION MARKETS
As for Italian PDO and PGI food, the main markets remain the United States (with sales of 832 million euros in 2021), Germany (791 million), France (601 million), the UK (210 million), and Spain (205 million). As for wine, exports increased by +13% year-on-year with a trend of +74% since 2011. Sales increased mainly in non-EU countries starting with the U.S. (+17.6%), which was the top destination market with 1.58 billion euros, followed by Germany (940 million), the UK (707 million), Switzerland (376 million), and Canada (362 million).
DAIRY PRODUCTS
The Italian cheese category boasts 56 Geographical Indications and 24,659 operators, with a production value of 4.68 billion euros, up +12.8 percent in one year. Certified production and value are growing, driven by the great Italian PDO cheeses and also thanks to the post-pandemic recovery in demand and reopenings in the Horeca sector. Export growth continues for PDO and PGI cheeses, whose sales reached 2.38 billion euros in 2021.
SALUMI AND MEAT
Meat products count 43 Geographical Indications and 3,521 operators for a production value of 1.95 billion euros (+4.6 percent over 2020). In 2021 export sales increased by double digits to 633 million euros (+12.7 percent).
FRUIT AND VEGETABLES
Italian fruit and vegetable PDO and PGI products consist of 121 Geographical Indications and 21,249 operators that achieved a production value of 384 million euros last year (-1.8%). Exports are worth 150 million euros, down -15.4% compared to 2020.
© All rights reserved