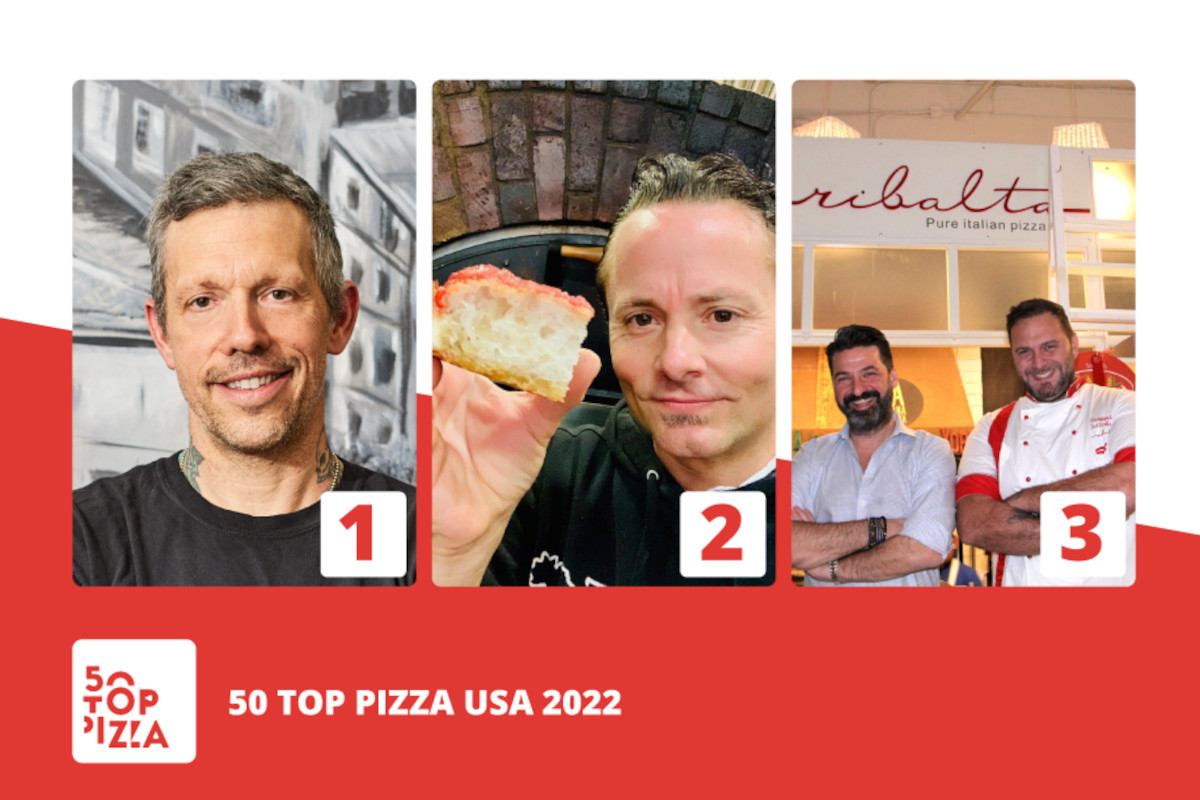 Una Pizza Napoletana owned by Anthony Mangieri in New York has won the title of Best Pizzeria in the United States in 2022. In second place is Tony's Pizza Napoletana owned by Tony Gemignani in San Francisco. In third place, we find Ribalta NYC in New York. This is the podium of the best pizzerias in the USA in 2022 as declared by 50 Top Pizza, the most influential guide in the sector, with over one thousand anonymous inspectors working throughout five continents. In fourth place is Razza Pizza Artigianale, located in Jersey City, and in fifth 0' Munaciello in Miami. In sixth place is Spacca Napoli Pizzeria in Chicago. In seventh place, Song' E Napule in New York, in eighth La Leggenda Pizzeria in Miami, followed by Pizzana in Los Angeles in ninth place and, in tenth place, Kesté Fulton in New York.
Discover the authentic Italian pizza ingredients on the Italianfood.net platform
The most represented city in the ranking is New York City with nine venues in the top fifty. It is followed by Portland and San Francisco with 5 venues each. The top 15 positions in the USA 2022 ranking enter right into the 100 Best Pizzerias in the World ranking, which will be announced at the Palazzo Reale in Naples on September 7.
"After two difficult years, it was truly important to be able to meet the best 50 American pizza makers in New York, one of the great pizza capitals in the world," said Barbara Guerra, Luciano Pignataro, and Albert Sapere, the three 50 Top Pizza project curators. "We are truly delighted, but already concentrated on our next appointment which will be on July 26th in Naples at the Teatro Mercadante, when we will reveal the best Italian pizzerias for 2022."
The project's partners are Birrificio Fratelli Perrella, Consorzio di Tutela del Prosecco Doc, Ferrarelle, Goeldlin, Latteria Sorrentina, Olitalia, Pastificio Di Martino, Robo 1938, Solania.
THE COMPLETE RANKING OF 50 TOP PIZZA USA 2022
Una Pizza Napoletana – New York, USA
Tony's Pizza Napoletana – San Francisco, USA
Ribalta NYC – New York, USA
Razza Pizza Artigianale – Jersey City, USA
0' Munaciello – Miami, USA
Spacca Napoli Pizzeria – Chicago, USA
Song' E Napule – New York, USA
La Leggenda Pizzeria – Miami, USA
Pizzana – Los Angeles, USA
Kesté Fulton – New York, USA
Ken's Artisan Pizza – Portland, USA
Pizzeria Bianco – Phoenix, USA
Jay's Artisan Pizzeria – Kenmore, USA
Ops – New York, USA
Doppio Zero – San Francisco, USA
Lovely's Fifty Fifty – Portland, USA
Partenope Ristorante – Dallas, USA
Apizza Scholls – Portland, USA
Flour House – San Luis Obispo, USA
Forcella – New York, USA
Pizzeria Mozza – Los Angeles, USA
Roberta's – New York, USA
Pizzeria Beddia – Philadelphia, USA
Mission Pizza Napoletana – Winston – Salem, USA
Inferno Pizzeria Napoletana – Darnestown, USA
A 16 – San Francisco, USA
San Matteo – Pizzeria e Cucina – New York, USA
Brick Fire Tavern – Honolulu, USA
Del Popolo – San Francisco, USA
Pasquale Jones – New York, USA
Forno Rosso – Chicago, USA
Il Forno – San Antonio, USA
Pasquale's Pizzeria – South Kingstown, USA
Stanzione 87 – Miami, USA
Coals Artisan Pizza – Louisville, USA
Flour + Water Pizzeria – San Francisco, USA
Robert's Pizza and Dough Company – Chicago, USA
Pomo – Scottsdale, USA
Bufalina Due – Austin, USA
Nostrana – Portland, USA
Basil & Barley Pizzeria Napoletana – Colorado Springs, USA
Angelina's Pizzeria Napoletana – Irvine, USA
Scottie's Pizza Parlor – Portland, USA
Cart-Driver RiNo – Denver, USA
Bricco Coal Fired Pizza – Haddon Township, USA
Roostica Wood-Fire Pizzeria – Key West, USA
Diavola – Indianapolis, USA
Spark Pizza – Redmond, USA
Fabrica Pizza – Tampa, USA
Craft 64 – Scottsdale, US


USA SPECIAL AWARDS 2022
• Pizza Maker of the Year 2022 – Solania Award
– Tony Gemignani, Tony's Pizza Napoletana – San Francisco
• Best Service 2022 – Goeldlin Award
Ribalta NYC – New York
• Made in Italy 2022 – Pastificio Di Martino Award
0' Munaciello – Miami
• Best Beer Service 2022 – Birrificio Fratelli Perrella Award
Spacca Napoli Pizzeria – Chicago
• Performance of the Year 2022 – Robo Award
La Leggenda Pizzeria – Miami
• Pizza of the Year 2022 – Latteria Sorrentina Award
Diavola – Pizzana – Los Angeles
• Best Fried Food 2022 – Olitalia Award
Kesté Fulton – New York
• Innovation e Sustainability 2022 – Ferrarelle Award
Ken's Artisan Pizza – Portland
• Best Wine List 2022 – Prosecco DOC Award
Ops – Brooklyn
© All rights reserved