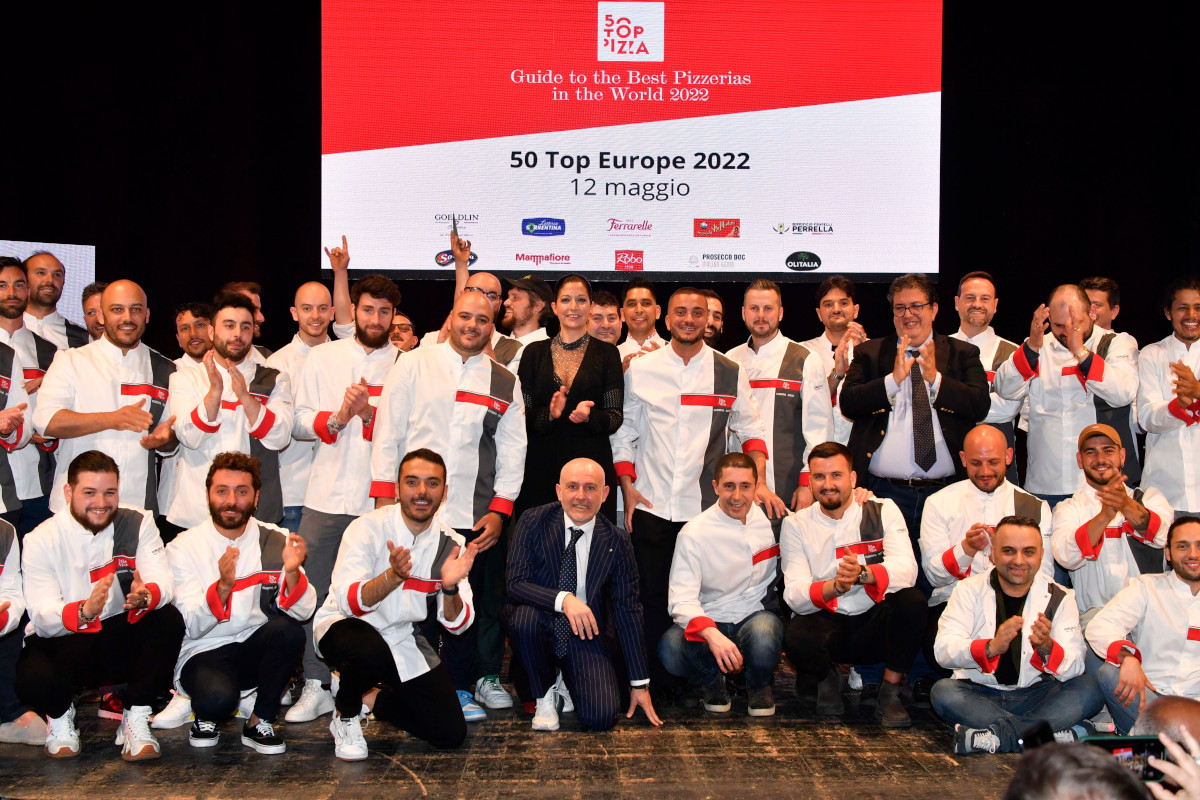 Peppe Pizzeria in Paris has done it again. The restaurant has been named the Best Pizzeria in Europe, excluding Italy, for the second year in a row. The result comes from data from the most influential pizza guide in the world, 50 Top Pizza. The news was announced yesterday evening at the Teatro San Babila in Milan. It was a resounding success for the Peppe Cutraro, the owner of Peppe Pizzeria, who also won a special award, Pizza Maker of the Year 2022 – Ferrarelle Award.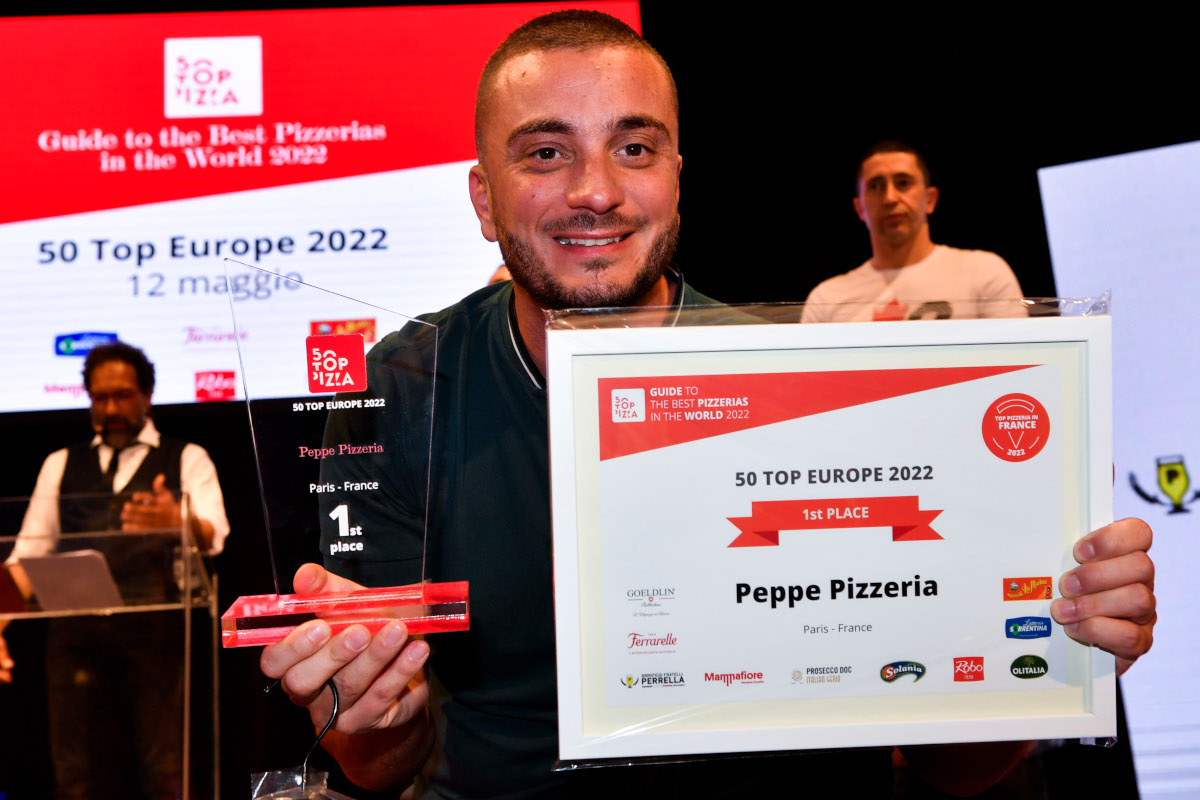 In second place we find Fratelli Figurato owned by Riccardo and Vittorio Figurato in Madrid. The third place on the podium belongs to 50 Kalò London, owned by Ciro Salvo who also won the special award Made in Italy 2022 – Mammafiore Award.
In fourth place, there is the Danish pizzeria Bæst in Copenhagen which also won two special awards: Best Service 2022 – Goeldlin Award and Innovation and Sustainability 2022 – Ferrarelle Award. In fifth place comes yet another Spanish pizzeria: Sartoria Panatieri in Barcelona, owned by Rafa Panatieri and Jorge Sastre. This restaurant also won the special award Pizza of the Year 2022 – Latteria Sorrentina Award. The special award Performance of the Year 2022 – Robo Award was won by La Balmesina, a Spanish pizzeria that is in tenth place in the overall ranking.
Discover the authentic Italian pizza ingredients on the Italianfood.net platform
THE RANKING
Twenty-one European countries were represented at the event, where England and Spain topped them all with five pizzerias each in the final ranking. As for the cities, London can boast five pizzerias in the ranking. Copenhagen is in second place with four restaurants. Bæst in Copenhagen, Denmark and Sartoria Panatieri in Barcellona, Spain both received a Green Oven 2022, which makes them the pizzerias with the highest environmental sustainability standards.
The first 25 pizzerias in the 2022 European ranking have earned the right to be included in 50 Top's 100 Best pizzerias in the world, which will be presented in Naples on September 7th at the Palazzo Reale.
The following is the Complete Ranking of 50 Top Europe 2022:
Peppe Pizzeria – Paris, Francia
Fratelli Figurato – Madrid, Spain
50 Kalò London – London, England
Bæst – Copenhagen, Denmark
Sartoria Panatieri – Barcellona, Spain
Via Toledo Enopizzeria – Vienna, Austria
Pizza Zulù – Fürth, Germany
La Piola Pizza – Brussels, Belgium
Kytaly – Geneva, Switzerland
La Balmesina – Barcellona, Spain
nNea – Amsterdam, Netherlands
La Pizza è Bella Gourmet – Brussels, Belgium
Napoli on The Road – London, England
Malafemmena – Berlin, Germany
Pizzeria Luca – Copenhagen, Denmark
Forno d'Oro – Lisbon, Portugal
400° Laboratorio – Paris, France
L'Antica Pizzeria – London, England
The Dough Bro – Galway, Ireland
San Gennaro – Zurich, Switzerland
'O Ver – London, England
Forza – Helsinki, Finland
Guillaume Grasso – Paris, France
Surt – Copenhagen, Denmark
Futura Neapolitan Pizza – Berlin, Germany
Pizzeria Luca – Helsinki, Finland
60 Secondi Pizza Napoletana – Munich, Germany
Ostro.– Gdańsk, Poland
450°C – Turku, Finland
Ciao a Tutti– Warsaw, Poland
Verace – Nova Gorica, Slovenia
Marcella – Brussels, Belgium
Belli di Mamma – Budapest, Hungary
De Superette – Gent, Belgium
Majstor I Margarita – Belgrade, Serbia
Oro di Napoli – Santa Cruz de Tenerife, Spain
Pietra – Belgrade, Serbia
Cinquecento – London, England
Casa Nostra – Munich, Germany
IMperfetto – Puteaux, France
Matto Napoletano – Skopje, Republic of North Macedonia
Demaio – Bilbao, Spain
Pop's Pizza – Ljubljana, Slovenia
Kaja Pizza Köök – Tallinn, Estonia
Franko's Pizza & Bar – Zagreb, Croatia
Street Pizza – Riga, Latvia
Zielona Górka – Pabianice, Poland
Animaletto Pizza Bar – Bucarest, Romania
Arte Bianca – Aljezur, Portugal
Pizzeria MaMeMi – Copenhagen, Denmark
European Special Awards 2022
Pizza Maker of the Year 2022 – Ferrarelle Award: Peppe Pizzeria – Paris, France
Made in Italy 2022 – Mammafiore Award 50: Kalò London – London, England
Best Service 2022 – Goeldlin Award: Bæst – Copenhagen, Denmark
Innovation e Sustainability 2022 – Ferrarelle Award: Bæst – Copenhagen, Denmark
Pizza of the Year 2022 – Latteria Sorrentina Award Cantabrian anchovies, tomato, escarole and kalama olive puree: Sartoria Panatieri – Barcellona, Spain
Performance of the Year 2022 – Robo Award: La Balmesina – Barcellona, Spain
Best Pasta Omelette and Frying 2022 – Pastificio Di Martino Award: La Pizza è Bella Gourmet – Brussels, Belgium
Best Wine List 2022 – Prosecco DOC Award: Forno d'Oro – Lisbon, Portugal
New Entry of the Year 2022 – Solania Award: 400° Laboratorio – Paris, France
Best Beer Service 2022 – Birrificio Fratelli Perrella Award: Futura Neapolitan Pizza – Berlin, Germany
Green Oven 2022
Sartoria Panatieri – Barcellona, Spain
Bæst – Copenaghen, Denmark
50 Top Europe – Top in Country 2022
Top Pizzeria in France 2022 – Peppe Pizzeria, Paris
Top Pizzeria in Spain 2022 – Fratelli Figurato, Madrid
Top Pizzeria in England 2022 – 50 Kalò London, London
Top Pizzeria in Denmark 2022 – Bæst, Copenaghen
Top Pizzeria in Austria 2022 – Via Toledo Enopizzeria, Vienna
Top Pizzeria in Germany 2022 – Pizza Zulù, Fürth
Top Pizzeria in Belgium 2022 – La Piola Pizza, Brussels
Top Pizzeria in Switzerland 2022 – Kytaly, Geneva
Top Pizzeria in The Netherlands 2022 – nNea, Amsterdam
Top Pizzeria in Portugal 2022 – Forno d'Oro, Lisbon
Top Pizzeria in Ireland 2022 – The Dough Bros, Galway
Top Pizzeria in Finland 2022 – Forza, Helsinki
Top Pizzeria in Poland 2022 – Ostro., Gdańsk
Top Pizzeria in Slovenia 2022 – Verace, Nova Gorica
Top Pizzeria in Hungary 2022 – Belli di Mamma, Budapest
Top Pizzeria in Serbia 2022 – Majstor I Margarita, Belgrade
Top Pizzeria in Republic of North Macedonia 2022 – Matto Napoletano, Skopje
Top Pizzeria in Estonia 2022 – Kaja Pizza Köök, Tallinn
Top Pizzeria in Croatia 2022 – Franko's Pizza & Bar, Zagreb
Top Pizzeria in Latvia 2022 – Street Pizza, Riga
Top Pizzeria in Romania 2022 – Animaletto Pizza Bar, Bucarest
© All rights reserved