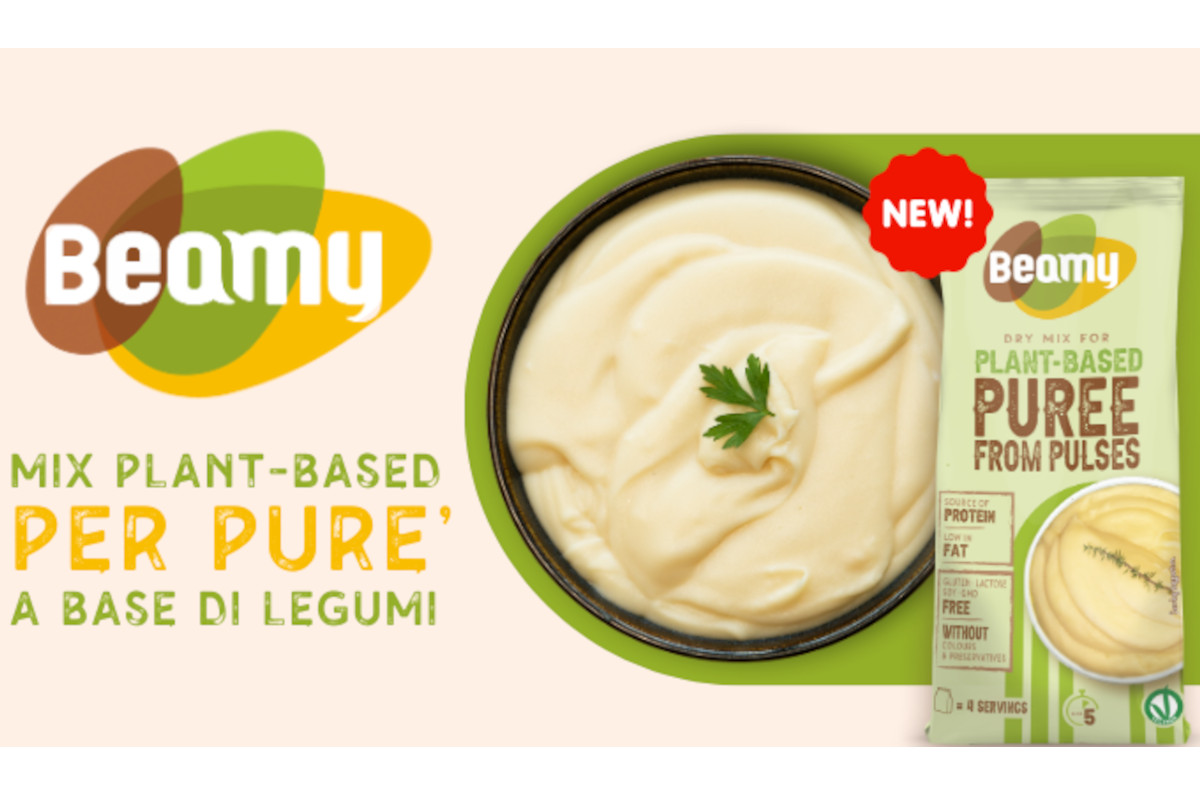 MartinoRossi, an Italian company specializing in the production of flours, semi-processed goods, and functional ingredients derived from cereals and legumes, as well as gluten-free, allergen-free, and non-GMO plant-based products from verified Italian supply chains, showcased its latest innovations and premium product range at the 2023 Anuga expo.
Under its Beamy brand tailored for the retail sector, MartinoRossi targets a discerning consumer base open to culinary experimentation and concerned about the nutritional and sustainability aspects of their food choices. Their current product line, which comprises dry legume-based mixes for crafting 100% plant-based burgers, meatballs, and ragu, has been augmented with a groundbreaking addition – a legume-based puree mix.
Much like all Beamy offerings, the novel plant-based puree mix boasts a minimalist label, featuring only three ingredients (legume flour, potato flakes, and corn flour), devoid of any additives. Furthermore, preparation is convenient and swift – simply rehydrate the mix with water and microwave for a mere five minutes.
The plant-based mix is available in a 60g format, yielding four servings of plant-based puree, and its dry nature bestows it with a shelf life of 12 months when stored at room temperature.
OTHER NEW, PROFESSIONAL PRODUCT LINES
At Anuga 2023, MartinoRossi reserved a segment of its exhibition space to showcase products derived from Mais Corvino, an extraordinary heritage variety of black corn once believed to be extinct, for which the Italian company holds exclusive rights. The centerpiece of this presentation was their latest addition to the portfolio: the new Precooked Flour, a highly versatile, fiber-rich product free from GMOs, ready in a matter of minutes.
Also featured was the MartinoRossi Professional line, specifically tailored for the professional sector. This line encompasses a broad selection of legume flours, and cornmeal for polenta, and recently expanded with innovative additions, such as gluten-free mixes designed for crafting bread, pizza, focaccia, pastries, and fresh pasta.
The exhibition also showcased a selection of sweet and savory snacks crafted from 100% Italian legumes sourced from MartinoRossi's tightly controlled supply chains, all bearing the Mr.Beans brand.
© All rights reserved