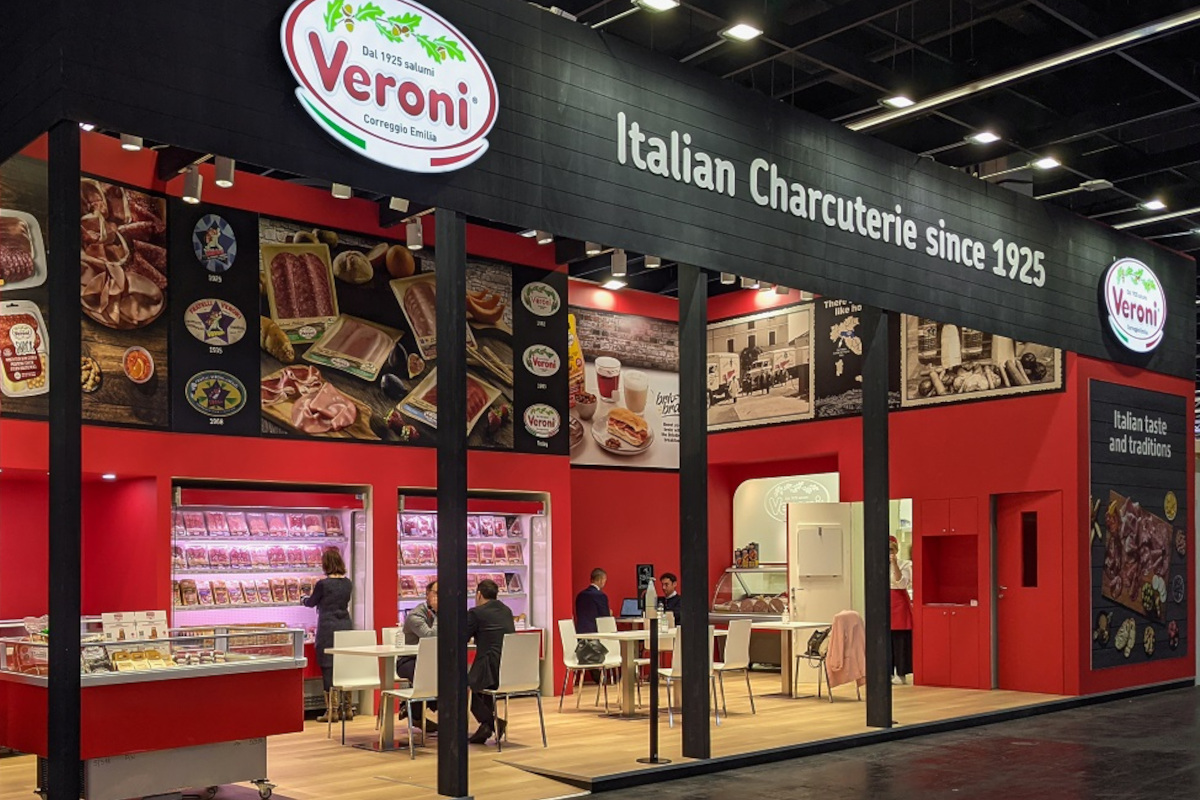 Veroni returns to Anuga 2023, unveiling not only its best-selling deli meats but also its cutting-edge offerings crafted specifically for the European market. The storied Italian salami producer, headquartered in Emilia and boasting nearly a century of heritage, has held the coveted title of the leading Italian brand in the self-service deli category in the United States since 2021 (source: Circana, US Luncheon Meat segment).
FOCUS ON HEALTHY PRODUCTS
The star of the exhibit is the fresh "Benessere" (Wellness) line, meticulously crafted for individuals conscientious about their health and dietary choices. Four noteworthy additions take center stage: Prosciutto Crudo, Salame Gran Milano, High-Quality Cooked Ham, and Ham Mortadella. Each of these offerings boasts a remarkable reduction in fats, salts, and calories. What's more, they bear the badges of being gluten-free, MSG-free, void of added polyphosphates, lactose-free, and dairy-free. The ingredient list enables the presentation of authentic 'clean labels', an enticing prospect for increasingly discerning, well-informed, and health-aware consumers.
Emanuela Bigi, Veroni's Marketing Manager, emphasizes the pivotal role of the Anuga trade show in the company's international strategy, noting, "Anuga is an indispensable event for Veroni, occurring in a strategically significant year dedicated to amplifying and fortifying our global footprint. At Anuga, a bellwether for emerging market trends, we introduce a novel range of deli meats tailored to the discerning tastes of health-conscious consumers – an aspect resonating with a broad spectrum of the populace today. More and more individuals are placing items with 'clean labels' in their shopping carts, products featuring minimal ingredients and void of additives or preservatives, all while retaining their quintessential taste and flavor. Herein, the 'Made in Italy' stamp confers an intrinsic advantage; it allows us to consistently lead the charge by fusing superior quality with innovative propositions."
CLASSIC EXCELLENCE
In addition to the new offerings, Veroni brings the best of the traditional and exquisite Emilian charcuterie heritage and timeless Italian gastronomy classics. This includes Mortadella Esselusso PGI Bologna and the 1925 mortadella, which still follows the Veroni family's handed-down recipe. The latter stands as the flagship product of the Emilian salami producer recognized and cherished worldwide. To this list, we add the Salame Gran Milano, a new addition with larger, more flavorful slices characterized by a slow aging process. Retailers are also captivated by the "Affettati Nature" line, a selection of Italian traditional delicacies offered in eco-friendly trays made from FSC-certified paper, featuring a 75% reduction in plastic usage compared to traditional packaging.
© All rights reserved