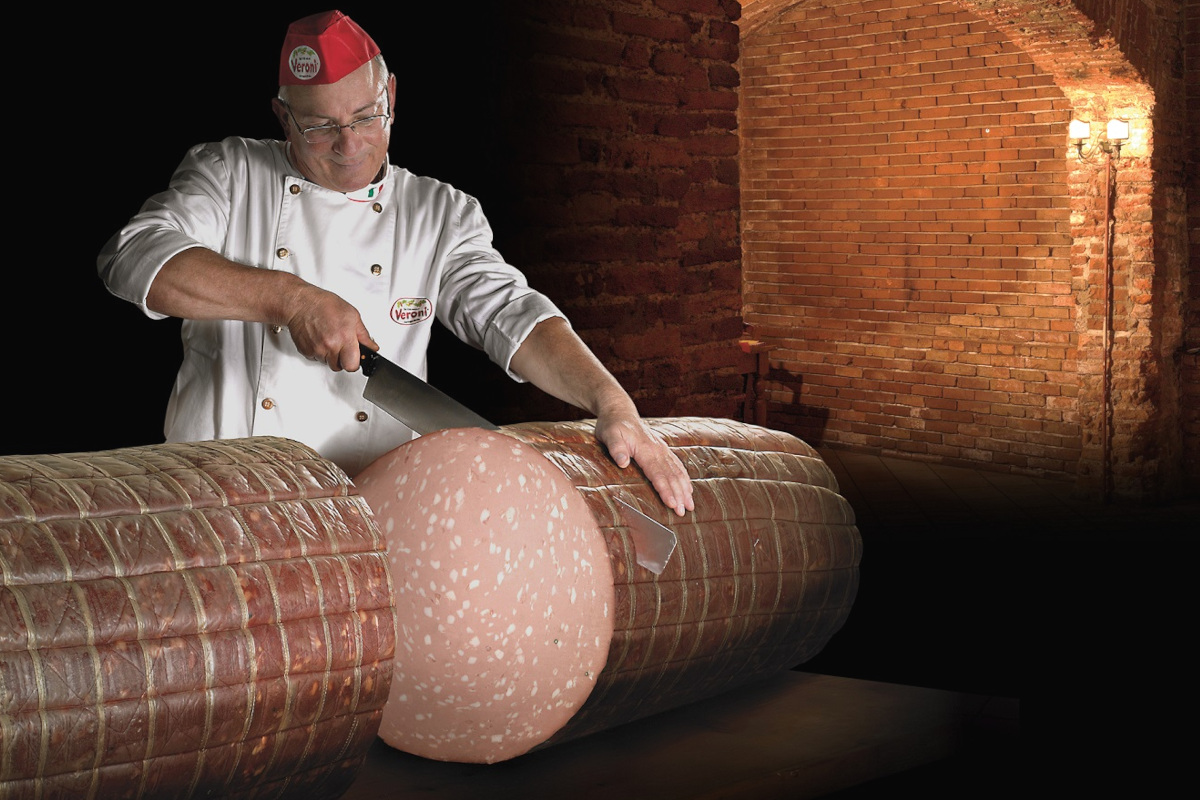 This is a record-breaking week for Veroni, the historic Italian charcuterie company, which lands on the banks of the Hudson River to attend the New York City Wine & Food Festival (NYCWFF, Oct. 13-16), the Big Apple's largest food and wine event.
Platinum sponsor of the event, the top Italian brand of free-service sliced cured meats in the U.S. (source: IRI), known for its superior quality products, brings to New York one of the largest specimens ever seen overseas. It is a Mortadella Bologna PGI almost two meters long, with a diameter of 46 centimeters and weighing 300 kilograms. It is ready to reveal all its goodness to the more than 50,000 visitors who will attend the event.
"Mortadella makes cured meats a true culinary experience, which Americans are increasingly appreciating and seeking out thanks to the success of Italian products around the world," Marco Veroni, President of Veroni USA, says. "The cult of Italian taste stems precisely from products like mortadella, which have a deep connection with their production-territory and boast a long tradition: for mortadella we go back to the 1600s. Over the years we have maintained the ancient recipe and the ultimate care we devote to mortadella like the one we will see in New York, enhancing its superior quality thanks to the technological evolution in which we are protagonists."
HOW IT IS MADE
An extra-large size like the mortadella coming to New York is made from the highest quality meat: pork shoulder for the pink part and pork throat for the white part, slowly cooked (over 36 hours) to bring out the flavor. The cutting of this mortadella also involves exceptional know-how. During the three-day Grand Tasting, the queen of cured meats will be dispensed to visitors only after being carefully divided into wedges and then cubes. A true ritual performed by an expert Veroni promoter, strictly from Emilia.
This cured meat owes its success to a more than 100-year old recipe and is now increasingly in demand in international markets. However, the hallmark of Veroni salumi lies in their authenticity. The company imports into the U.S. the cured meats made in its six Italian plants, which are then sliced and distributed at its slicing center in Logan, New Jersey.
Veroni's signature Italian excellences will be present during the days of the NYCWFF at many of the events and shows scheduled on the calendar. In the spotlight will be the gala dinners organized in the spaces of CORE, the New York club known for its international clientele, created by Chefs such as Michele Brogioni, Eric Canino, François Payard, Dario Cecchini, and Stefano Secchi.
© All rights reserved