Despite the current uncertain global macroeconomic scenario – characterized by an economic slowdown and rising inflation – Italian food & beverage exports are expected to expand further in the coming years: both among more mature and emerging markets. This is what emerged from the report presented by the Nomisma research institute on Nov. 11 in Milan, during the event "Exports as growth driver for Food & Beverage. Scenarios, strategies and development prospects for Made in Italy," promoted by Verallia Italia (Europe's leading Italian company for the production of hollow glass for beverages and foods), in collaboration with Nomisma and Food publishing group.
Discover authentic Italian F&B on the Italianfood.net platform
According to the report, in markets where the presence of Italian food is already established the greatest opportunities for growth can be seen in the US. It is the second largest destination market for Italian F&B exports, however, its future potential is enormous thanks to the high purchasing power of consumers and a demand for Italian products currently concentrated in only a few states – starting with New York and California.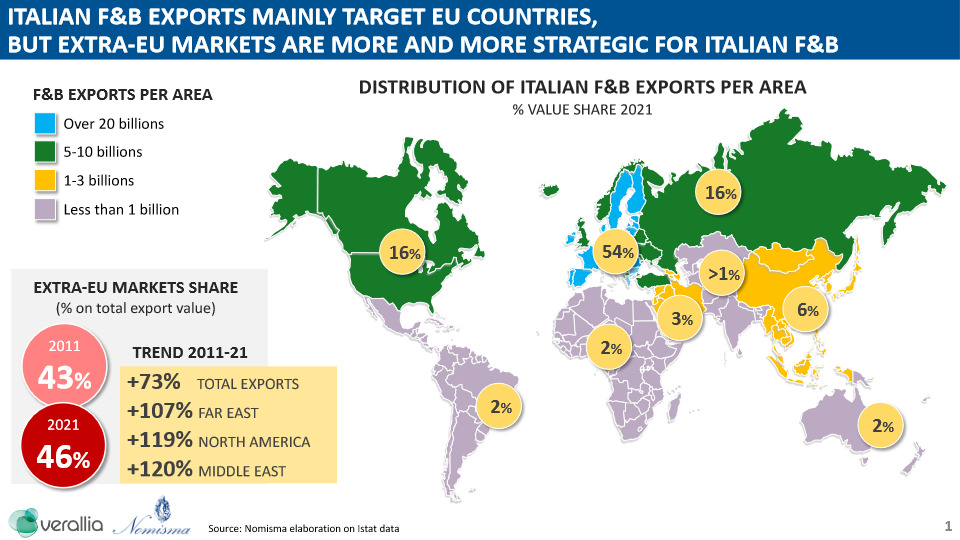 EMERGING MARKETS AND NON-EU COUNTRIES
Overall, still today Italian food exports go mainly to EU countries, but non-EU markets are increasingly important. In fact, their share of total export sales has increased from 43 percent in 2011 to 46 percent in 2021. Noteworthy emerging countries include some Middle Eastern markets (Israel, Saudi Arabia, and the United Arab Emirates), Eastern Europe's (Poland and Romania above all), and China, where an economic recovery is expected as early as 2023.
However, it is South Korea that is expressing the greatest potential for Italian food exports, thanks to a thriving economy and double-digit annual growth rates in F&B imports from Italy.
THE MOST WANTED PRODUCTS
Considering Made in Italy's "ambassadorial products" in the world, wine is in first place with a 17 percent share (equal to 7.1 billion euros) of the total, although beverage as a whole does not exceed 26 percent of total exports. This is followed by cheese (8 percent), pasta and baked goods (7 percent), chocolate, cured meats, and preserves (5 percent), coffee (4 percent), and olive oil (3 percent). As for growth performance, when comparing the Compounded Average Growth Rate (CAGR) of 2021 with that of 2011, the most noticeable growth regards sparkling wines (+12.8%), followed by spirits (+8.4%), bakery products (+8.1%), coffee and chocolate (+6.8%), cheese (6.5%), and cured meats (5.7%).
Finally, Nomisma estimates that the drivers to be exploited in the coming years to increase Italian food exports are healthy ingredients, organic food, sustainability of packaging and production methods, traceability and PDO/PGI designations.
© All rights reserved