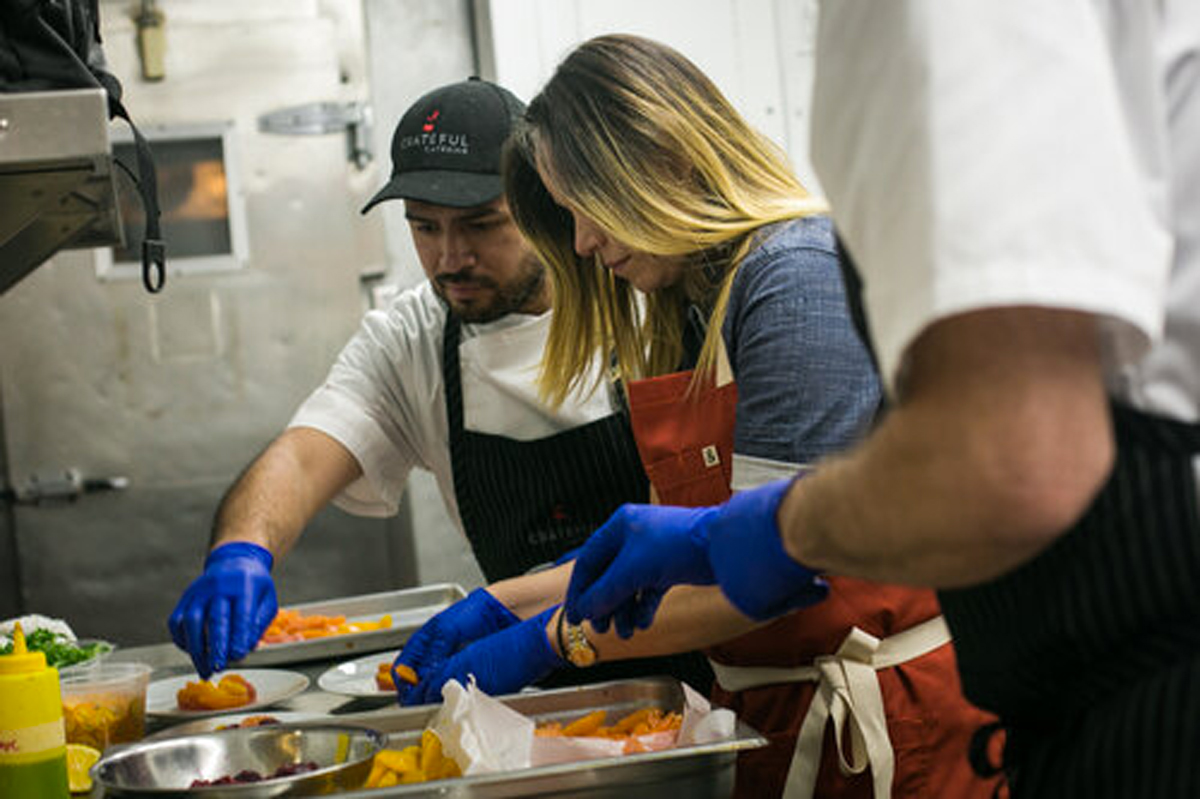 On our regular issue nr. 3 we widely discussed the impact of Covid-19 on the food service industry in the USA. To have a further point of view we reached Emanuele Ponzo, co-founder of Crateful Catering, a company based in LA, California, with a strong commitment to Made in Italy: Pesto Genovese DOP, Parmigiano Reggiano Vacche rosse PDO,  Barrel-aged 25-years old certified PDO traditional Balsamic Vinegar of Modena, tomato sauce with San Marzano PDO, among the others.
Emanuele, how did the Covid-19 impact food service in California?
"Covid-19 has impacted all Worlds unfortunately very bad and even a strong economy has California have been affected a lot, especially in some sectors as Hospitality. Of course, sectors as online have been made money and money but surprisingly Real Estate grew remained very hot especially with all of the law interest on borrow money. The food industry has registered different results, some positive and some negative. The distribution especially of some products like frozen products or pasta, packed products have increased their sales in the first month but after the first month all of the distribution has lost a big number of sales with hotels, restaurants closed. The food industry has been devastated is actually the events/catering and especially here in Los Angeles several companies even big have closed their doors forever. Now the State has helped the restaurants a lot giving them many spaces on the street to receive clients with not permission to enjoy the dinner inside of the restaurants but I personally do not know how long can be an option during November or December even if in California the weather is pretty good. The catering side, events instead did not receive much support but actually there are so many limitations on gathering".
What have been the measures adopted by the federal and local government? There has been a kind of support for business and employees?
"In terms of support to businesses and employees, the Government has developed a perfect business model if this Pandemic was much shorter then seems it will be. They have decided to give a loan called PPP for companies that have less than 500 employees, which is a considerably forgiven loan if it will be used to pay 75% up on payroll and 25% rent and utilities. This a personally think is a genius idea because it can save to the Government the cost of the unemployment, the crash of the economy and the same time for companies are making money and they are working well, the Government can make 35% of taxes paid on the month having the companies the big part of the expenses covered. In the same time The Government gave a big help to many companies keeping going, having the time to develop other strategies while the Covid was creating big damages. Unfortunately, not everybody has used the funds properly, actually they have used them for different purposes even personal. Another big problem is related to the fact the Covid here did not stop to grow and actually the numbers are incredibly high. The Government is discussing other help to companies that have been affected considerably by the Covid and probably they will also do some extra new help to those who do not have jobs and are still unemployed.
Do you think the Covid-19 will accelerate the off-premises? Not only delivery and take away but even catering?
"I personally think that there is more opportunity for partnership between huge companies and small companies with Ghost kitchens where a small company works behind a big brand, and beside of the take out and delivery I personally think what it will work is the remote events on-line, or in person gathering with different theme and situation to have small group of people in each part of the Location to experience something and not being all together. For sure the Covid-19 accelerate a lot of the off-premises".
How are you making the different business wise decisions during this uncertain time?
"Being an entrepreneur, I always need to find stimulation, and it is very important to understand and calculate the risk of any actions but if you do not do that you cannot know how it can be. When everything has been stopped, I have decided to launch several initiatives from a food delivery with vacuum food that could be stored for several days, or a donation campaign called FuelThem to help nurses and firemen so the front Line and develop several partnerships that will be ready when everything will restart".
© All rights reserved