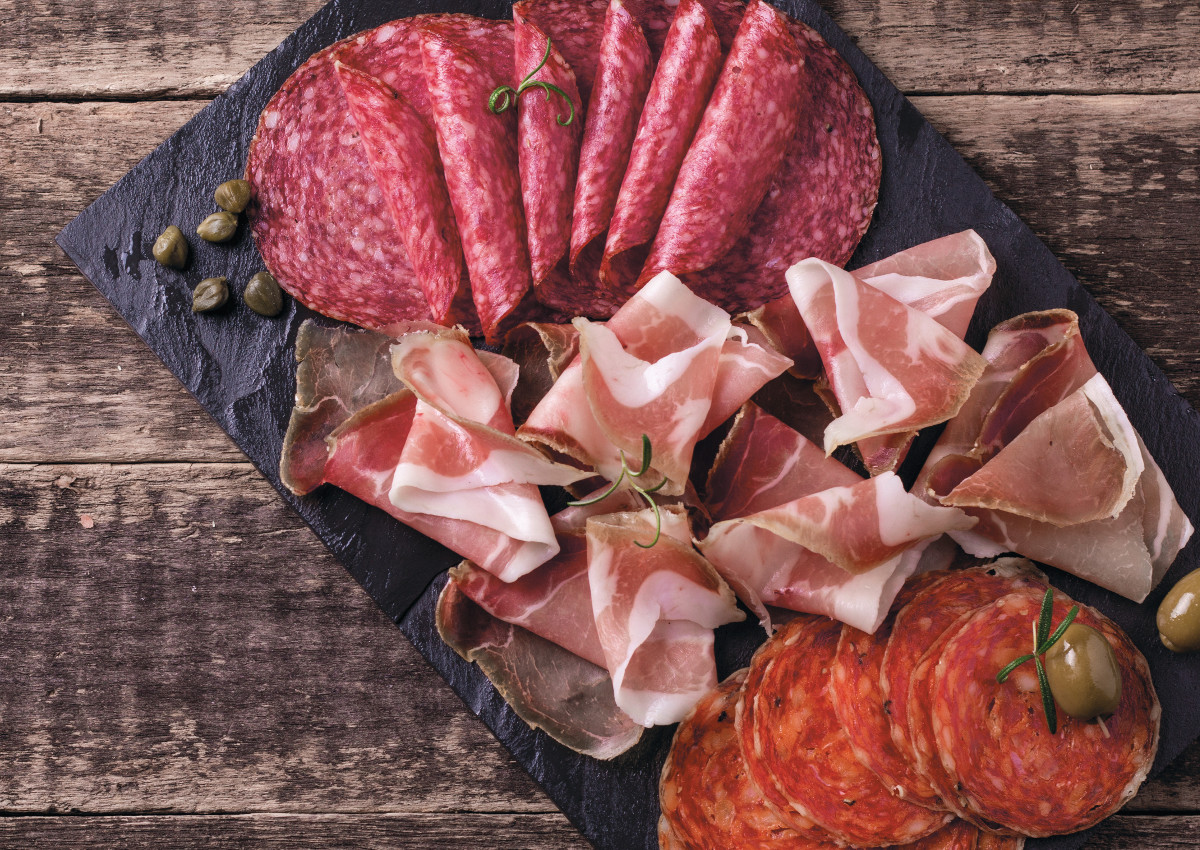 Export sales of Italian cold cuts slowed down in 2019. Over the past twelve months, according to Italian salumi and meat producers association Assica analysis on Istat data, exports stopped at 181,142 tons (-0.3% on 2018) for a value of 1,568 million euros (+1.4%).
The overall performance of the sector was affected by the significant increase in raw material prices, both foreign and domestic, due to the explosion of the African Swine Plague (ASF) in China, which caused a significant increase in pork meat imports from the Asian country. The record increase in production costs, the deterioration of the international political climate and the difficulties highlighted by world trade have slowed exports of Italian cold cuts.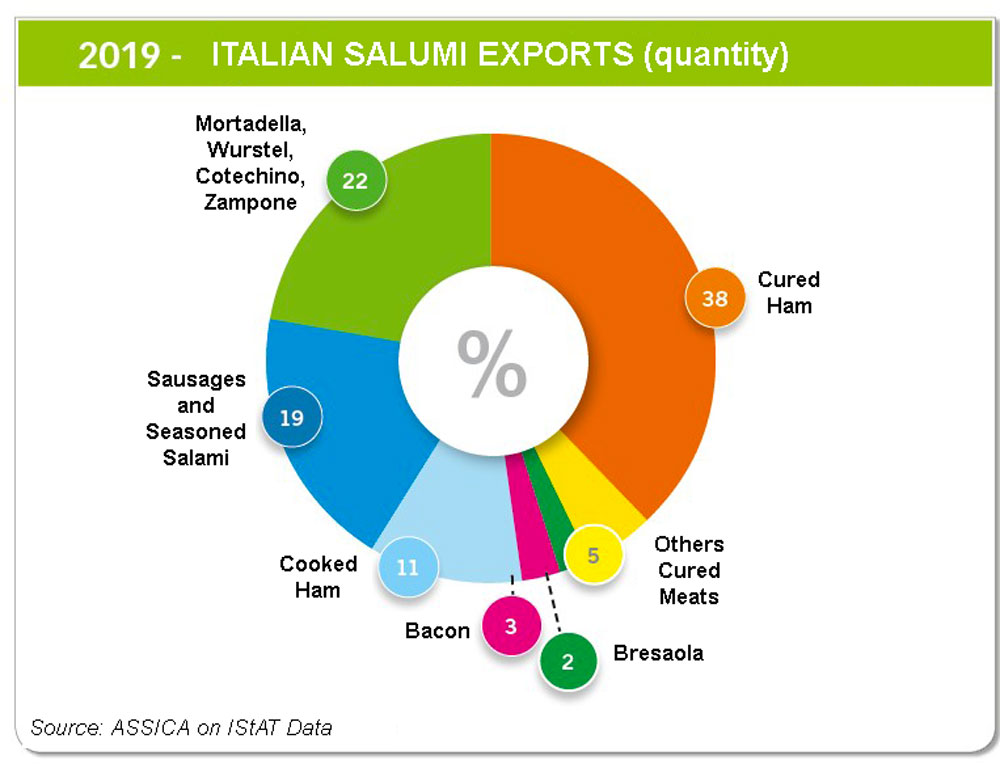 This is particularly true for EU countries, while exports to non-EU countries, starting with USA, recorded good results despite duties set by Trump administration on cooked cured meats. The trade balance of the sector recorded +0.9% for 1,354 million euros. Exports in the sector, in terms of turnover, showed a slower pace than the food industry as a whole (+5.2%) and that of the country (+1.7%).
Click here to discover the authentic Italian cold cuts on Italianfood.net platform
EXPORTS OF ITALIAN COLD CUTS IN 2019
"This result is no surprise: 2019 was a difficult year, even before the coronavirus health emergency – said Nicola Levoni, President of Assica -. We shall urge action to remove trade barriers and facilitate trade between all players in the global economy. The events we experienced in 2019, and perhaps even more so today, require us to think in terms of mutual support between peoples in a situation of epochal difficulty. The lockdown in our country and in many other countries that are important for our exports puts us in a situation of extreme vulnerability. Facilitating trade is an important lever to overcome this moment of difficulty and protect the entire supply chain."
FOCUS ON PRODUCTS…
Good performances for salami, Mortadella Bologna PGI and seasoned bacon. Shipments of cooked ham are increasing in value, while exports of cured ham are decreasing. Shipments of bone-in and boneless products stopped at 68,351 tons (from 70,586 tons in 2018: -3.2%) for a value of 742.1 million euros (-2.1%). The trade balance decreased, falling to 674.9 million (from 689.7 million in 2018: -2.1%).
Good result for the exports of mortadella and sausages: +2.6% in volume (40,376 tons) and +7% in value, for 149.3 million euros. Good performance for salami as well: 34,066 tons (+3.2%) equal to 336.6 million euros (+4.4%). The same can be said for cooked ham: 19,108 tons (-3.7%) for a value of 139.6 million euros (+2.6%). Excellent result for cured bacon: +4.9%, for 5,875 tons (+20.2%) and about 51.2 million euros in value. Finally, exports of bresaola fell to 3,797 tons (-3.5%) for a value of 63.6 million euros (-2.9%).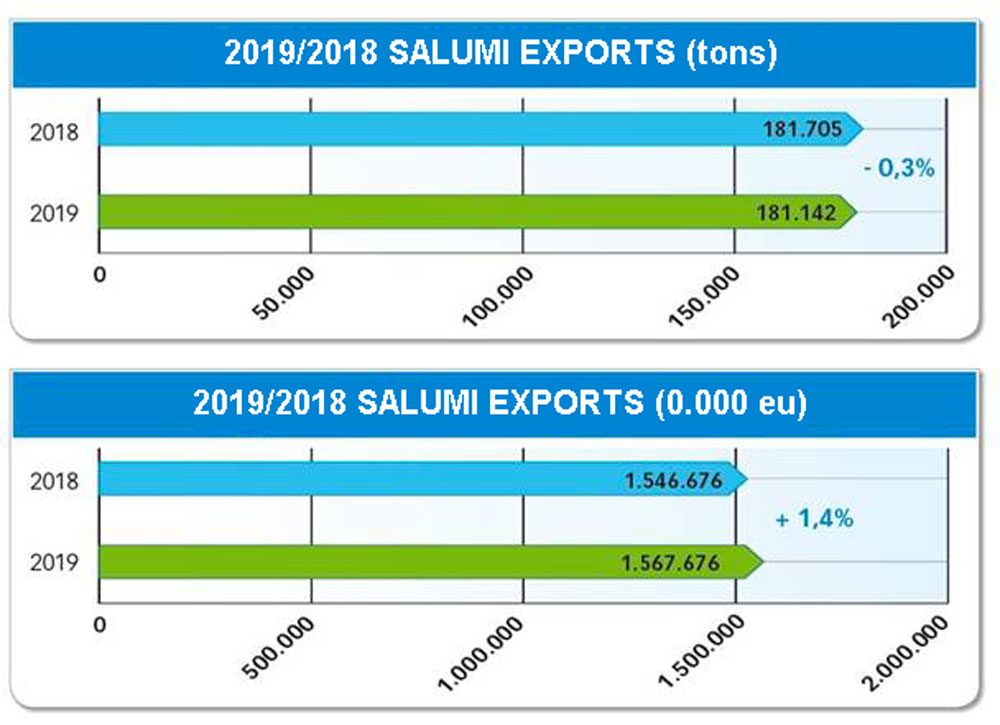 … AND EXPORT MARKETS: EU COUNTRIES
Exports to the EU countries recorded -1.3% in volume (143,100 tons) and +0.6% in value, for about 1,212 million euros. Sales were affected on the one hand by the economic slowdown in many European countries, and on the other by the increase in the average price of products due to the exceptional increase in the cost of raw materials.
Exports to France decreased in volume and grew in value (-2.9% for 33,973 tons and +1.8% equal to about 287 million euros). Exports to Germany fell by -0.8% in volume (34,108 tons) and by -1.1% in value (327.5 million euros). Exports to the United Kingdom grew, but only in terms of volume (+3.3%, equal to 16,596 tons) decreasing by -1% in value (166.4 million euros).
Sales in Spain were positive as well. Italian cold cuts exports rose to 6,647 tons (+2.1%) for a value of 31.3 million euros (+0.3%) compared to 2018. Bad performances in Austria (-8.7% for 8,009 tons, and -7.2% equal to 66.3 million euros), while good news came from Belgium (+3.8% equal to 8,454 tons and +5.6% for 89.4 million euros), Greece (+7.3% and +6.5% respectively), and Croatia (+1.1% and +3.9%).
NON-EU COUNTRIES
Italian cold cuts trade with non-EU countries performed very well in 2019 growing by +3.7% in volume (38,042 tons, from 36,700 tons in 2018) and +4.2% in value (356 million euros). The trend was affected by geopolitical tensions between China, the EU and USA. Duties applied by the Trump administration, following the WTO ruling on the Airbus-Boeing dispute, affected Italian charcuterie, in particular salami, mortadella and cooked ham(+25% duties starting with October, 18).
Despite duties, exports to the United States – the Italian charcuterie main trading partner outside the EU – recorded an excellent result in 2019: +10.5% in value (equal to 10,958 tons) and +8.2% in value (equal to over 125.9 million euros). There was also a significant double-digit increase in exports to Canada (+30.2% in volume and +33.7% in value), thanks to the boom of cured bacon, cooked hams and mortadella. Good growth also in Switzerland: +2.7% (4,931 tons) and +3% (over 77 million euros).
Excellent results in Bosnia-Herzegovina (+8.9% and +11.4%), Brazil (+30.8% and +29.5%), and the Republic of South Africa (+77.3% and +66.1%). Exports to Norway (+14.5% but -1.8%) closed with a significant increase in volume, while sales in Lebanon (-3.6% in volume and -8.4% in value), Hong Kong (-2.4% and -4.9%), and the Russian Federation (-49.1%, for 264 tons, and -42.2% in value for 3.1 million euros) decreased significantly.
© All rights reserved