Thanks to the latest free trade agreement between the EU and Japan – in force since February 2019 – Italian agri-food exports have grown by 80 percent, according to Italian farmers association Confagricoltura on the basis of ICE – Italian Trade Agency data.
"From February to August 2019 – underlines the president of Confagricoltura, Massimiliano Giansanti – exports of Italian food and beverages amounted to 1.12 billion euros, growing by almost 80% compared to the same period of 2018. Exports of agricultural products also increased by 18%. The data show that the EU bilateral trade agreements are fundamental for the Italian agri-food system, taking into account the continuing stagnation of domestic consumption."
THE IMPORTANCE OF THE EU – JAPAN TRADE AGREEMENT
According to data from the European Commission, 34.4% of EU agri-food exports are destined for the markets of the countries with which trade agreements have been signed.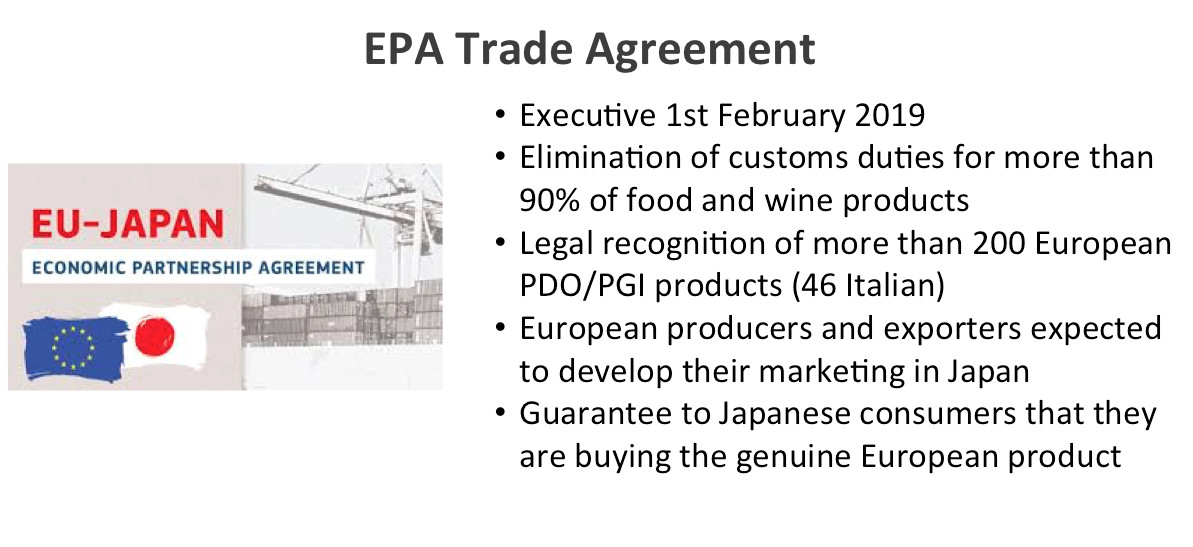 The EU – Japan agreement provides for the progressive elimination of customs tariffs on 97% of European products destined for the Japanese market. Duties on wines and sparkling wines have been eliminated from the date of entry into force of the agreement. According to the European Commission's estimates, the Union's agri-food exports could increase by 36 billion once the abolition of duties has been completed.
THE PROTECTION OF ITALIAN FOOD PRODUCTS
Japan has also accepted to recognize and protect 219 EU agri-food products, including wines, with a protected geographical indication (PGI). The list can be extended in the coming years. "This protection – adds Giansanti – concerns 45 Italian excellences that cover about 90% of total exports of PGI products."
The EU-Japan agreement also provides for the simplification of procedures for the import and customs clearance of products coming from EU member states.
© All rights reserved