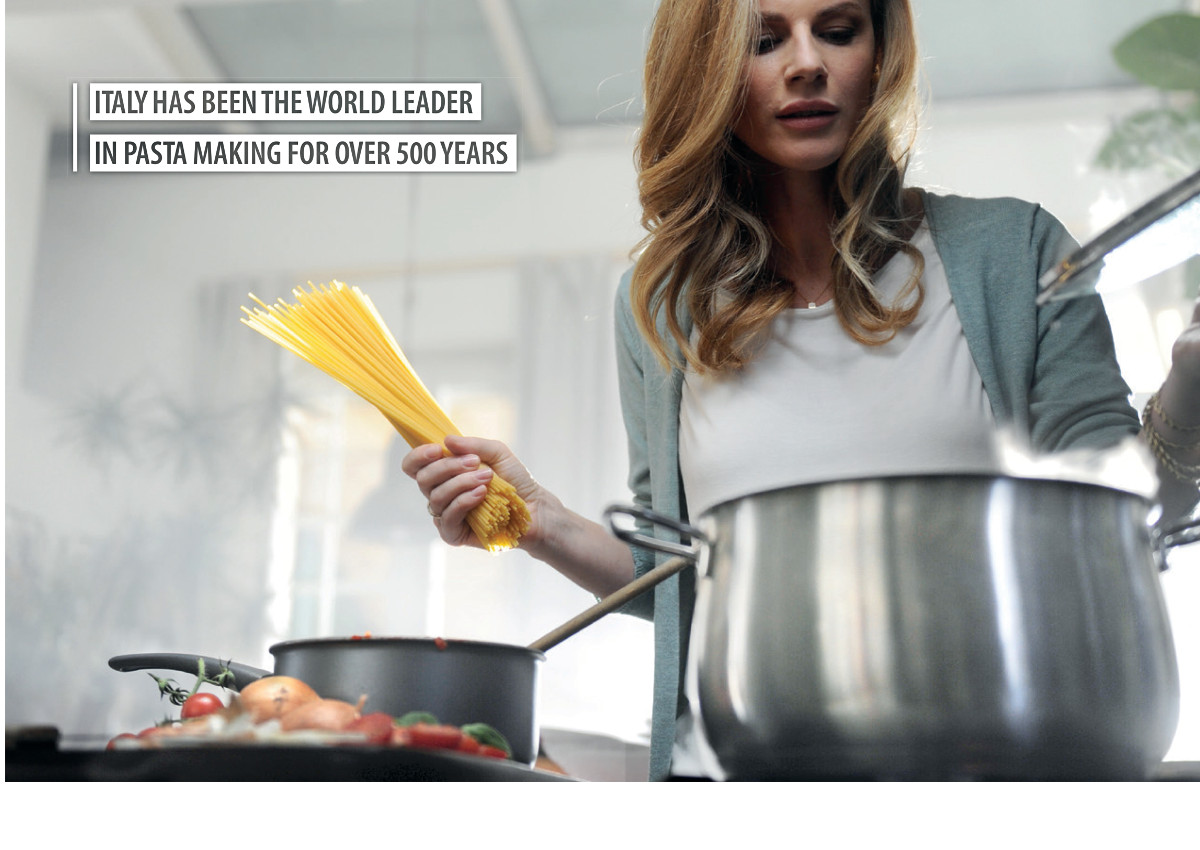 The United States remains a growing and promising market for Italian food and beverage, whose exports continued to grow in the first quarter of 2019, confirming the positive trend seen in recent years. From 2009 to 2019, Italy's F&B exports to the US market have doubled, according to estimates provided by the Italian Trade Agency (ICE), the government-backed body that promotes trade of authentic Italian products around the world.
In the first quarter, Italy remained in command of the 6th place among the largest international food suppliers to the world's largest economy, behind Mexico, Canada, China, France and Chile. Exports of Italian food and beverage to the US totaled 1.25 billion dollars in January-March 2019, a 4.1% increase over the same period of 2018, according to data from the US Department of Commerce elaborated by ICE New York. Last year, exports rose 7.9% to 5.2 billion dollars compared with 2017. The positive result followed a 5.4% increase in 2017 and a 3.4% rise in 2016.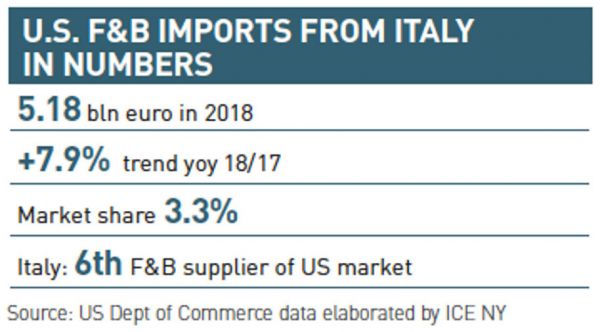 USA: THE TOP EXPORTED ITALIAN FOOD…
Italy is the undisputed top supplier of wine, cheese, pasta, water and olive oil in value. Moreover, US imports of gelato, bakery, and coffee are also rising, with a total value of around 220 million dollars in 2018. Processed meats are showing an interesting trend. After a difficult 2016, imports rose 20% in 2017 and 21% in 2018, bringing Italy from the fifth to the third place among the top suppliers to the US.
… AND BEVERAGE
Italian wine in the first quarter regained the first place, after finishing 2018 in the second place behind France, data provided by ICE showed. However, imports declined 1.6% in the first quarter, after rising last year by 6.8% to 1.9 billion dollars, the highest level in the past five years. Italian wine makers, supported by a government-backed campaign organized by ICE, have been trying to reposition their renowned wines in the US market by raising consumer perception and ultimately prices. Average prices have reached 5.9 dollars per liter, up 5.4% from 5.6 dollars/liter in 2017. Around a quarter of exported Italian wine is sold in the United States.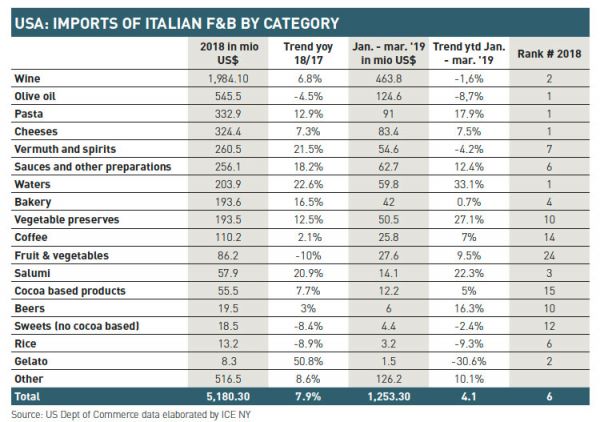 EVO OIL CHALLENGES SPAIN
Italian olive oil remains the winner in its category as it faces competition with Spain, but unfavorable weather and bacteria hit production and exports, which declined in value terms by 8.7% in the first quarter, following a 4.5% contraction in 2018. In volume terms, the performance was slightly positive in the quarter (up 0.9% on the first quarter of 2018). In 2018, volumes declined 5.7%, according to the ICE report. It should be noted that the US cut down on imports of olive oil from the entire world in the first quarter (down 16.4% in value, down 1.2% in volumes). Spain, the closest competitor to Italy followed by Tunisia, had a much stronger performance in the first quarter (up 14.5% in value, up 45.2% in volume). Morocco and Portugal grew more than Spain, although they are smaller exporters. Exports of Italian extra virgin olive (EVO) oil beat Spain in volumes (up 25.1% vs 0.8% for Spain) but not in value (down 6.3% compared to Spain's 29.2% rise).
PASTA CONFIRMS ITS LEADERSHIP
Pasta enjoyed a bright first quarter, with exports rising 17.9% in the first three months of the year, extending a positive 2018 with a 12.9% rise on the year before. A distant second pasta exporter to the US was Canada, followed by China and South Korea.
ITALIAN CHEESE OUTSHINES FRANCE
Cheese shares the winner seat with wine, olive oil and pasta, thanks to a steady 7.5% growth in the quarter, which adds to a 7.3% rise in 2018. Italian made cheese outperformed French rivals in both value and volumes in the first quarter, ICE data showed. Off the podium, mineral waters were the best performing category in the first three months of 2019, with a 33.1% boost in exports to the US, followed by vegetable preserves (up 27.1%), and processed meats (22.3%).
US imports of Italian cheese rose 7.5% in the quarter, compared with a 3.3% decline for France. In 2018, Italy sold 324.4 million dollars of cheese to the United States, while France sold 190.9 million. Spain is a distant No.3 among the world's leading cheese suppliers to the United States.
CHARCUTERIE WINS MORE FANS
When it comes to processed meats, including salami and ham, Italy keeps rising. Since 2017, the trend has remained positive, helped by the removal of some import restrictions on salami. Despite competition from Canada and Brazil, Italian exports to the US jumped 22.3% in the first three months of the year in value terms and were up 29.1% in volumes. It must be said that when it comes to volumes, Italy sits in the 7th place among the world's top exports to the US. On the bright side, it gained one spot from the 8th place in 2018.
Italian F&B products exported to the US in 2018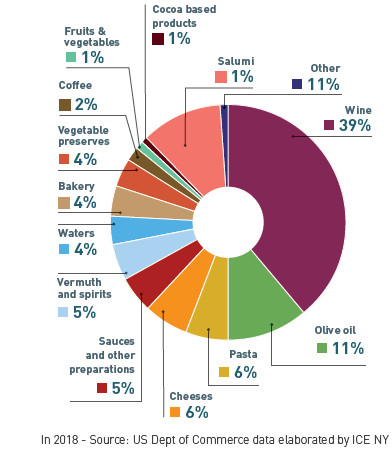 OVER 800 NEW SUPPLIERS SINCE 2015
ICE organizes promotional activities to educate American consumers and retailers to the importance of authenticity amid strong and steady demand for quality, wellness and healthy nutrition. Since 2015, promotions have taken place in more than 11,000 stores, involving 4,800 Italian companies and introducing more than 800 new suppliers in the US retail market. American buyers travel regularly to Italian food trade shows such as Cibus, Tuttofood, Sana and Vinitaly. More than 500 US operators and journalists have traveled to Italy in the past three years. Italy has strengthened its participation in major US food shows, from the Winter and Summer Fancy Food Shows in San Francisco and New York, to the PLMA in Chicago dedicated to the private label. Around 1,000 Italian companies took part in 9 shows and over 14,000 B2B meetings.
Campaign communications designed to counter counterfeiting and educate consumers to authentic Italian food products helped increase awareness and sales. Under the claim 'Buy Authentic Italian. Get more', the first communication campaign, launched in 2015, totaled one billion impressions in the first year. The 2018 communication plan, under the slogan 'The Label Says it All – Choose only genuine products from Italy' , was aimed at helping consumers recognize authenticity. The campaign produced 572.7 million impressions as to the end of September 2018.
AWARENESS ON THE RISE
A large majority of American consumers recognize the importance of authenticity in the Italian products they buy, according to a survey commissioned by ICE New York. Asked whether they consider very important that a product is Made in Italy, 67% of respondents agreed. Also, 64% of the consumers polled said they are willing to pay more for an authentic product. Compared with a survey compiled in 2015, the results show growing consumer interest in these topics.
Moreover, 62% of consumers found very interesting a video that invited them to control the authenticity of Italian products. ICE's digital awareness campaign involves the website Italianmade.com, and the social media channels Italiancrafted on Facebook, Instagram and Twitter.
Click here to discover the authentic Italian Food & Beverage products on the Italianfood.net platform!
© All rights reserved