In the 2022/2023 period, the Italian exports performance in the tomato-based products sector was lower than the previous marketing year: 742,400 metric tons of pastes, 1.438 million tons of canned tomatoes, and 179,400 tons of ketchup and tomato sauces were sold over the last marketing year, according to Trade Data Monitor figures.
The decline in sales has impacted all product categories, but it should be considered within the context of remarkable increases seen in recent years.
Find authentic Italian tomato preserves on the Italianfood.net platform
EXPORTS BY CATEGORY
Notably, in the tomato paste category, sales have dropped by approximately 17,000 metric tons compared to the 2021/2022 marketing year (759,400 tons) and 37,700 tons compared to the three-year average. Despite these setbacks, sales have remained nearly unchanged (a mere 330 tons increase) when compared to the pre-Covid three-year average.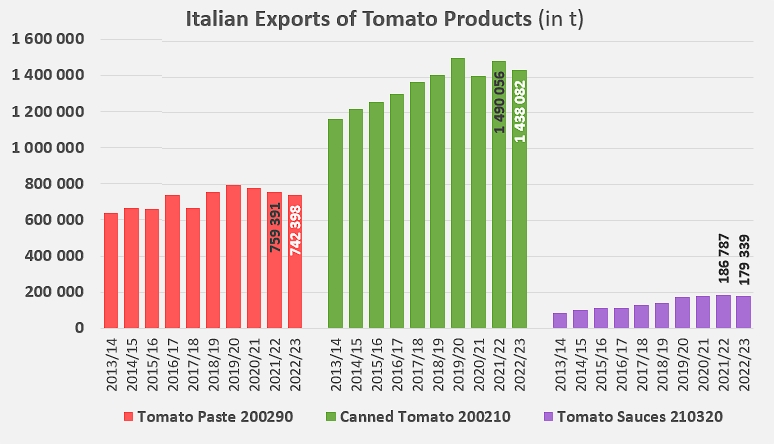 Canned tomato exports have followed a similar trajectory, witnessing significant decreases of 52,000 tons compared to 2021/2022 and the preceding three years. However, there is a silver lining, as they have posted a slight increase (8,200 tons, +0.6%) compared to the pre-Covid period.
In contrast, the sauces sector has demonstrated resilience, with only moderate decreases of 7,400 tons and 1,300 tons when compared to previous years, and most notably, a remarkable increase of 30,000 tons (+20%) in contrast to the pre-Covid era.
Analyzing the volumes of raw materials consumed by Italian exports of processed tomato products in recent years reveals a gradual return to pre-pandemic levels after the peak in 2019/2020. This reflects the adjustment in operations and brings Italy's foreign activities back to their pre-pandemic state.
EXPORTS TO THE EU MARKET
The European market holds a strategic position in Italy's foreign trade, accounting for a significant share of the country's exports of pastes, canned tomatoes, and sauces. Over the past decade, 74% of paste exports, 85% of canned tomatoes, and 81% of sauces and ketchup exports have been destined for the EU and non-EU European countries. This segment remains particularly vital in the 2022/2023 marketing year. For tomato paste exports, the most substantial annual declines in volume were observed in the eastern EU, Mediterranean Africa, North America, West Africa, Central America, and East Africa. Despite reduced purchases in Germany, Italian tomato paste sales have surged in the Netherlands, Austria, Spain, France, and Portugal, resulting in a shift in export sales towards Western EU countries.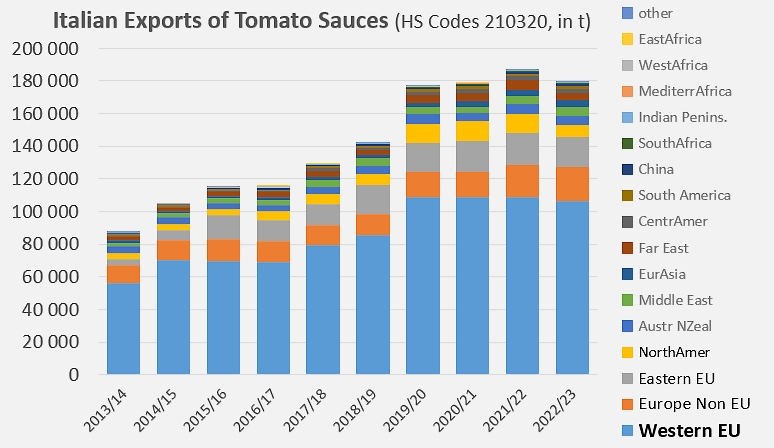 SALES IN NON-EU COUNTRIES
Italian canned tomato exports have witnessed a similar, albeit more pronounced, decline in 2022/2023. Annual variations show a drop of nearly 52,000 tons and 3.5%. The main outlets for Italian canned tomatoes, with the exception of the Western EU and Eurasia, have significantly reduced their purchases. The North American market has seen the most substantial decrease. This has resulted in an increased focus on Western EU countries in Italy's foreign shipments.
The modest reduction in exports of tomato sauces and ketchup in the last two marketing years can be attributed precisely to decreased sales within the EU, North America, and the Far East.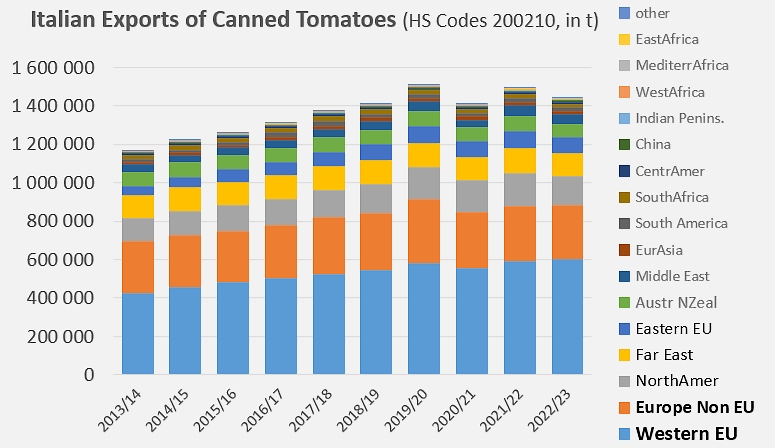 In addition to the fluctuating sales figures, the global rise in tomato product prices has reshaped the value landscape of the Italian export categories. According to data from national customs services, the total value of Italian tomato-based product exports in the 2022/2023 marketing year set a new record, exceeding 3.253 billion euros. This is a remarkable increase of 496 million euros (+18%) compared to 2021/2022, 695 million euros (+27%) compared to the three-year average, and 1.1 billion euros (+51%) compared to the pre-Covid period.
Last year's sales reached 1.19 billion euros, with the most significant percentage increase observed in the total value of exported tomato pastes (+56%, 426 million euros). Other categories also experienced impressive growth, with canned tomatoes reaching 1.67 billion euros (+47%) and sauces showing 134 million euros (+52%) in foreign sales, totaling 393 million euros.
© All rights reserved