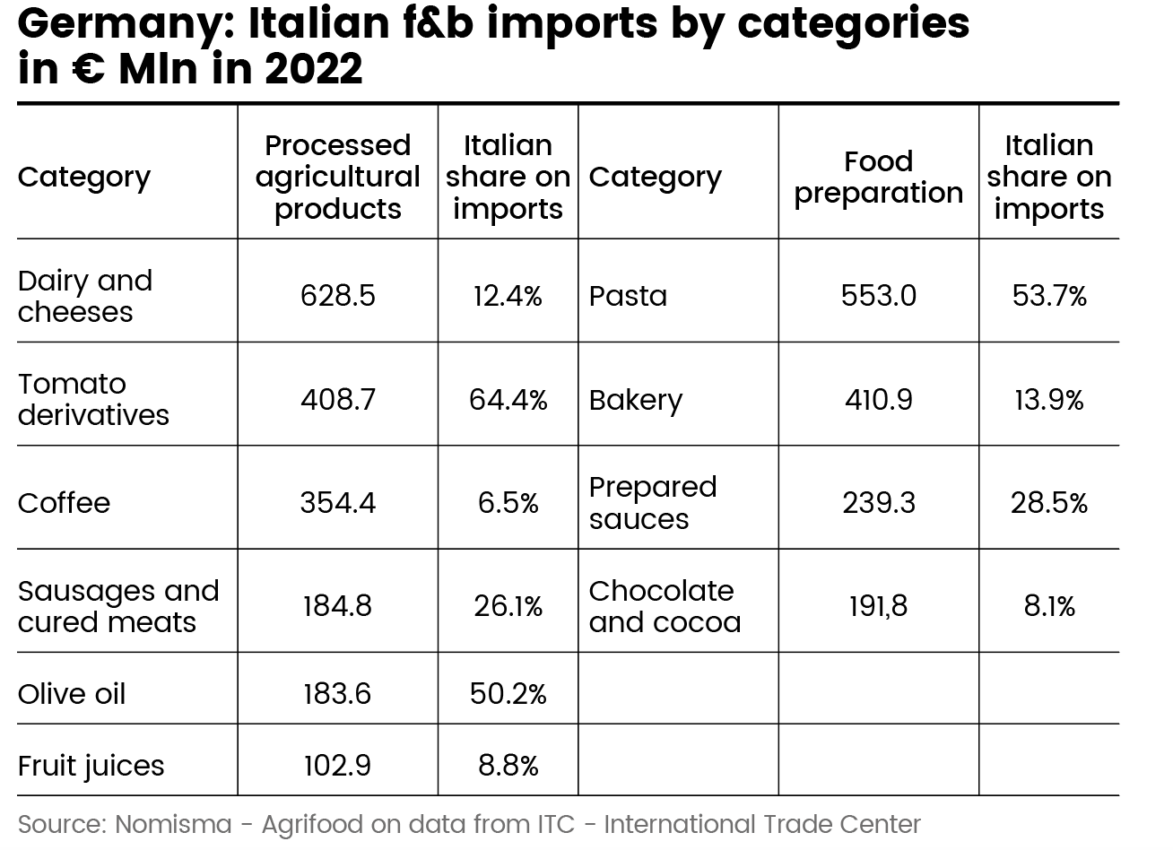 According to data provided by Nomisma, in 2022, Germany's agri-food imports rose by 17% to €112.5 billion, making up 7.8% of total imports. Inflation led to higher consumer food prices, increasing retail sales value, but actual food purchases decreased. The food & beverage industry saw growth across primary processing (+23.1%), food preparations (+12.1%), and alcoholic/non-alcoholic beverages (+6.8%). To boost real consumption in 2023, households' increased purchasing power is crucial, considering the ongoing high inflation, while wage policies of businesses and institutions will also impact the situation.
GERMANY'S ECONOMY CONTRACTS, SIGNALING A RECESSION?
The German economy faced the risk of recession in the first quarter of 2023, with GDP growth showing a marginal increase of 0.2% compared to the same period in 2022. The main hindrance to Germany's economic recovery remains inflation, which is projected to remain at elevated levels throughout 2023 […].
The agri-food sector, in addition to facing rising energy prices, has also been affected by the increase in raw material costs due to the Russo-Ukrainian conflict and, indirectly, by the EU-27's trade restrictions on Russia, which closed off a significant commercial outlet for the country. As a result, agri-food prices have seen widespread increases, although the intensity has varied depending on the categories of food & beverage involved. In the first half of 2023 (January-June), some of the most substantial price increases were observed in bakery, which rose by 17.9%, and cheeses (dairy products category), which increased by 15%.
THE EFFECTS OF INFLATION ON GERMAN HOUSEHOLD CONSUMPTION IN 2023
Given the German government and EU-27's conviction that inflation will not significantly decrease in 2023, it's worth understanding how sustained high prices will impact the food purchasing choices of German households. According to a recent survey, only 42% of the population believes that inflation has led to a significant loss of income after paying taxes, rent, and fuel (source: YouGov). As a result, the percentage of the population altering their spending habits on food in 2023 (one of the most substantial remaining expenses) due to reduced disposable income may be lower than anticipated. 
For instance, packaged foods are expected to see a shift in demand towards more cost-effective retail channels, such as moving from food supermarkets to discount stores, or even within the same distribution channel, from branded products to private label (trading down). It appears that while the rise in prices has certainly accelerated some significant changes in food choices, it may not be the sole cause, with meat being one such example.
ITALIAN FOOD: EXPORT GROWTH IN THE 1ST Q DESPITE INFLATION
The Italian food and beverage categories with the highest revenues (cheeses, pasta, and tomato derivatives) have experienced a positive trend in the first quarter of 2023, with two of them showing double-digit growth.
Although the economic prospects for Germany in 2023 do not indicate an immediate rebound, dairy imports from Italy remain strong. Italy ranks third (11.7%) among the top five suppliers to Germany. Particularly, in the first quarter of 2023, Italy saw a 16.9% increase in dairy shipments, aligned with the overall trend of German imports (+18.7%). The demand for hard cheeses, which saw increased consumption during the lockdown months, is expected to remain robust, driving import figures.
Amid rising retail prices, particularly affected by the Russo-Ukrainian conflict, pasta remains popular in Germany, especially among lower-income groups. Private label products have gained popularity due to their affordability. Pasta imports in the first quarter of 2023 increased by 3.8%, reflecting this trend. Italy dominates imports with 55.3%, while the dynamics of other countries vary. The popularity of regional and distinctive-flavored cheeses in Germany can affect imports. Nevertheless, Italy's 55% share of imports continues to hold firm. Tomato derivatives from Italy have seen significant growth in exports to Germany, with Italy being the main supplier (60%) in the first quarter of 2023, marking a 37.4% increase compared to 2022.  Pasta and tomato derivatives' synergy in usage and occasions drives demand for quality products.

© All rights reserved