The Covid-19 pandemic has had a significant impact on the purchasing decisions and processes of Australian consumers. One of the most notable phenomena is the tremendous surge in online shopping within the food & beverage sector, which nearly tripled within a span of two years. The convenience of remote purchasing is not the sole factor that has attracted consumers to this channel; easier price comparison has also played a crucial role.
In terms of revenue, the size of the online food retail sector, also in 2022, amounts to 5.7 billion euros (9.1 billion Australian dollars) – out of a total of approximately 82 billion euros (130 Australian dollars according to IBISWorld) in the food & beverage retail sales.
READ OUR SPECIAL ISSUE – Regions AUSTRALIA
PASSION FOR GOURMET CUISINE IS GROWING
Another characteristic of the Australian market is the increased interest in quality cuisine, thanks to various television programs that have stimulated its growth. There is a strong passion for dining out, seen as a recreational or cultural experience. This has supported the opening of trendy restaurants and the arrival of new culinary proposals. Australia offers a mix of cuisines that are fully integrated into the national culture, with Italian cuisine leading the way. Many pubs are trying to rebuild a new image by transforming into gastropubs, collaborating with renowned chefs to create more appealing menus. Nevertheless, the interest in fast-food chains remains high, in line with the Australian preference for tasty, affordable, and quickly delivered food. The inflation rate, which reached 7%in the first quarter of 2023, is indeed impacting consumer choices and putting Australian families under strain (source: Australia Bureau of Statistics). In April 2023, the price of food items at the two top supermarket chains – Coles and Woolworths – recorded a +9.6% (year-on-year) increase, according to the latest data published by investment bank UBS. The decline in purchasing power has lowered the average amount Australians spend in restaurants, putting downward pressure on profit margins and sector revenues. The change in consumer behavior has prompted many operators to restructure their operations by revisiting menus, reducing portion sizes, and expanding takeaway options. The restaurant sector is expected to reach a total of over 9.8 billion euros in the 2022-2023 fiscal year (15.7 billion Australian dollars – source: IBISWorld).
HEALTHY FOOD, AN UNTAPPED POTENTIAL
In this context, what are the emerging consumption trends in the Australian market? Foods without gluten, lactose-free products, vegan options, protein-rich foods, sugar-free snacks, and smaller portion sizes are gaining traction. Despite the growing attention to healthy foods, Australia lags behind other countries in promoting and supporting good dietary practices. Significant gaps have been identified in the Australian government's policy compared to best international practices, with little progress made in the last five years. Data from the Australian Institute of Health and Welfare reveal that two out of three adults are either overweight (36%) or obese (31%), with 75% of men and 60% of women falling into these categories. Approximately one-quarter of children under the age of 17 are overweight or obese.
Food labeling in Australia is highly regarded, with regulations regarding ingredient listings, nutritional information panels, and health claims being classified among the best in the world. The exclusion of the Goods & Services Tax (GST) from fresh fruits and vegetables, resulting in lower prices compared to less healthy foods, also supports increased consumption. A comprehensive overview that allows us to assert that Italian products can still play a significant role in the Australian food and beverage market.
READ OUR SPECIAL ISSUE – Regions AUSTRALIA
CANNED GOODS, PASTA, AND CHEESE ARE DRIVING ITALIAN EXPORTS
Based on the international trade data compiled by Trade Data Monitor (TDM), food and beverage imports to Australia saw a remarkable 23% growth in 2022 compared to the previous year, reaching a value of 15.5 billion euros. The value of imports from Italy amounted to 750.2 million euros, showing a significant increase of 20.3%, reaffirming Italy's fifth position in the world ranking of Australia's top trading partners and first among European countries. Over the last 5 years, Italy's market share has remained stable at around 5 percent. Notable increases in food and beverage imports to Australia from Italy were observed in vegetables and legumes, prepared or preserved products (+45%), tomato preserves (+28%), where Italy has long been the undisputed leader among supplying countries; pasta (+27.6%), sauces and prepared sauces, composite condiments (+28.8%), wine (+17.2%), and dairy (+16%).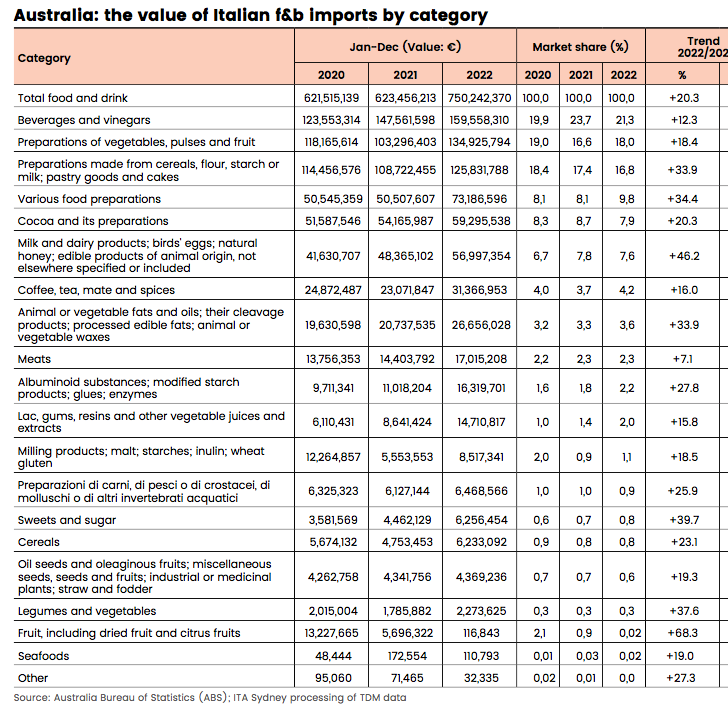 © All rights reserved