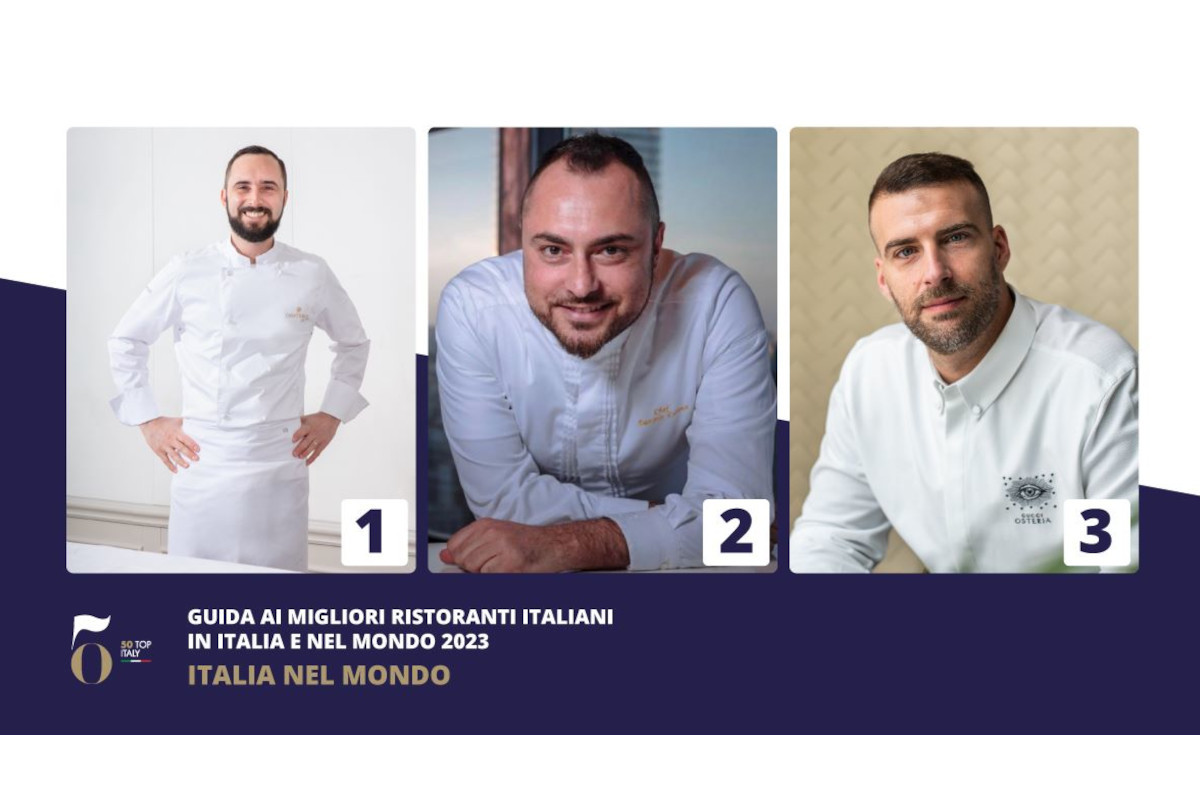 The Grand Gala of Italian Cuisine, held Dec. 13 at the Teatro San Babila in Milan, celebrated an intense and rewarding year for 50 Top Italy, the online guide to the best of Made in Italy dining inside and outside national borders. During the evening, the 50 Best Italian Restaurants in the World were unveiled and Special Awards were presented, highlighting professionals who have distinguished themselves over the past year.
Discover authentic Italian F&B on the Italianfood.net platform
Da Vittorio Shanghai, China, was awarded Best Italian Restaurant in the World. Second place in this prestigious ranking goes to Don Alfonso 1890 Toronto, Canada. On the third step of the podium goes the contemporary restaurant created by two world-famous Italian names, the fashion house Gucci and the celebrated chef Massimo Bottura: Gucci Osteria da Massimo Bottura in Tokyo.
THE BEST ITALIAN RESTAURANTS IN THE WORLD 2023: THE COMPLETE RANKING
1 Da Vittorio Shanghai – Shanghai, China
2 Don Alfonso 1890 Toronto – Toronto, Canada
3 Gucci Osteria da Massimo Bottura – Tokyo, Japan
4 Il Carpaccio – Paris, France
5 Fiola – Washington DC, USA
6 Sesamo – Marrakesh, Morocco
7 Locanda Locatelli – London, UK
8 Il Lago – Geneva, Switzerland
9 Rezdôra – New York, USA
10 Buona Terra – Singapore
11 Agli Amici Rovinj – Rovinj, Croatia
12 Masseria – Washington DC, USA
13 Acquarello – Munich, Germany
14 Senzanome – Brussels, Belgium
15 Tèrra – Copenhagen, Denmark
16 Caffè Stern – Paris, France
17 Torno Subito – Dubai, United Arab Emirates
18 Armani Ristorante – Tokyo, Japan
19 Pianeta Terra – Amsterdam, Netherlands
20 The Oval – La Devozione – New York, USA
21 Clara – Bangkok, Thailand
22 Giando – Hong Kong, China
23 La Table d'Antonio Salvatore au Rampoldi – Monte Carlo, Principality of Monaco
24 Aromi – Prague, Czech Republic
25 Pastamara – Vienna, Austria
26 Ornellaia – Zurich, Switzerland
27 Osteria 57 – New York, USA
28 Lucida – El Alamein, Egypt
29 Tosca – Paris, France
30 Mono – Edinburgh, UK
31 Erasmus – Karlsruhe, Germany
32 Brace – Copenhagen, Denmark
33 Cioppino's – Vancouver, Canada
34 La Sosta – Swellendam, South Africa
35 Orobianco – Alicante, Spain
36 Otto e Mezzo – Bombana – Hong Kong, China
37 Il Ristorante Luca Fantin – Tokyo, Japan
38 Picchi – San Paulo, Brazil
39 Restaurant Passerini – Paris, France
40 Braci – Singapore
41 Il Ristorante – Niko Romito – Dubai, United Arab Emirates
42 Acquerello – San Francisco, USA
43 Tentazioni – Bordeaux, France
44 Octavium – Hong Kong, China
45 Al Muntaha – Dubai, United Arab Emirates
46 Le George – Paris, France
47 La Locanda – Kyoto, Japan
48 The River Cafe – London, UK
49 Da Mimmo – Brussels, Belgium
50 Mancini – Stockholm, Sweden
The Top-10: Chefs
SPECIAL AWARDS – 50 TOP ITALY 2023
The Best Sushi 2023 – D'Amico Award: IYO Omakase – Milan, Lombardy
The Best Carbonara 2023 – Ferrarelle Award: SantoPalato – Rome, Lazio
The Best Panino 2023 – Mulino Caputo Award: Da Gigione Gourmand – Pomigliano d'Arco (Naples), Campania
The Best Fish Restaurant 2023 – Pastificio dei Campi Award: Clandestino Susci Bar – Ancona, Marche
The Best Street Food 2023 – Latteria Sorrentina Award: Trapizzino – Rome, Lazio
The Best Ethnic Restaurant 2023 – Altamura OP Award: IYO Experience – Milan, Lombardy
New of the Year 2023 – Latteria Sorrentina Award: Andrea Aprea – Milan, Lombardy
Pastry in Catering 2023 – Mulino Caputo Award: Duomo – Ragusa, Sicily
Creativity 2023 – Pastificio dei Campi Award: Alberto Ragoni – La Terrazza e Il Giardino Ristorante – Rome, Lazio
Lunch of the Year 2023 – Birrificio Fratelli Perrella Award: Zia Restaurant – Rome, Lazio
Chef of the Year 2023 – D'Amico Award: Davide Oldani – D'O – Cornaredo (Milan), Lombardy
Restaurant Manager of the Year 2023 – Goeldlin Award: Mario Iaccarino – Don Alfonso 1890 – Sant'Agata Sui Due Golfi (Naples), Campania
Performance of the Year 2023 – Altamura OP Award: Hotel Hassler Roma – Imàgo – Rome, Lazio
Contemporary Confectionery 2023 – Latteria Sorrentina Award: Pietro Macellaro Pasticceria Agricola Cilentana – Piaggine (Salerno), Campania
Pastry Chef of the Year 2023 – Mulino Caputo Award: Gianluca Fusto – FUSTO Milan – Milano, Lombardy
Dish of the Year 2023- Pastificio dei Campi Award: Pomodoro – I Tenerumi – Lipari (Messina), Sicily
General Manager of the Year 2023 – Birrificio Fratelli Perrella Award: Salvatore Pagano – Savoy Beach Hotel – Tre Olivi – Capaccio Paestum (Salerno), Campania
Sommelier of the Year 2023 – Ferrarelle Award: Marco Reitano – La Pergola – Rome, Lazio
Best Breakfast 2023 – Caffè Borbone Award: Brunelleschi Hotel – Florence, Tuscany
Sommelier of the Year 2023 – Ferrarelle Award: Laura Roncaccioli – Caffè Stern – Paris, France
New of the Year 2023 – Latteria Sorrentina Award: Lucida – El Alamein, Egypt
Pastry in Catering 2023 – Mulino Caputo Award: Armani Ristorante – Tokyo, Japan
Dish of the Year 2023 – Pastificio dei Campi Award: Spaghetti like a bruschetta – Clara – Bangkok, Thailand
Lunch of the Year 2023 – Birrificio Fratelli Perrella Award: Il Carpaccio – Paris, France
Chef of the Year 2023 – D'Amico Award: Antonio Iacoviello – Gucci Osteria da Massimo Bottura – Tokyo, Japan
Made in Italy 2023 – Solania Award: Giando – Hong Kong, China
© All rights reserved