Over the last 20 years, the food sector in Poland has undergone a considerable transformation. It has been one of the first sectors to recover itself after the fall of communism, turning into a major driver of Poland's economic growth. The main factor accelerating its growth has certainly been Poland's accession to the European Union in 2004. In the last decade the Community funds have been the main source of external public financing for the Polish economy. Since 2005 Gross Domestic Product has then increased by about 5% every year, rising from 246.2 to 496.4 billion euros.
Thanks to such a growth pace, Poland is steadily catching up with Western Europe and has become the seventh largest economy in the EU (Italy comes in 4th place. At the same time, it is the largest market in Central and Eastern Europe. Moreover, declining unemployment among the active population (from 9.6% to 3.8% in the period 2005-2018) is currently leading to a stability of private consumption in Poland, and particularly to the growing consumers' spending for food.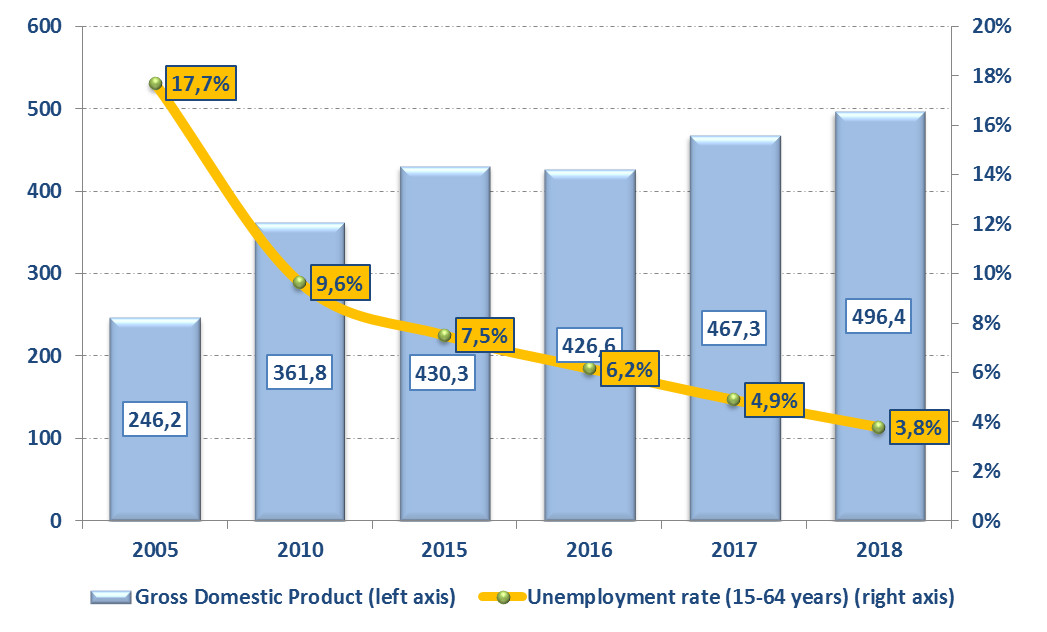 THE IMPORTANCE OF PRIVATE CONSUMPTION
Poland is the largest food and beverage market in Central and Eastern Europe. The main driver of this growth is private households consumption. Private consumption is the most dynamic component of economic growth. It has benefited from the increase in the purchasing power of family households, the fall of unemployment levels and the increase of wages.
With a population of nearly 39 million people, Poland is becoming an attractive market for Italian food, beverage, and agricultural products. More and more Poles, particularly the affluent ones, look for more sophisticated foods that offer additional value and high quality. The Polish market offers many opportunities for foreign products and services. Today, Poland is an open market for a new business development.
Moreover, most consumers are influenced by the average living standards of Western European countries. An important trend that has a major impact on the Polish food sector is the increasing consumer awareness and expectations towards foods. More and more people are paying attention to the composition, quality and origin of food, without considering the price as an obstacle to purchasing. This trend will grow up again in the coming years.
Italy: F&B towards Poland, exports trend (€ mio)
| | | | | | |
| --- | --- | --- | --- | --- | --- |
| Main F&B Products | 2014 | 2015 | 2016 | 2017 | 2018 |
| Chocolate and other food preparations with cocoa | 48.8 | 58.8 | 66.1 | 81.1 | 77.5 |
| Wine | 37.5 | 37.7 | 47.9 | 50.2 | 61.9 |
| Grapes, fresh or dried | 50.6 | 47.4 | 51.4 | 64.2 | 60.4 |
| Coffee | 23.1 | 26.7 | 36 | 40.6 | 47.6 |
| Cheese and curd | 23.1 | 28.3 | 36.9 | 37.8 | 41.5 |
| Others agro-industrial products | 477.1 | 510.6 | 506.3 | 561.2 | 604.6 |
Source: Istat
THE MEAT MARKET
Meat consumption in Poland has registered an increase by 11% in the period 2010-2018. Pork meat and poultry are the meats with the higher average consumption. In 2018, 40.5 kg per capita of pork meat and 30 kg per capita of poultry were consumed in Poland. By contrast, the consumption of beef and veal is much lower, only 2.2 kg, most likely due to high prices. Despite rising incomes, Polish consumers are still sensitive to prices when purchasing foods and beverages.
The main factor that affects the growth of meat consumption is the growing prosperity of society. As a consequence, also Poles' consumption preferences are changing. The purchasing behavior towards meat tends to become more and more similar to the one generally observed in Western EU countries.
Market niches tend to flourish all food categories, and in the meat sector as well. Economic growth has been rising and a new growing Polish middle class is eager to try new food products. Consequently, consumers are also increasingly choosing expensive premium cured meats. The growing premium price trend is due to the influence of several social and economic factors: growing households income, travels (that implement curiosity and the desire to explore), and better learning about foreign cuisines which many people, later, want to transfer to the Polish soil.
A recent survey on Polish consumer preferences towards Italian pork meat has put into evidence that 17% of Polish buy regularly (once a week, at least) sausages from abroad. Another 35% has reported doing the same occasionally, not more than once a month. Instead, the remaining 48% never buy foreign cold cuts (Source: Agrifood Monitor 2018). About 27% of Poles then quoted Italy as the origin of most foreign meats purchased by consumers, before Germany (20%) and Spain (20%). Italy is also considered the country with the highest quality cured meats (23%).
ITALIAN F&B PRODUCTS IN POLAND: THE CASE OF WINE
The Polish market offers therefore many opportunities for Italian exporters of traditional food products. This is the case of base ingredients (dried fruit, nuts), beverages (wine) and organic products. As for beverage, despite a long tradition in the manufacturing of alcoholic beverages and spirits, wine production in Poland has always been very scarce.
As a consequence, the Polish offer fails to meet the market needs and the growing demand for wine is covered with imports from other traditional producer EU member states such as France, Italy, Spain – and, outside EU, the United States. Italy ranks among the most important suppliers of Poland (in particular when it comes to sparkling wines). In 2018 wine came in 2nd place of Italian F&B exports to Poland. In 2014-2018 total exports rose from 37.5 to 61.9 million euros, with an increase of 65.3% in value.
In the latest years, wine sales have strongly increased and are expected to continue to do so in the future. This provides opportunities for traditional wine exporters both in the high and medium quality segments. Italian wine exporters must keep in mind that Polish consumers, although evolving towards more refined flavours (dry and semi-dry wines) are still strongly influenced by the peculiar tastes of fruit wines (alcoholic fermented beverages, made of fruits other than grapes, appreciated by consumers in North and Central Europe – they can be still or sparkling) and sweet wines.
POLISH DISTRIBUTION CHAINS
In Poland, discount stores like Lidl and Biedronka hold the largest share (more than 40%) of the wine distribution market, followed by supermarkets (20%: Auchan, Carrefour, Leclerc, Tesco, and Kaufland). Other self-service sales stores play an important role (19%) in making the Italian wine peculiarities well known by Polish consumers. Italian exporters shall promote their wines through the Poland self-service sales stores network to satisfy the growing curiosity of the Poles about foreign wine.
On the other hand, if the goal is positioning Italian wines in the high-quality products range, it is much better to enter the market through small specialized importers, carrying out efforts by organizing tastings and developing an exchange of opinions with Polish customers. Italian wines should be positioned as a luxury good in a market in which wine represent 8.3%.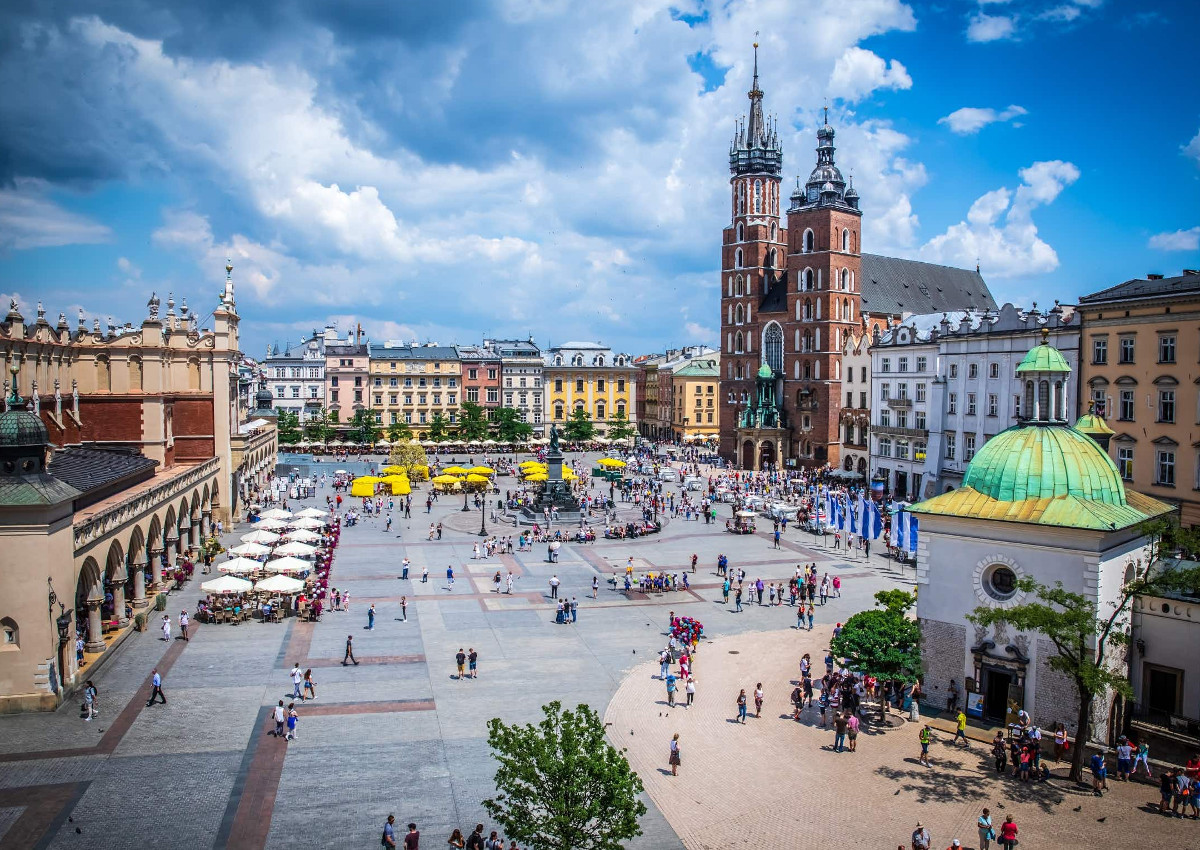 THE ORGANIC FOOD MARKET
As in many other EU countries, the Polish organic food market is still small but it is quickly growing. Thanks to EU funding, Polish organic agricultural and food production has grown considerably and, at the same time, the attention of Poles for organic products has been rapidly increasing. In addition to specialized shops (nearly 800 points of sale), more and more Polish large-scale retailers have corners dedicated to organic food. Even though on the shelves of supermarkets and hypermarkets organic products are popping, the range is yet quite limited. However, almost all retail chains have introduced private labels organic products (Tesco Organic, Auchan Bio, etc.). Carrefour offers about 750 organic products, 2/3 of which come from Poland. In 2018, the top Polish retail chain Biedronka has launched a new offer of organic products, under the GoBIO brand, as the start of a range which will be expanded over time.
High-quality organic goods such as the Italian ones may have high potential in the Polish market. At present, it is believed that imports of this kind of products can grow strongly in the medium term. Italian food can respond to the new consumer trends observed in Poland, from the search for high-quality and craftsmanship products to new flavors. The uniqueness and international reputation of Italian products such as cold cuts, wine, organic and certain kinds of fruits and vegetables (i.e. table grapes) are undeniable business values on which to build an exports strategy for the future.
Fabio Lunati – Nomisma
© All rights reserved