In a planet that is increasingly hungry for pasta – in 10 years consumption has almost doubled, from 9 to about 15 million tons per year – Italy remains the reference point for this food. It is in fact the country that produces, consumes and exports the most. Moreover, it has brought to the world an all-Italian way of cooking and eating pasta, with taste, creativity, passion for good food and attention to well-being. It is only natural that – on the sidelines of World Pasta Day 2019 (October 25) – the ideal place to question the future of pasta in the next 30 years is precisely where spaghetti & co. are an integral part of a food-and-wine tradition which is recognized and appreciated everywhere.
According to Paolo Barilla, President of the International Pasta Organisation, "the global consumption of pasta doubled in 10 years because everybody likes it, but there's something more. We are talking about accessible food with low environmental impact. A simple and daily product that brings people together, being versatile because it can combine with the traditional ingredients of all world cuisines and gives every dish the flavor and benefits of Mediterranean Diet, the best lifestyle in the world."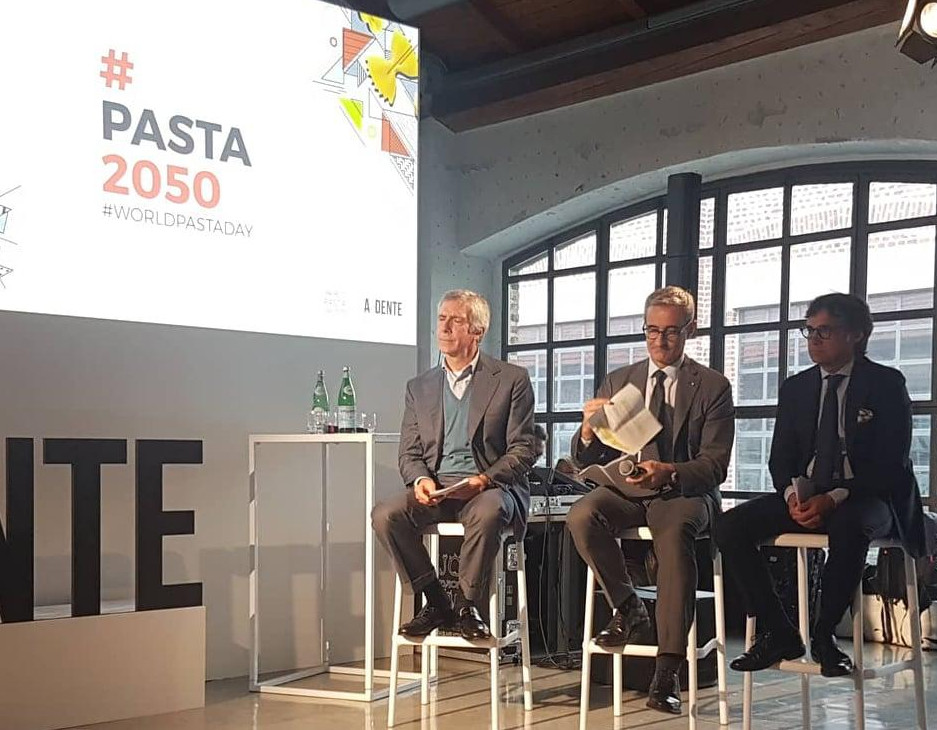 "After fifty years working with Italian, European and international pasta industrialists, I can state with absolute conviction that pasta has been and will continue being the queen of cuisine – Raffaello Ragaglini, Secretary General of the International Pasta Organization and Honorary Secretary General of the Union of European Pasta Industrialists (UNAFPA), says. Pasta is the best embodiment of a healthy, safe and conscious food culture that also cares for environmental sustainability".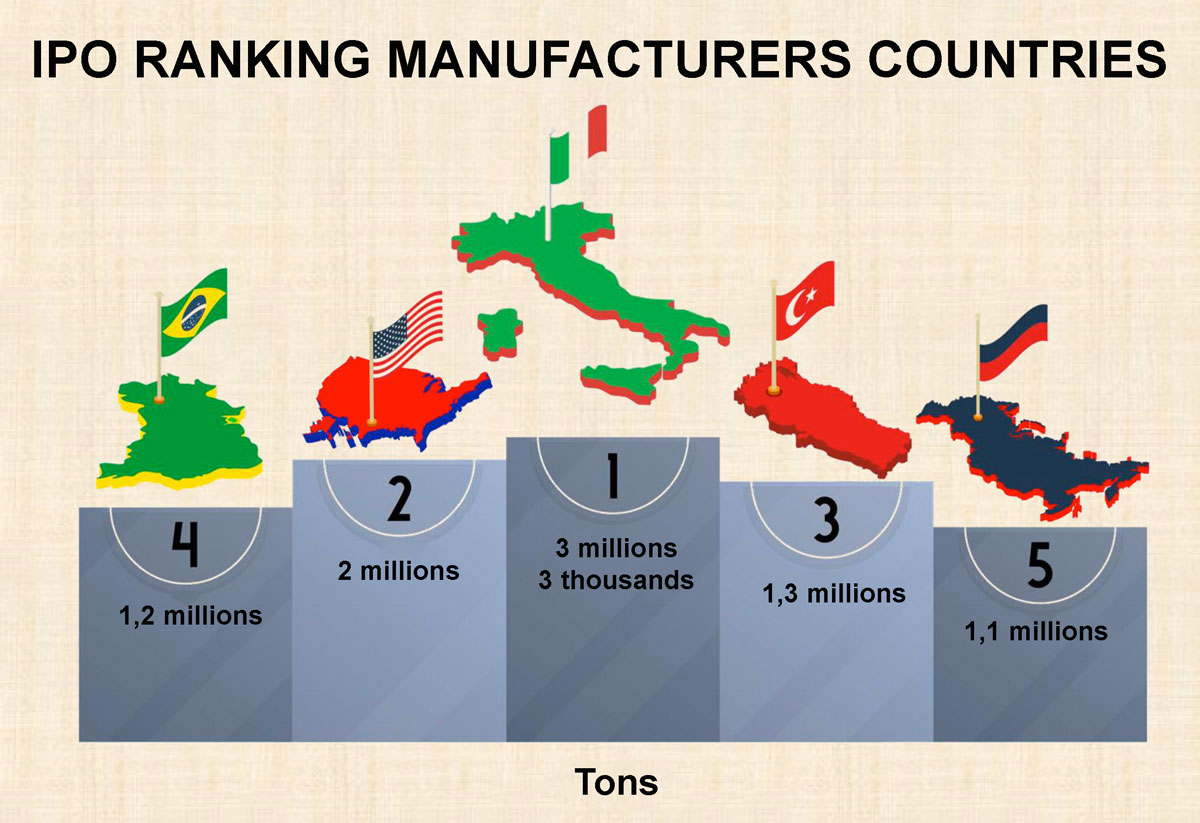 ITALY'S PASTA SALES AND CONSUMPTION RECORD
With 3.3 million tons of pasta produced (+0.3%), in 2018 Italy confirmed its position as world leader in the pasta market, ahead of the USA, Turkey and Brazil. Today, about 1 dish out of 4 in the world and 3 out of 4 in Europe are produced with Italian pasta. In the first 3 months of 2019 the countries where Italian companies export the most were Germany, United Kingdom, France, and the United States. The most strategic markets, where we can see the most important performances, are Saudi Arabia (+79%), China (+25%), and Australia (+14%).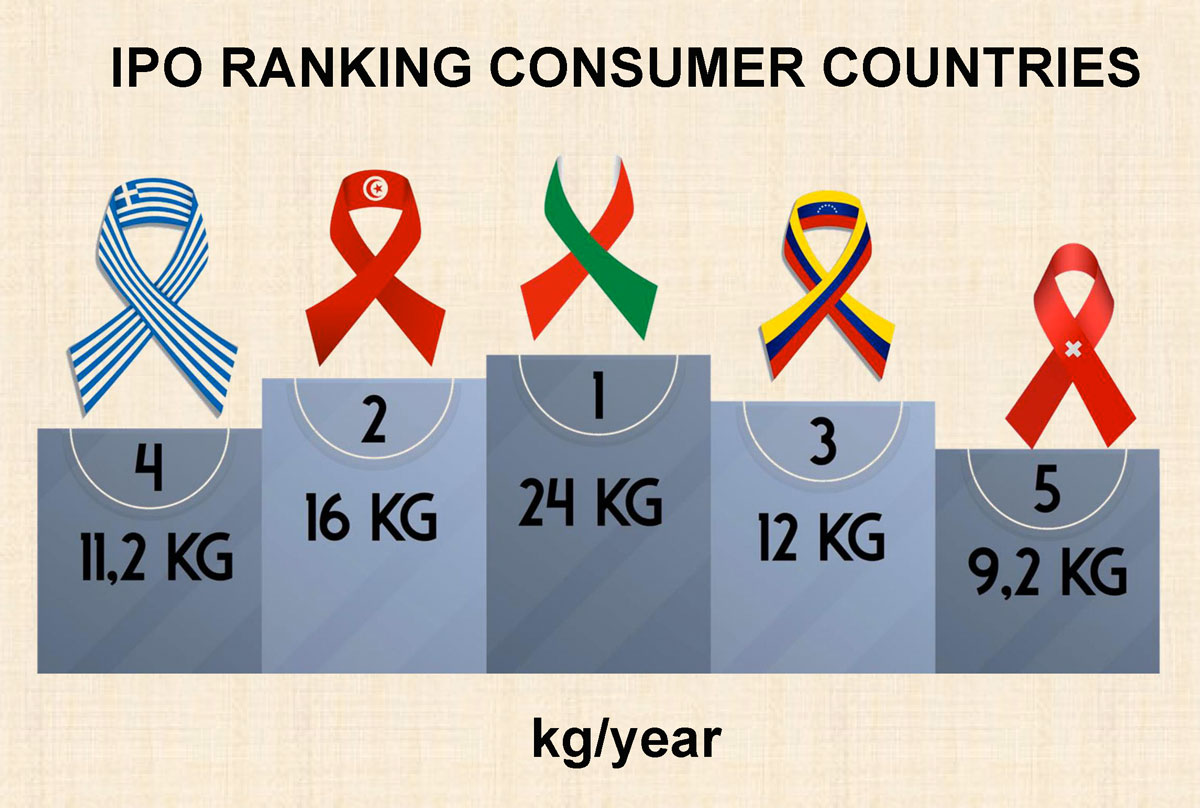 Italian pasta makers defend Italy's records by focusing on innovation and quality. In recent years, Italian pasta factories (a sector that can count on 120 companies, employing 7,500 people and generating a turnover of 4.8 billion euros) are investing an average of 10% of their turnover in research and development to make the plants more modern, safe and sustainable and to intercept trends, changes in lifestyles, taste and nutrition.
Alongside the traditional "yellow" pasta (it represents about 90% of the market with over 300 different shapes), there is the wholemeal one (with growth rates close to 20% in Italy), gluten free, alternative flours and superfoods based (spices, kamut, legumes, spelt). Lately, pasta made with 3D printers has also arrived.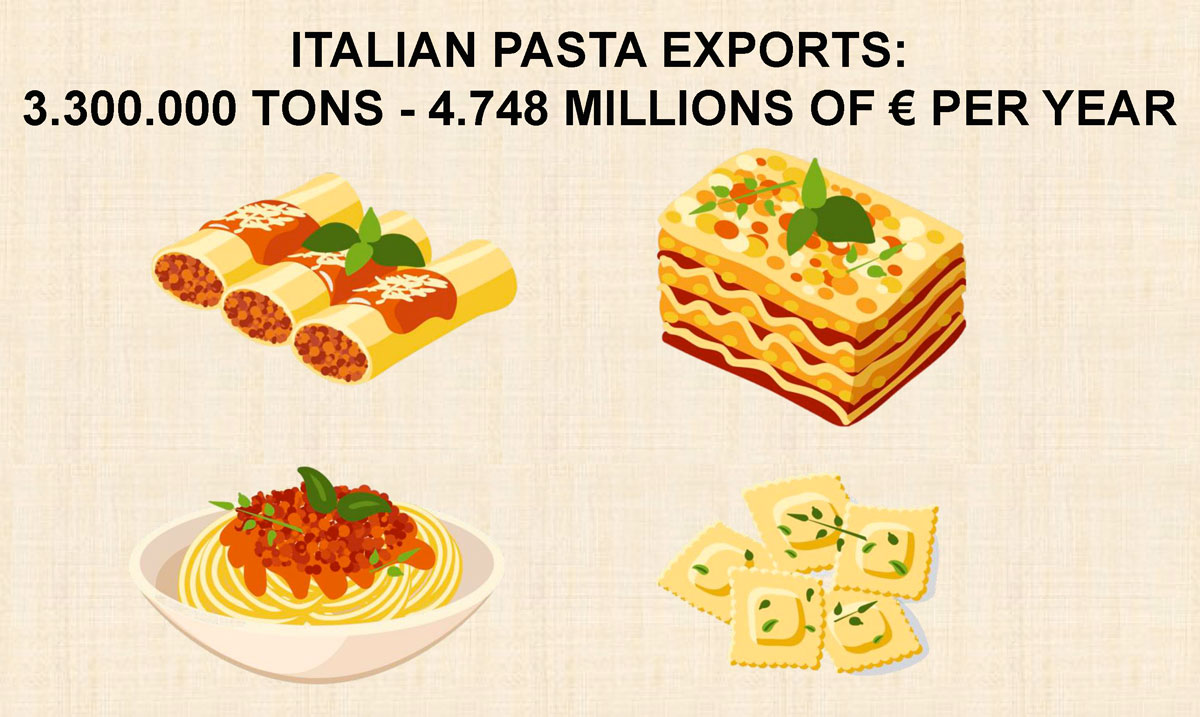 AN "AL DENTE" EVENT DURING WORLD PASTA DAY
On the occasion of World Pasta Day 2019 – an event conceived and organized by Unione Italiana Food (formerly Aidepi) and IPO – International Pasta Organization, which celebrates the most iconic dish of the Mediterranean diet every October 25th – Italian pasta makers are launching a promotional initiative to underline its centrality in a good and healthy diet.
Institutions, stakeholders, chefs, restaurants and pasta lovers will be involved in the "Al Dente" event, with a series of special initiatives that on the one hand pay homage to the uniqueness of Italian pasta and lifestyle, on the other try to trace out what the pasta consumption trends may be in the next 30 years.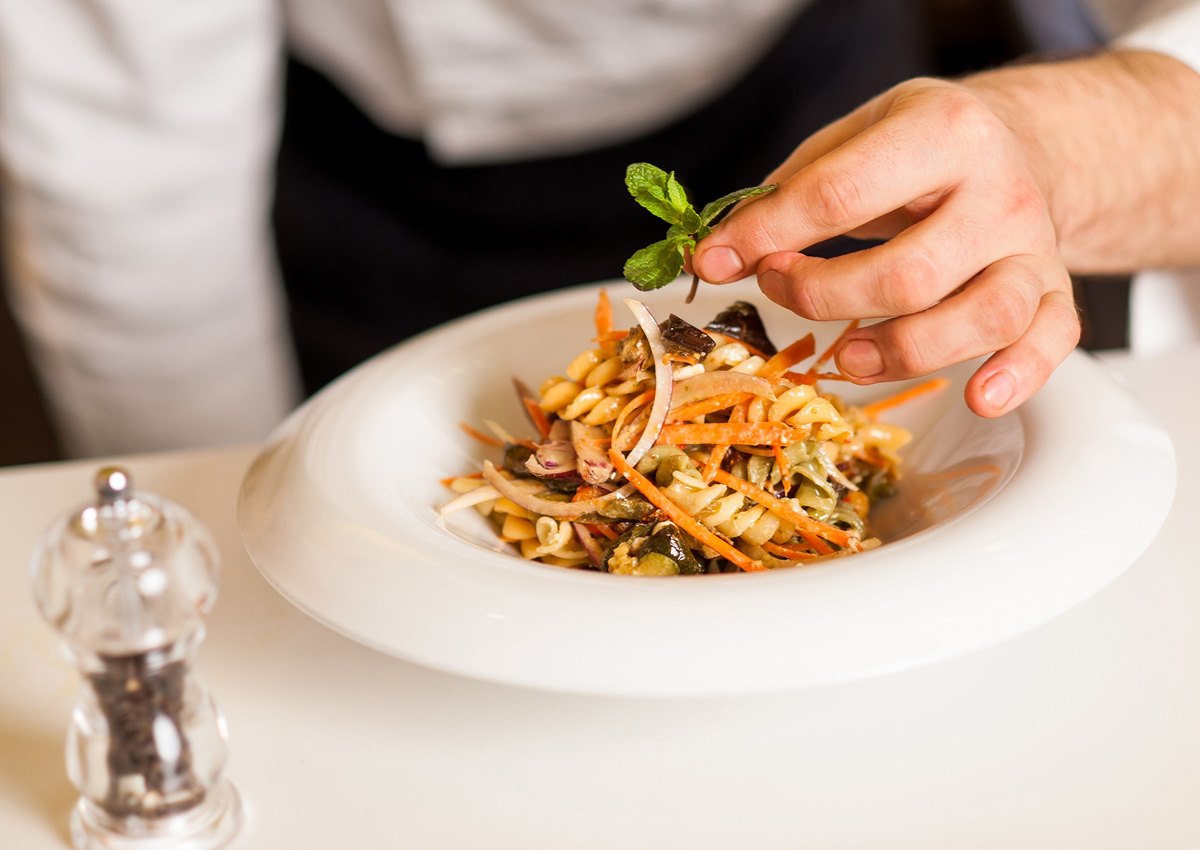 "We tend to imagine pasta as an immutable product whilst this dish has accompanied the changes in our lifestyles over time – explains Luigi Cristiano Laurenza, director of pasta makers sector at Unione Italiana Food -. If we think about how we ate pasta 30 or 60 years ago, we realize how much recipes, consumption occasions, shapes and portions have changed. The success of pasta in the world is due to the way it intercepts cultural and social food trends. At the same time, its production process has also evolved, with a growing focus on environmental impact and health trends".
TOP 5 CLIENTS 2018
| | |
| --- | --- |
| GERMANY | 295,017 |
| FRANCE | 240,006 |
| US | 227,901 |
| UK | 218,595 |
| JAPAN | 64,378 |
| WORLD | 1,834,425 |
Source: ISTAT data in thousands € elaborated by ICE
ITALIAN PASTA EXPORTS LATEST TRENDS
Italian pasta is consumed in 200 countries (+34% compared to 20 years ago). Last year, the EU accounted for 65.6% of exports, followed by America (13%), Asia (11.6%), the rest of Europe (6.4%), Oceania (1.7%) and Africa (1.7%). The main destinations remain Germany, France, the UK within the EU as well as the United States, Canada and Japan, while the most noteworthy boosts were delivered by Russia (+76%), the Netherlands (+29%), Saudi Arabia (+ 27%) and Australia (+ 16%).
From 2008 to 2018, Italian pasta exports accounted for 2.4 billion euro (+18.8%) equaling 2.1 million tonnes (+21.5%). The best performance was recorded in the United States, where over the last 10 years Italian pasta exports have increased by +49% in volume (+7.2% in 2018) and by +85% in value (+8.6% over last year), reaching 262 million euro and 180 million tonnes. The first two months of 2019 confirmed the growing exports trend of Italian pasta, showing a +8.5% in value and +5.2% in volume. In figures, this translates into 415.7 million euro vs. 383.3 in the same period of last year and 351.8 thousand tonnes compared to 334.5 in the first two months of 2018 (source: Agrifood Monitor based on Istat data).
TOP 5 CLIENTS 2019 JAN-JUN
| | |
| --- | --- |
| GERMANY | 198,805,885 |
| FRANCE | 182,292,635 |
| US | 164,726,401 |
| UK | 157,045,327 |
| SPAIN | 55,032,083 |
| WORLD | 1,270,112,783 |
Source: ISTAT data in € elaborated by ICE
FUTURE EATING TRENDS
On the occasion of World Pasta Day 2019 Unione Italiana Food has identified 6 trends that will shape the consumption of this globally appreciated food in the coming decades
I EAT TRADITIONALLY: pasta with tomato sauce, the standard-bearer of the Mediterranean diet in the world. Spaghetti with tomato sauce is the food of conviviality, representing the desire to have fun while eating. Much more than a simple dish, they represent a lifestyle that Italy will continue to export all over the world, along with the uniqueness and quality of its durum wheat pasta.
I EAT ETHICALLY: pasta, vegetables and sustainability. A sustainable food par excellence, pasta will have to increasingly coexist with fresh vegetables, in honor of the new "green" food trend. Many traditional recipes – from Carbonara to ragout – over a few decades will give way to new vegetable-based classics. To emphasize a more responsible and sustainable approach that is beneficial to both the environment and health, there will be more and more organic and anti-waste recipes;
I EAT GLOBALLY: fusion-pasta, a world of contamination. Versatile and "glocal". If there is a food that is capable of adapting to the different cultural and gastronomic traditions in the world it is certainly pasta. We will cease to be surprised if in Arab countries they do not use guanciale (pork cheek) in their Carbonara but we will always prefer it "al dente", an indispensable feature at every latitude;
I EAT DIFFERENTLY: pasta with ingredients to be discovered. In the beginning, it was whole wheat pasta. Then came legume flour pasta (made with peas, beans, chickpeas), spelt pasta, and kamut pasta. But the future is an entirely different world. Some experts can already foresee a time in which spirulina algae noodles or pennette with insects flour, or even 3D printed pasta could become very popular. At a time in which innovation runs fast, what is certain is that pasta will have to deal with less standardized and more evolved consumer demands in the coming decades;
I EAT SIMPLE: pasta that is increasingly essential and healthy. Less is more. From the reduction of portions size to a short list of ingredients, the future will bear the hallmark of simplicity. A new balance between taste, health and kitchen skills will revolutionize our eating patterns. Healthy dishes will win over gourmet ones thanks to simple and elementary sauces, meals for different consumption occasions, easy to make and healthy;
I EAT CONSCIOUSLY: the challenge to correctly inform and reiterate that pasta is good, safe and sustainable. The future of pasta also passes through correct information. On the one hand there is the legitimate consumers desire consumers to seek and receive information from those who produce food and to choose depending on a better knowledge of the product. On the other hand, however, there is a continuous and uncontrolled flow of fake news. It will be more and more necessary to shed light on what pasta really is and on what it is not.
Click here to discover the authentic Italian pasta on Italianfood.net platform
© All rights reserved