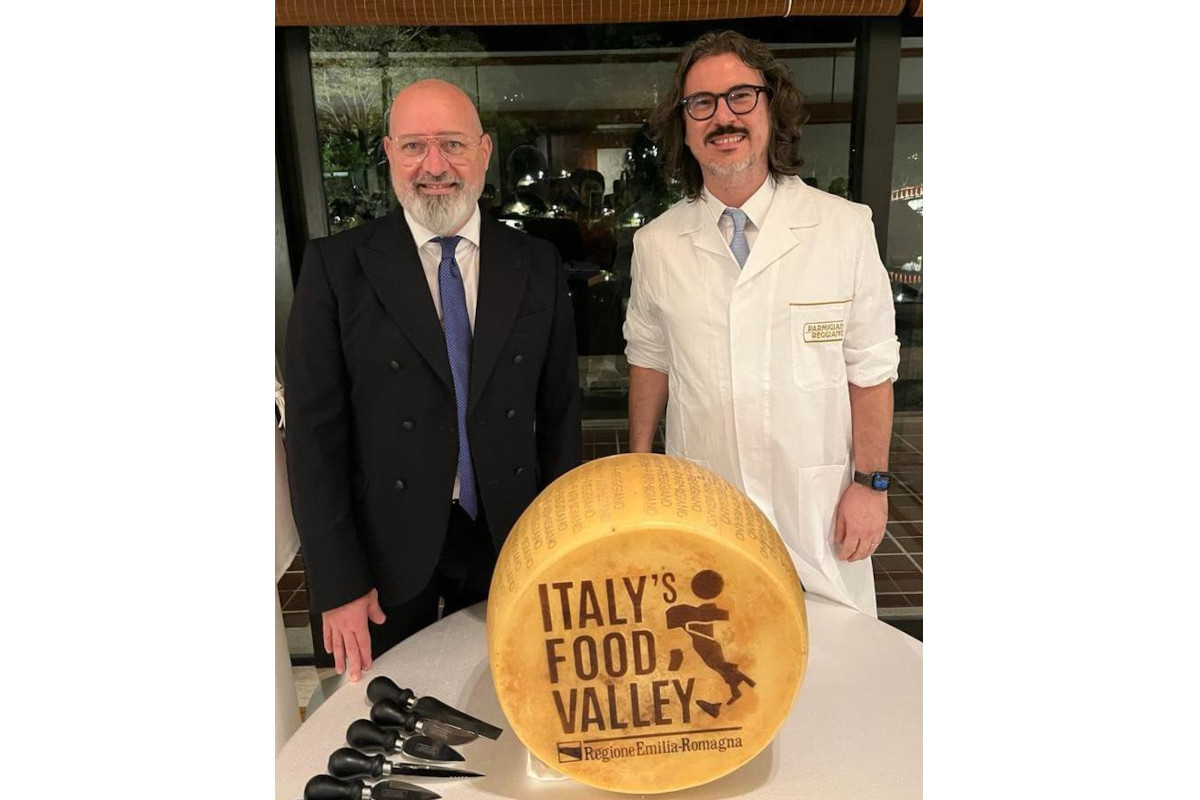 The Parmigiano Reggiano PDO cheese assumed a pivotal role at the inaugural dinner of the Week of Italian Cuisine in the World, headlining the event titled "Italian Food Valley Meets Japan" at the Italian Embassy in Tokyo. Executed in collaboration with the Emilia-Romagna Region and the Casa Artusi foundation, the occasion featured Simone Ficarelli, Maestro Assaggiatore of the Parmigiano Reggiano PDO Consortium, unveiling a wheel of the 'king of cheeses' in the esteemed presence of Gianluigi Benedetti, the Italian Ambassador to Japan, Stefano Bonaccini, President of the Emilia-Romagna Region (pictured), and Alessio Mammi, Agriculture Councillor of the Emilia-Romagna Region.
Discover authentic Parmigiano Reggiano PDO and other Italian seasoned cheeses on the Italianfood.net platform
The ongoing Week of Italian Cuisine in the World, spanning from November 13 to 19, is a strategic promotional initiative deployed across global embassies, consulates, cultural institutions, and the offices of the Italian Trade Agency. The initiative aims to showcase the pinnacle of the Italian food and wine sector through a diverse array of events, encompassing institutional dinners, comprehensive seminars, engagements with industry leaders, encounters with renowned chefs, and demonstration classes.
Nicola Bertinelli, President of the Parmigiano Reggiano PDO Consortium, conveyed pride, stating, "We take immense pride in our participation in this pivotal event for the global recognition of Made in Italy F&B. For Parmigiano Reggiano, Japan holds strategic significance, not only as the primary market in Asia, albeit with modest current volume acquisitions, but also due to the alignment between the meticulous Japanese culinary ethos and the tradition of crafting Parmigiano Reggiano-a quintessential icon of our lifestyle, adored by consumers worldwide."
Stefano Bonaccini underscored the resonance of Italian excellence in Japan, stating, "Japan's appreciation for Made in Italy cuisine is palpable, with our country currently leading Europe in food exports. The prospects for the Food Valley and its unparalleled products, emblematic of absolute excellence, are indeed extraordinary."
© All rights reserved