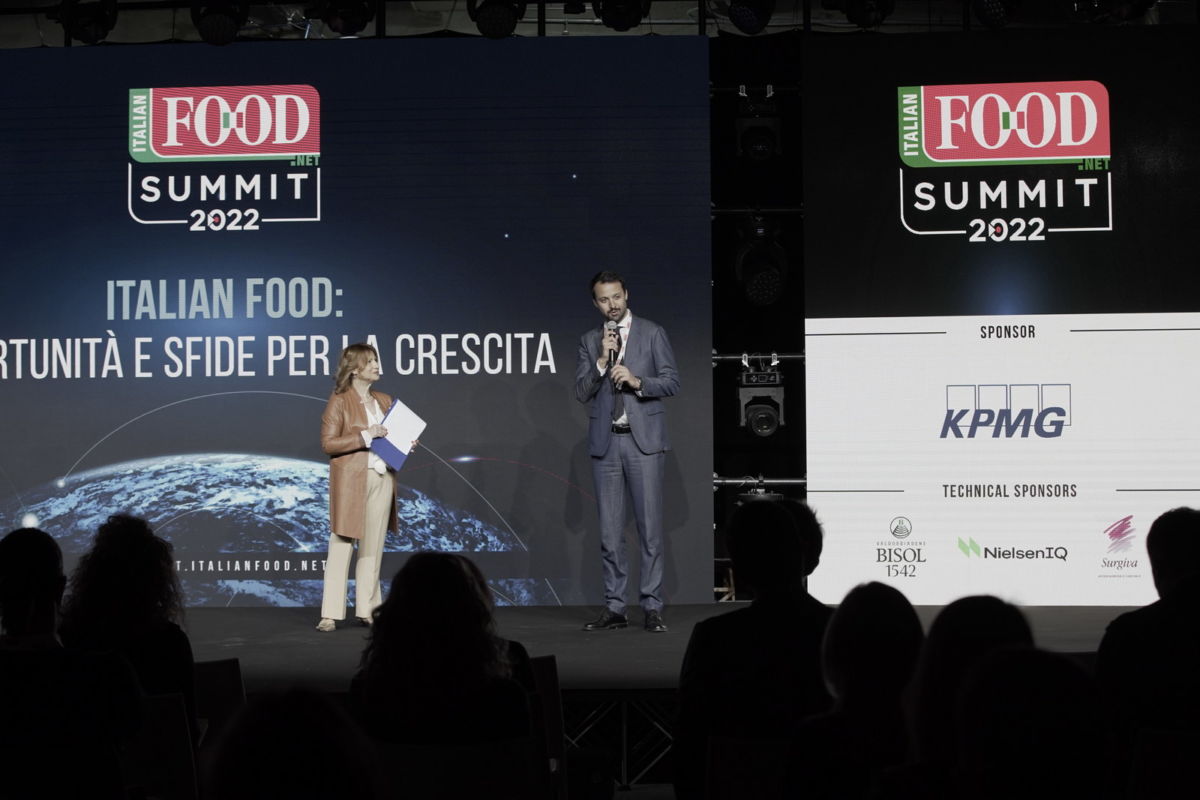 The Italian food industry is called to invest in product innovation and marketing mix to seize the opportunities that are opening up in international markets. This is what emerged during the third edition of the Italianfood.net Summit that was held yesterday in Milan, for the first time in person, in partnership with Kpmg and NielsenIQ.
Click here to watch the gallery of the Italianfood.net Summit
At the opening Andrea Degl'Innocenti, Director of Italian Trade Agency Milan, illustrated the commitment to support companies that intend to invest in digital. Especially in e-commerce and innovative tracking services based on blockchain technology. Ivano Vacondio, President of Federalimentare (the association of Italian F&B industries), then talked about the still unexpressed potential of Italian food exports, despite the problems related to raw material prices and Nutriscore labeling system. "The growth opportunities of Italian food&beverage – Vacondio said – are undoubtedly linked to exports. Besides the USA, which will become the top export market within four or five years, the export sales of our products will grow a lot in the emerging economies. As far as Europe is concerned, growth is lower than in the rest of the world, but countries such as Germany and France are still strategic. Italian food exports to Spain and Poland are worth mentioning too. All is much more difficult due to the latest geopolitical events, but the biggest problem is still that of price increases. This is why we hope for the involvement of the European Union."
Non-tariff barriers are also a brake on exports. In his presentation Massimo Fabio, Partner in charge, International Trade & Customs at Kpmg research firm, talked about the tools and safeguards to manage the procedures for the export of food products, focusing on the prospects of the global market.
EMERGING CONSUMER TRENDS IN THE POST-PANDEMIC ERA
Europe (EU 27) buys 26.36 billion euros of Italian total agri-food exports and therefore is the main outlet area. But which trends are emerging in the large-scale retail trade, the channel that Italian products need to enter the consumption habits of local markets? According to the exclusive research presented by Matteo Bonù, International Client Business Partner at NielsenIQ research firm, "consumers still tend to limit their spending in restaurants, but at the same time, they spend more in the grocery sector. The new set of priorities implies greater attention towards all products that can be 'good' for the consumer – first of all from a nutritional point of view – but also for the planet. Italian products have a unique opportunity in front of them, as this 'new world' of more substantial home shopping is increasingly focusing on premium products and medium-small companies that are able to offer high-quality and certification."
How does this paradigm shift affect the assortment strategies of international distribution operators? And what role and positioning will Italian products play? Jean Sébastien Blum, Director Global Food Sourcing at Metro AG, has no doubts: "Italy is world-famous for the quality of its ingredients and its simple but authentic cuisine. Italian food is often identified abroad with this classic cuisine, but we can see a growing trend in the direction of true 'Italian fine dining'."
TOP PLAYERS HAVE THEIR SAY
Working on categories from a win-win perspective with distribution is the way to go, establishing long-term partnerships. This is what the Italian food companies Mutti, De Cecco, and Riso Scotti are doing, conquering international markets by investing in innovation and marketing activities tailored to various countries.
The three business cases were illustrated by Luca Casamatti, Mutti's Export Manager for Eastern Europe and Switzerland, Carlo Aquilano, De Cecco's Sales Manager, and Valentina Scotti, Riso Scotti Danubio Managing Director and Board Member.
© All rights reserved