Rovagnati – the Italian leading company in the production of cured meats specializing in cooked hams – and Rossopomodoro, the well-known brand of pizza and Neapolitan cuisine, formalized their partnership creating two pizzas with Gran Biscotto cooked ham topping. They will be soon available in Italy and in the United States within Rossopomodoro restaurants, to allow customers experience a meal "like a day in Naples".
"We are very happy with this collaboration – says Gabriele Rusconi, General Manager of Rovagnati – as it represents a great opportunity to celebrate Italian excellence. Families will have the opportunity to taste our GranBiscotto Gourmet cooked ham combined with pizza and interpreted by the skilled hands of the pizza makers of Rossopomodoro. This is a concrete example of 'building value' for the entire Italian food supply chain, promoting and spreading the unique and recognizable taste of Made in Italy."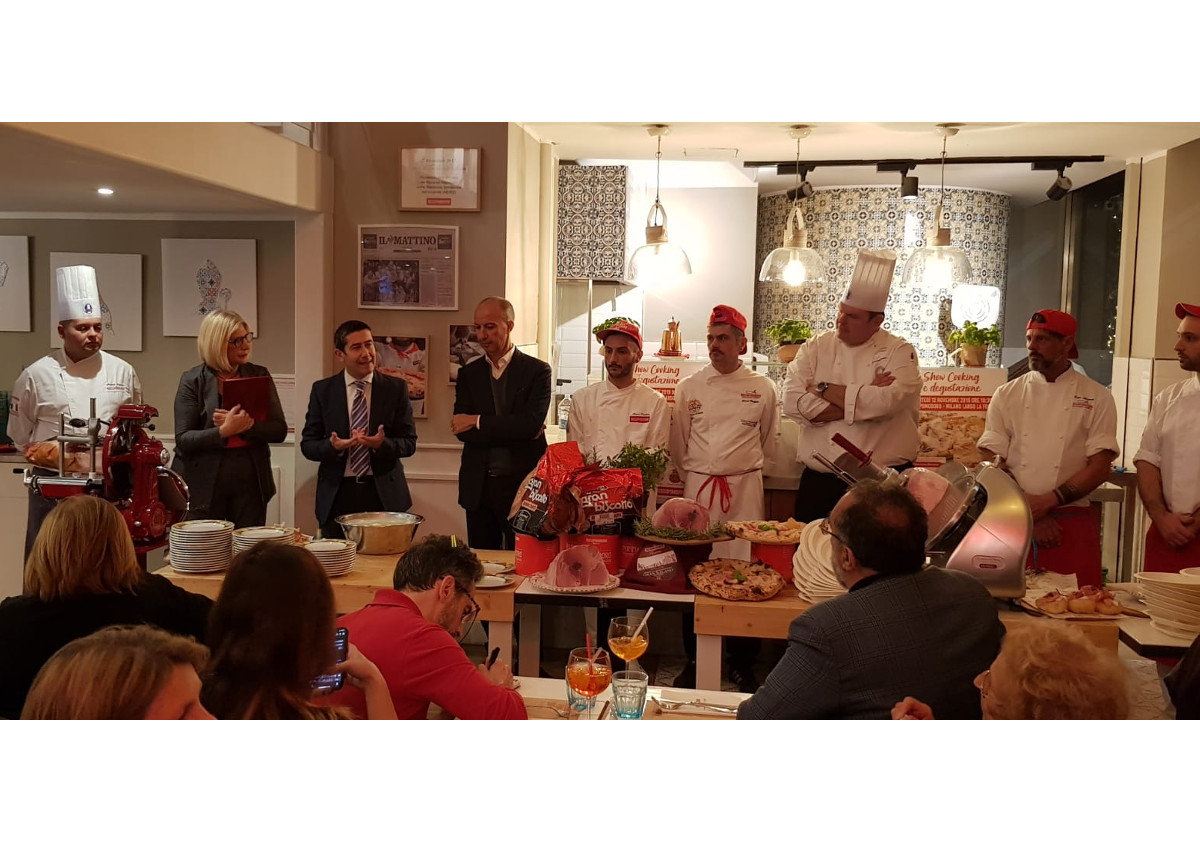 THE PARTNERSHIP BETWEEN ROSSOPOMODORO AND ROVAGNATI
Rossopomodoro has chosen Gran Biscotto, the high quality cooked ham by Rovagnati whose recipe has remained unchanged for over 30 years, to continue its mission of selecting excellent raw materials of the Italian tradition. A commitment that consecrates the chain as a real ambassador of pizza and Neapolitan cuisine in the world.
"The Neapolitan pizza is an Italian excellence and it is our responsibility to bring it in more than 100 restaurants and pizzerias. That is why we only choose the best ingredients – says Roberto Colombo, CEO of Sebeto -. In addition to the flour from Naples, mozzarella di Bufala campana PDO and Sorrento olive oil, the other specialties also follow this philosophy. Just like Gran Biscotto Rovagnati, the most famous cooked ham in Italy. Our commitment to quality is being rewarded not only by customers but also by the jury of the famous Challenge for the Gourmet Pizza 2019 TV program by Gambero Rosso Channel in New York: our Gran Biscotto pizza has won the first place in the ranking."
In the new Rossopomodoro Autumn/Winter menu there are two Gran Biscotto-based pizzas:
Gran Biscotto, the gourmet pizza awarded by Gambero Rosso: eggplant parmigiana, smoked provola from Agerola, grana wafer and basil;
White: mozzarella, Gran Biscotto ham, grana wafer and basil. A simple and genuine pizza, with few ingredients, designed to meet the taste of all pizza lovers.
© All rights reserved