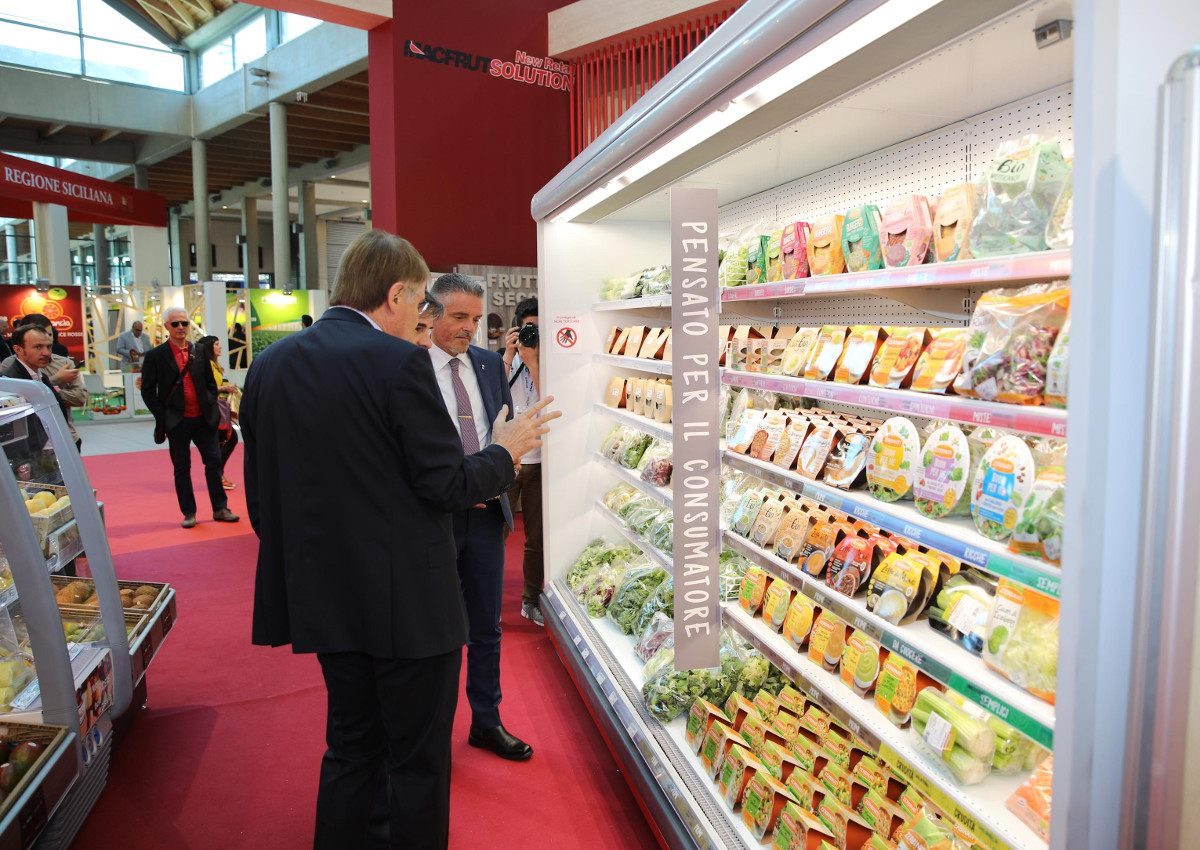 Ready-to-eat products represent an important segment of the fresh fruit and vegetable market, both in Italy and worldwide. Ready-to-use fruit and vegetables are trimmed, cut, washed, and packaged in appropriate portions to provide an additional service to the consumer and, above all, make it much easier to eat. This market is increasingly central for the Italian fruit and vegetable system, so much so that it almost reaches 1 billion euro turnover, concentrated in particular on salads sold through the retail channels of large scale retail. In recent years, the turnover of other channels grew as well, particularly for companies that work in the Horeca sector.
New ranges at Macfrut 2018
The central role of this kind of products will be displayed during Macfrut 2018 trade show (May 9th-11th, Rimini Fair Center), where the most important producers of ready-to-eat vegetables will be present. Moreover, a 400 square metre greenhouse will be set up at the fair, with the latest technology for the collection of vegetables. An international conference coordinated by Giancarlo Colelli, professor at the University of Foggia, will also be dedicated to this sector. The focus will be on fake news, a central issue in the age of social media. In addition, the Macfrut Innovation Award will dedicate a special section to innovation with the gold medal awarded to the Annatura line.
Ready-to-eat new products
The world of ready-to-eat vegetables is moving – explains Renzo Piraccini, president of Macfrut. Just think of the new products in the world of vegetables, such as baby leaf, colored inflorescences, microgreens, and many freshly processed plant based products. Hence the centrality of Macfrut, with many dedicated initiatives. Giancarlo Colelli will be the coordinator of the conference 'Prodotti di IV gamma: Scientific approach vs. Fake news' (Ready-to-eat vegetables: Scientific approach vs. Fake news), that will focus on new products and formats, scheduled for Wednesday 9 May at 14:30. The ready-to-use fruit and vegetables segment is growing – explains Colelli – with apples and grapes as leading products followed by (or in a mix of) melon, pineapple, and other tropical products. The protagonists of the market in recent years are fresh ready soups, directly to be heated and consumed.
© All rights reserved