The strategies of Italian Food & Beverage players to achieve the goal of 50 billion exports by 2020: this was the focus of the fourth edition of Food Summit, the event organized yesterday at Teatro Regio in Parma by Food. The debate focused on the opportunities for Made in Italy growth in three areas: North America, the Middle and Far East, and Europe. Among the many topics was the escalation of the trade war with the United States, non-tariff barriers and initiatives in support of authentic Made in Italy, with speeches by Michele Scannavini of ICE – Italian Trade Agency and MEP Paolo De Castro.
Scenarios and goals
The challenges of the 'Road to 2020' were the leitmotif of the evening, starting with some important data provided by the analyses of Intesa Sanpaolo and Alix Partners. Between 2008 – at the beginning of the great financial crisis – and 2017, food has been one of the very few growing sectors of the Italian economy, with an increase in exports of 77% for a value that (excluding agriculture) rose from 20 to 34 billion. Positive figures also emerge from the comparison with competing countries: from 2012 to 2017 Italian Food & Beverage exports grew by 33% compared to +23% in France.
Areas and opportunities
As for the areas on which to concentrate for growth, the figures show a consolidated European market, flanked by a constantly growing US market that is playing an increasingly important role. Asia, with a potential catchment area of more than 4 billion people, is the world's region with the greatest room for improvement, starting with the e-commerce channel that is developing at top speed.
Winning models
In order to analyze the most suitable export strategies for growth – from relations with international distribution chains to support from financial partners, from acquisitions to the creation of consortia and associations as instruments to enter the global market – managers and entrepreneurs from leading Italian companies took turns on the stage, together with important foreign retailers. Speakers explained what business models can work today when planning international growth.
The protagonists
An evening full of ideas, debates, case histories, with prestigious guests such as Antonio Cellie of Fiere di Parma, Marco Preve from Consorzio Italia del Gusto, Roberto Moncalvo of Coldiretti, Francesco Casillo of Casillo Group, Ettore Nicoletto from Santa Margherita Group, Lorenzo Beretta of F.lli Beretta, Kevin Sherlock of HY-VEE, Pat Pessotto of Longo's, Marco Lavazza of Unione Italiana Food, Gianpiero Calzolari of Granarolo, Alessandro Montanari of Auchan Retail Italia, Malgorzata Szupke-Debska of Auchan Retail Polonia, Gregoire Kaufman od Carrefour, Antonio Ferraioli from La Doria, Xiangdong Zhang and Xi Chu from Anyway Group. With his peculiar sense of humor, Italian actor Lino Banfi presented his new line of typical Apulian products 'Bontà Banfi'. The conclusion was entrusted to the famous art critic and writer Philippe Daverio, who recounted the multi-millennial and uninterrupted link between food, cuisine, culture, and art that Italy can boast.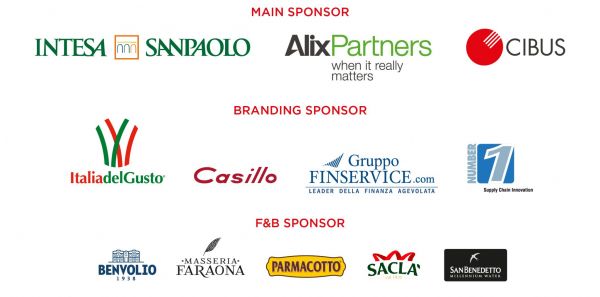 © Riproduzione Riservata