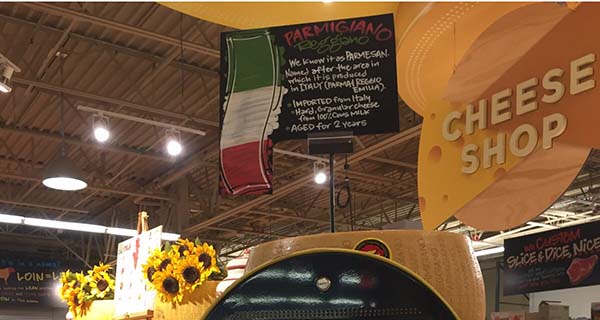 Balsamic vinegar, pecorino cheese and extra virgin olive oil are becoming a staple on the shopping list of most American families, as a new generation of health-conscious consumers favor genuine products to please their body as much as their soul.
Italian food has long been the most popular international cuisine in the US, but authenticity has not always made the cut. Too many shoppers are still misled by labels such as "parmigianito" and "Mexico Parma ham". Sales of counterfeit Italian food is estimated to be worth €60 billion, twice the size of total exports of Italian goods to the US.
But appetite for Italian food and beverage is strong. Exports of food and drinks from Italy to the US increased 23.4% to €3.28 billion in the first ten months of 2015 from the same period of 2014, according to the most recent data by the US Department of Commerce elaborated by the Italian Trade Agency (ITA-ICE Agency). This compares to a mere 6.5% export growth in 2014. The weaker euro has certainly contributed to the strong acceleration, but the trend is still positive net of the euro factor, as flows in US dollars for total exports were up 4.6% in the period.
"Italian cuisine represents tradition and authenticity and there is growing demand in America for genuine food," said Louise Kramer, communications director of the Specialty Food Association, which organizes the largest specialty food trade event in North America (Winter Fancy Food Show, San Francisco, January 17-19 2016; Summer Fancy Food Show, New York, June 26-28, 2016).
Supermarkets play an important role in the adoption of new brands and products by shoppers.
According to a research by the Specialty Food Association, 57% of specialty food consumers purchase Italian food at supermarkets and retail stores, and 52% said they order it at restaurants. US department store groups like Costco, Walmart, and Trader Joe's have enriched their regular offer (lesser-known pasta brands from Gragnano, for example, can now be easily found).
"Consumers are looking for products to share with friends, and the Italian cuisine is the perfect elegant comfort food," said Kramer, also a consumer of specialty food who says she regularly shops pasta, balsamic vinegar, and oil from Italy.
BEHIND THE SHINE, ISSUES REMAIN
Cheese, condiments, baked goods, mineral water, and coffee are leading US imports of Italian food and beverage. "Anything organic, gluten-free, fat-free is doing very well. There is demand for new products, perhaps adjusted to the taste of consumers, but without altering their nature. Fresh filled, artisanal pasta, and balsamic vinegar are also very strong," said Maurizio Forte, US Trade Commissioner and Executive Director at the Italian Trade Agency.
Such significant evolution in US consumer habits has not materialized without efforts. Trade organizations, producers, distributors have led painstaking campaigns to educate customers to recognize gold from shining labels. Italian flags printed on packages and brands named after generic Italian names are still considered by many as a guarantee of authenticity. The American shoppers interviewed admitted they do not read the label of a product to check its geographical origin. And recognition of geographical names remains one of the most contentious issues in the long road toward a trade deal between the EU and the US, known as TTIP.
In such a scenario, challenges as well as opportunities emerge for smaller Italian producers who want to grow their retail presence in the US as consumption at home slowly picks up after the recession.
Niche brands find it more difficult than leading groups like Barilla, De Cecco and Bertolli to carve their space in supermarket shelves. "Smaller producers must comply with several certifications, packaging is also very important, along with competitive prices and fast and efficient delivery," Forte said.
In-store promotions are being held at US retailers to attract potential customers with free tasting and sales, with staff introducing shoppers to century-old traditions often "new" to foreign shoppers.
Impulse purchasing is indeed high at the grocery, where 60% of consumers buy items which are not on their shopping list, with an eye on freshness, quality and price, according to the "Power of Produce" report released in 2015 by FMI and 210 Analytics.
By Antonella Ciancio
© All rights reserved