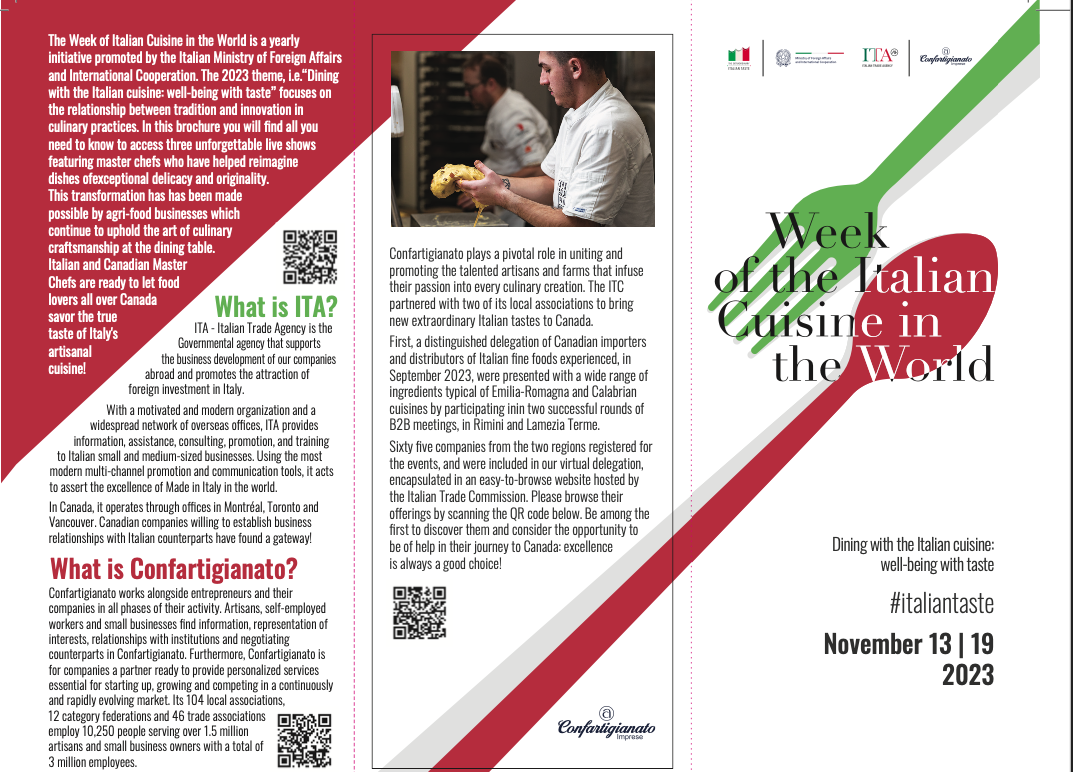 The Italian Trade Agency (ITA) in Canada is celebrating the 2023 La Settimana della Cucina Italiana nel Mondo (Week of Italian Cuisine) by organizing virtual masterclasses with five chefs in Montreal, Toronto and Vancouver. The Canadian ITA, in partnership with Confartigianato (an organization that has represented artisanal and small enterprises since 1946), is bringing together a virtual delegation of 65 companies from Emilia Romagna and Calabria interested in entering the Canadian market. There is an online catalog created for the occasion. Earlier this year, Canadian importers were invited to a purchasing mission in September in Rimini and Lamezia Terme.
In a press release, Marco Saladini, director of the ITA offices in Canada, said, "We are happy to be able to contribute to the Week of Italian Cuisine in Canada with three events open to the general public and which at the same time wink at commercial operators, urging everyone to make wider and better use of authentic Italian foods and to look for new sources of supply, both here and in Italy."
Here are the events scheduled in Canada:
FROM CALABRIA
In Montreal, the star chef Caterina Ceraudo from Calabria and chef Pasquale Vari, a well-known face in Quebec and of Calabrian descent, will demonstrate the refinement of the region's poor cuisine. The event will air live on November 13, 2023, at 10:30 am EST on a dedicated YouTube channel.
FROM EMILIA ROMAGNA
In Toronto, chef Luciano Schipano, President of the Italian Chefs Federation in Canada, will highlight authentic Emilia Romagna ingredients in his dishes. The event will be held on November 14, 2023, at 10:30 EST in live streaming on a dedicated YouTube channel. A second masterclass on November 20 will take place at Seneca College in Toronto for students and professionals.
In Vancouver, chef David Azzi and chef Mark Massicotte, who is also a sommelier and teaches at the Vancouver Community College, will create three typical recipes from Emilian gastronomy. The event will be held on November 16, 2023, at 10:30 am PST, live streaming on a dedicated YouTube channel.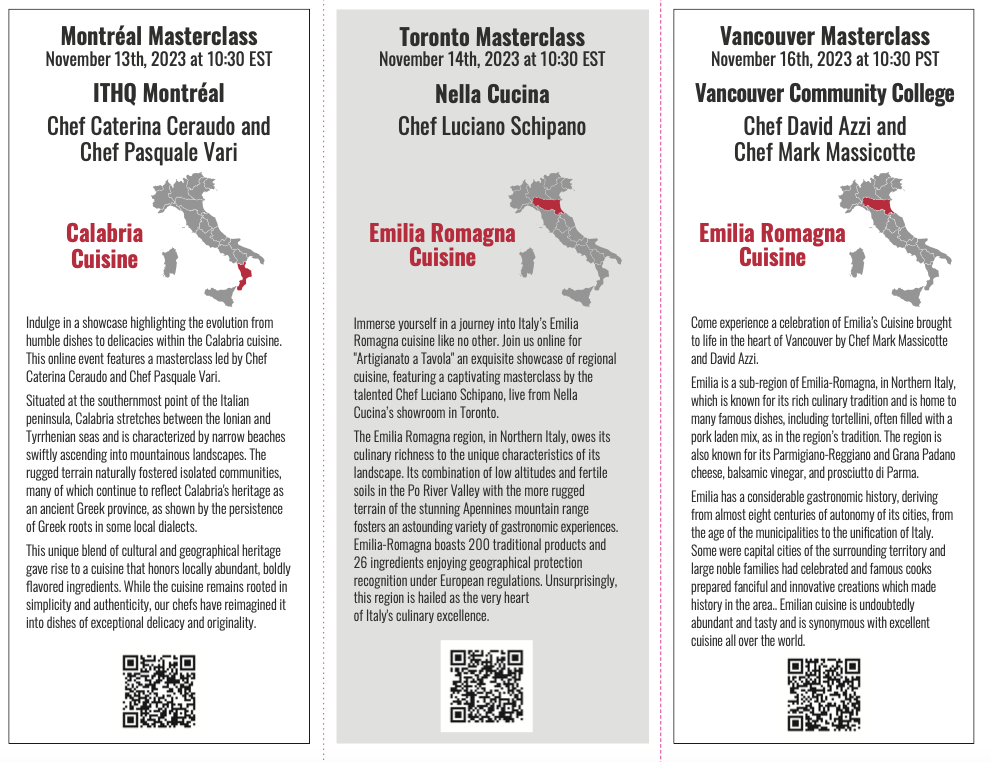 The Week of Italian Cuisine in the World is a yearly initiative organized by the Italian Ministry of Foreign Affairs and International Cooperation. This year's theme is: "Dining with the Italian Cuisine: well-being with taste."
© All rights reserved