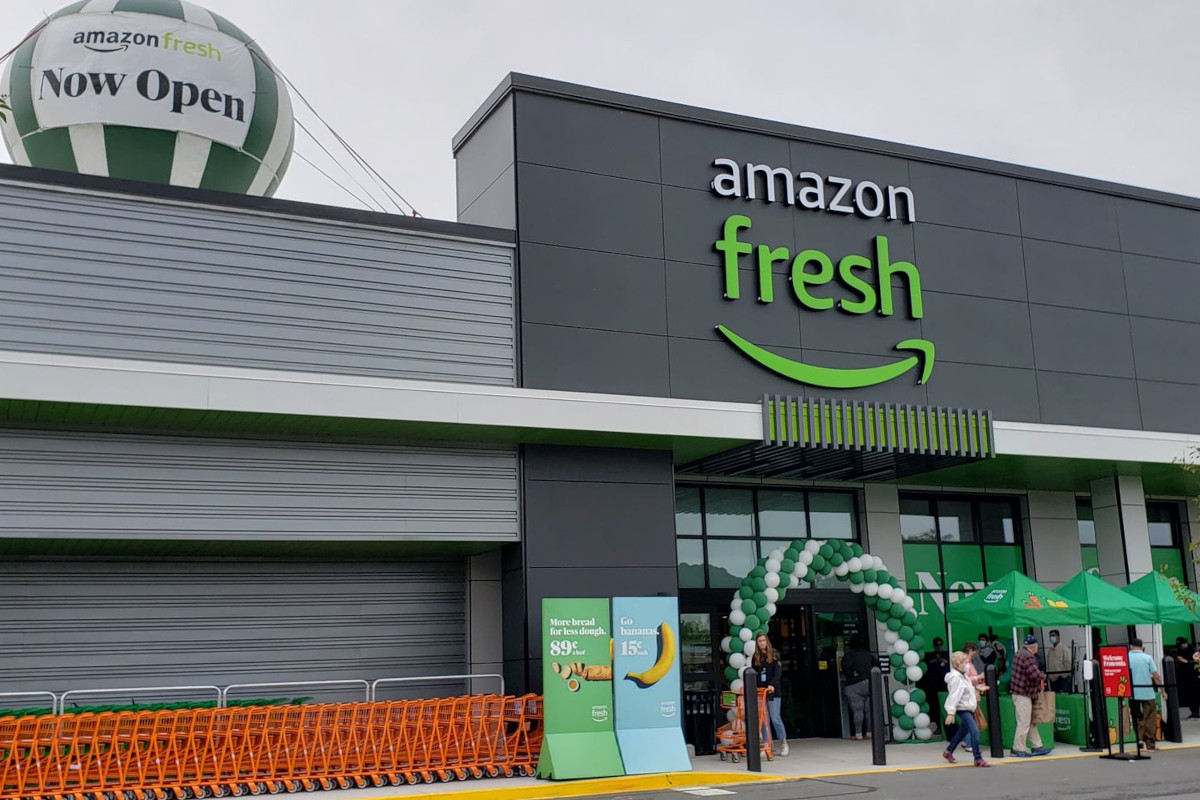 When Amazon Fresh launched in 2020, all the focus seemed to be on technology like its Dash Carts, Ask Alexa terminals, and Just Walk Out frictionless checkout systems. But amid all the cutting-edge innovation, some of the basic principles of good grocery retailing got overlooked, according to Grocery Dive magazine.
Three years, 44 stores, and a highly publicized pause on expansion later, the fledgling grocery brand is now rushing to integrate time-honored grocery merchandising practices into its stores. This revamp includes improving interior lighting, adding more baked goods and prepared foods, adding self-checkout stands, and placing themed displays throughout the sales floor.
Many Amazon Fresh stores have "gaps" in their assortment that have prevented shoppers from building full baskets, said Claire Peters, Vice President of retail at Amazon, in an interview. During a tour of a newly updated Amazon Fresh store in Woodland Hills, California, Peters noted the addition of around 3,000 grocery products, including snacks and health and beauty care items, that aim to round out those shopping trips for customers.
Discover authentic Italian products on the Italianfood.net platform
GROCERY FUNDAMENTALS
In years past, Amazon Fresh shoppers said they weren't able to find everything they needed at the stores to complete their Thanksgiving meal, she noted. "There are some clear fundamentals that every grocer needs to get right. And we need to improve on that," said Peters, who brings nearly three decades of experience in the grocery industry, most recently as a senior executive at Australia's Woolworths. She and her team at Amazon have played a key role in planning and executing the latest store updates, which are being tested in the Woodland Hills location as well as two stores in the Chicago area.
Two additional Southern California locations – a store in Irvine and another in Pasadena – have also rolled out the updates, and early next year Amazon Fresh plans to begin updating the rest of its locations across eight states and Washington, D.C., Peters said. Peters also said she's "cautiously optimistic" that Amazon Fresh will begin to open new stores next year after the company paused its rollout in February. "We want to make sure we've absolutely got it right in these stores. But if we don't, we will iterate, change, and we'll go again."
BALANCING TECHNOLOGY AND MERCHANDISING
"What was clear is we weren't offering the basic grocery shopping experience well enough or consistently enough," Peters said. Many shoppers also said the stores felt "cold," she noted. The updated Amazon Fresh stores have a softer aesthetic, including more colorful department signage, enhanced lighting, and festive standalone displays positioned throughout the retail floor. There are also more prepared foods and hot dishes.
The Woodland Hills store showcased the subtle ways the revamp has downplayed Amazon's branding and signature services. The store still has an "Ask Alexa" kiosk, but it's tucked into a grocery aisle rather than getting prime placement near an end cap, as it had when the store originally opened in 2020. And while customers can still do their shopping with Amazon's proprietary smart cart, the Dash Cart, the store also has several self-checkout stands.
Peters acknowledged that Amazon's store technology, impressive though it is, cannot be the focus for Amazon Fresh. "What we've learned is that technology clearly is one of our differentiators. But we need to get the fundamentals right."
PHYSICAL RETAIL AT AMAZON
Amazon has struggled so far to gain a foothold in physical retail. Last year, the company closed its bookstores and 4-star locations. Earlier this month, it shuttered its only two Amazon Style stores, which attempted to stand out from other apparel retailers by offering technology that made personalized recommendations to shoppers.
But the company is determined to get grocery stores right because of the purchase frequency that happens in that industry, according to Natalie Berg, a London-based retail consultant and co-author of "Amazon: How the World's Most Relentless Retailer Will Continue to Revolutionize Commerce." If Amazon can get consumers buying groceries through Amazon Fresh or Whole Foods every week, it will make the company the "first port of call" for other purchases, as well, she said. "Amazon doesn't need to become ubiquitous in grocery in the same way it does in non-food. It just needs to convert enough of its most loyal customers to their grocery offering," Berg said.
ONLINE GROCERY SERVICES
Amazon is working on its online services as well as its stores. This year the company has updated its delivery fees for Amazon Fresh and made delivery as well as pickup available to non-Prime members. The company is also working on a "unified cart" initiative that will allow customers to combine Amazon.com, Whole Foods, and Amazon Fresh items into one online basket, Peters said.
© All rights reserved