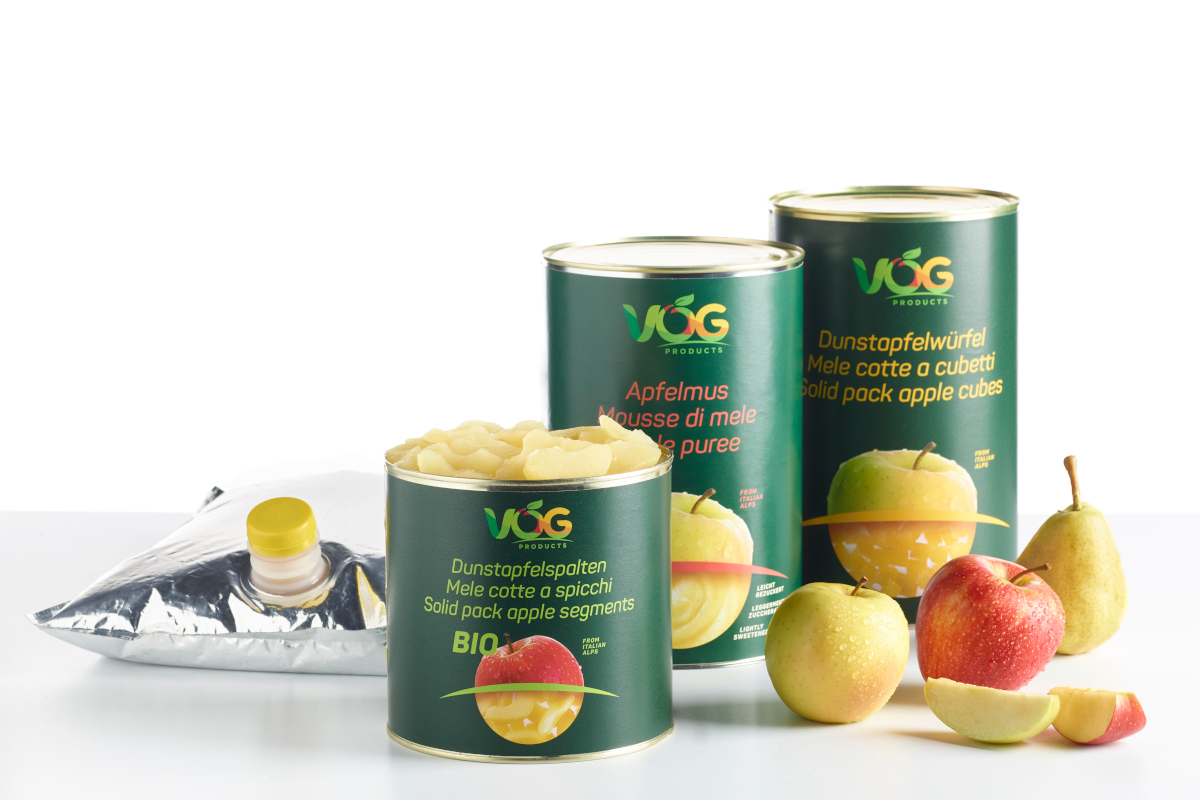 In the 2023 edition of the Anuga trade show, the Italian cooperative VOG Products, specializing in fruit and its derivatives, positioned itself as a "strong and reliable partner for the global restaurant industry clientele," as declared by VOG's Director, Christoph Tappeiner.
VOG offers an array of products, including fruit purees, steam-cooked and frozen apples, and high-quality fresh fruit pieces, all produced to rigorous standards and tailored for bakeries, patisseries, wholesalers, and food industry suppliers. A key ingredient in VOG Products' recipe for success is their ability to craft bespoke solutions and products for clients. This market leader, headquartered in Laives, South Tyrol, unveiled their latest innovation at this year's Anuga exhibition: fruit purees enhanced with premium apple pieces, all steam-cooked to perfection.
INNOVATIVE PACKAGING SOLUTIONS
At their exhibition booth, VOG Products also revealed innovative packaging solutions to expand their already comprehensive product range. They now offer their purees, juices, and concentrates in practical bag-in-box containers ranging from 5 to 25 kilograms, alongside traditional jars. This new packaging is not only user-friendly but also features a resealable lid, reducing costs and lead times for customers. Its lightweight design and minimal disposal expenses have made it a highly favored choice.
A DISTINCTIVE SUPPLY CHAIN
VOG Products employs cutting-edge production lines to process the finest, ripe fruits. These raw materials are sourced from members of the fruit producer organization, consisting of fruit cooperatives in South Tyrol and Trentino. The majority of these cooperatives are small, family-run enterprises where owners tend to their orchards with unwavering dedication and years of experience.
Stringent origin traceability and rigorous quality controls across the entire production chain guarantee food safety and a consistent year-round product supply. VOG Products consolidates this exclusive supply chain under the banner "From: Italian Alps."
The company processes and transforms an impressive 300,000 to 400,000 tons of fruit annually. Their product range extends beyond apples to include pears, apricots, peaches, kiwi, and cherries. Tailoring to customer needs, they offer raw materials in single-variety or certified organic formats.
© All rights reserved