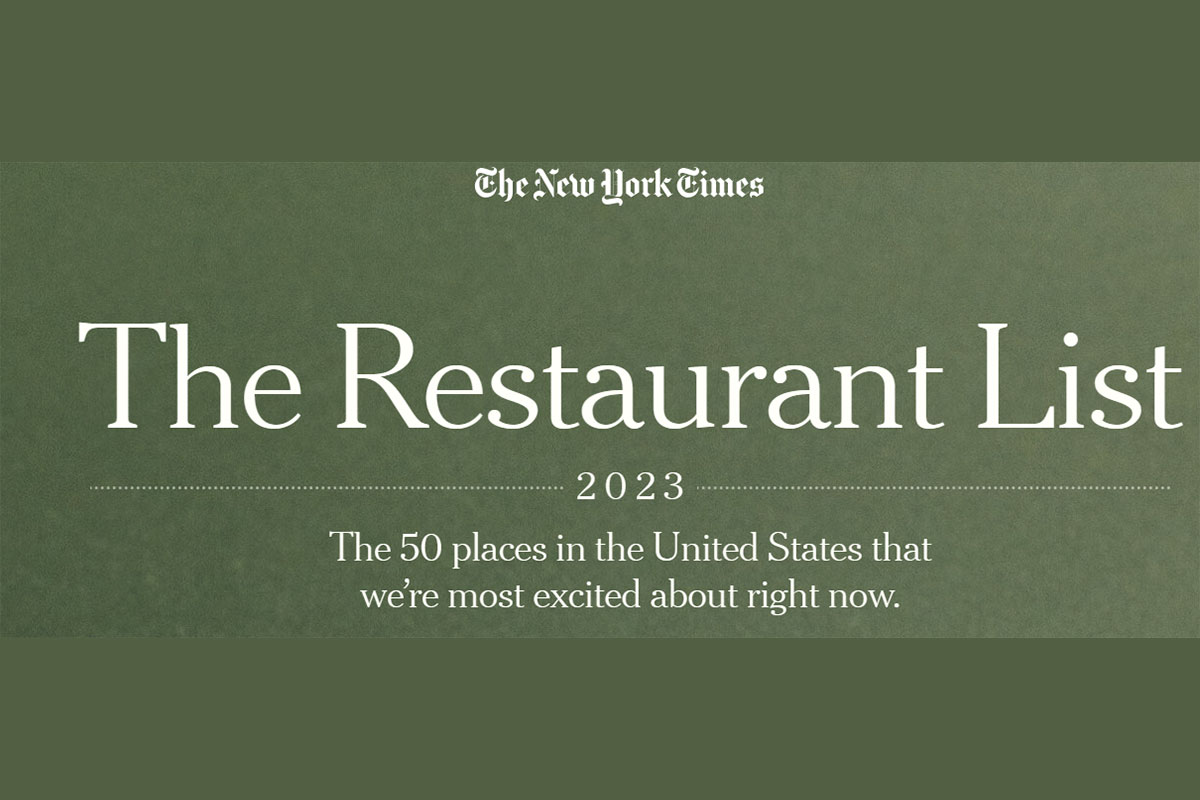 In September, The New York Times released its annual list of 50 favorite restaurants for 2023. Seven are Italian or Italian-inspired restaurants. For the third year in a row, the newspaper dispatched reporters across the US to taste the menus of restaurants and compile the list of the 50 most exciting restaurants.
Here are the Italian or Italian-inspired restaurants that made The New York Times list:
In Bocca al Lupo in Juneau, Alaska
Daisies in Chicago, Illinois
The Webster in Iowa City, Iowa
Campione in Livingston, Montana
Torrisi in New York City
Cafe Olli in Portland, Oregon
Bar Bacetto in Waitsburg, Washington
MAKING THE LIST
Italianfood.net spoke with Café Olli shortly after the list was published. Taylor Manning, the owner, described the moment he found out his restaurant made the list, "It was an amazing way to wake up. Disbelief and shock. We do such simple food; it's a care that all our staff put into it. We wouldn't be where we are without everyone on our staff. I hope they feel as proud and excited as we do."
Manning says his restaurant isn't 100% traditional Italian cuisine, but rather Italian leaning mostly because he focuses on getting fresh local produce (including flour). He is passionate about pasta and has a rotating pizza menu based on the fresh local produce he can find at farms.
THE CRITERIA FOR MAKING THE LIST
The New York Times began sending eight reporters nationwide to dine at restaurants in February. The newspaper said, "The list is not meant to be definitive, he said, but rather a collection of the 50 places that inspire or excite us right now." To keep a low profile, the reporters did not disclose their affiliation with The New York Times to prevent special treatment. In Alaska, In Bocca al Lupo, Chef Schooler trained in Italy, but the menu also reflects Alaska's Filipino community. The New York Times describes Daisies and The Webster as Italian inspired. At Campione, the food is from farm or ranch to table. In New York City, a city filled with Italian restaurants, Torrisi was the only Italian restaurant that made the list this year from the city that never sleeps. Capacity doesn't matter if you serve incredible food, and that's especially true for Bar Bacetto. The restaurant is an 18-seat-only cozy bar that serves fresh pasta, antipasti, and classic cocktails.
© All rights reserved