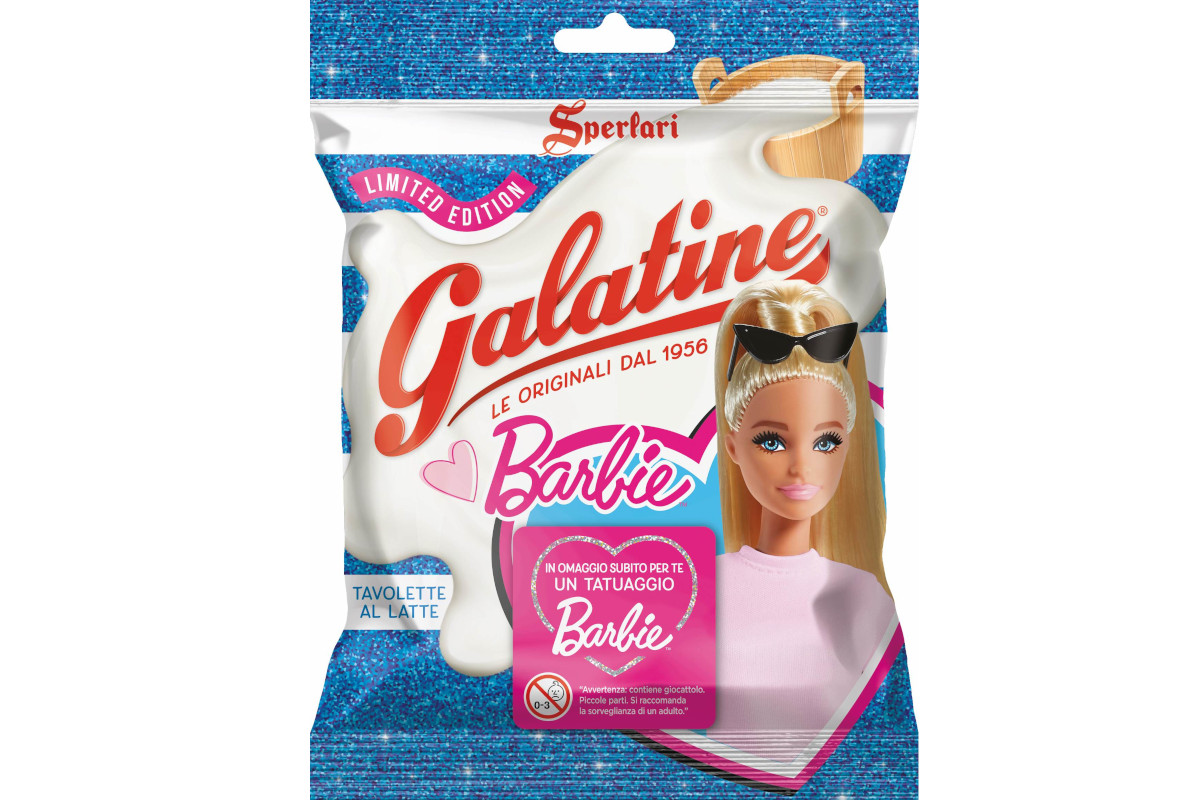 From the fusion of two enduring icons, Sperlari and Mattel, emerges the remarkably chic limited edition of Galatine – the beloved Italian milk candies that have been captivating generations since 1956. This exceptional creation bears the distinguished signature of Barbie, the iconic doll who takes center stage in this year's cinematic masterpiece, "Barbie: The Movie." Italian confectionery powerhouse Sperlari pays homage to this timeless character with a special rendition of its renowned Galatine, drawing inspiration from Barbie's radiant pink universe, a source of delight and inspiration for individuals of all ages worldwide.
In this commemorative release, the Galatine packaging undergoes a striking transformation. Awash in Glitter and adorned with Hot Pink – the quintessential color synonymous with Barbie – it proudly displays the unmistakable Barbie logo, unequivocally marking it as a limited edition masterpiece. An eye-catching feature on the packaging is the all-encompassing artwork, complemented by a delightful surprise: "Galatine presents you with a Barbie tattoo," a special promotion exclusively for those who seize this exceptional product. An interior sticker reveals a removable tattoo, an ode to Barbie's enchanting universe.
Anna Ciccone, Marketing Manager Year-Round at Sperlari, expressed her enthusiasm, stating, "We are genuinely thrilled to introduce this limited edition. Our collaboration with Mattel represents a venture of substantial significance, and we are confident that it will resonate deeply with our discerning consumer base."
Jon Spalding, Mattel Head of Consumer Products UK & Ireland Hardline & FMCG EMEA, remarked, "We take immense pride in announcing this partnership with the Italian excellence of Sperlari, which shares our commitment to consumer responsibility and innovation. The synergy of our flagship brand, Barbie, with Galatine, an illustrious name within the confectionery world and a market leader in Italy, promises to deliver unparalleled visibility for both entities, translating into substantial commercial success. We anticipate this to be the inaugural collaboration of a series of prosperous ventures."
The limited edition is now available at prominent retail chains and in the bar segment, while supplies last.
© All rights reserved