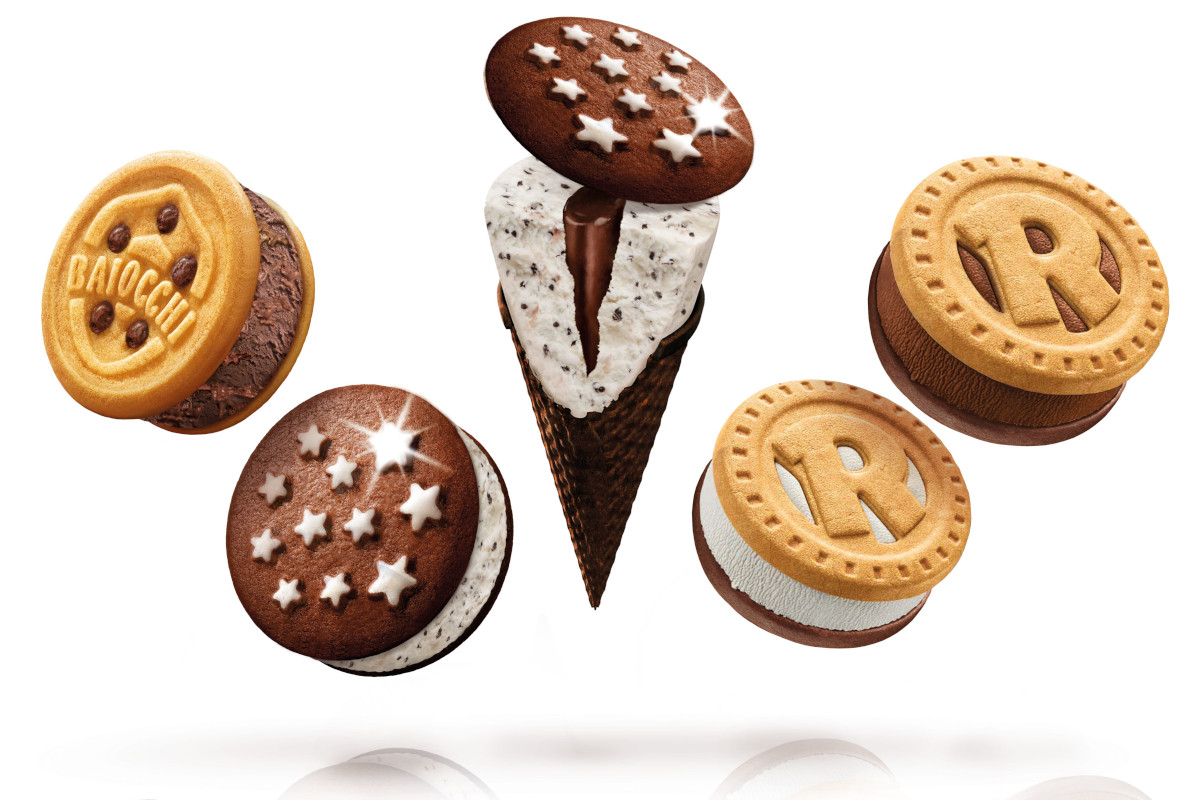 Algida and Barilla are launching five new products – arriving on the market these days – born from the strategic agreement announced in recent months. The goal is to inaugurate a new era of high-quality Italian gelato. The new gelato-cookie snacks produced by Algida are in fact inspired by some of the cookies and snacks most loved by Italians, produced by Barilla's Mulino Bianco brand: Pan di Stelle, Baiocchi, and Ringo.
The iconic cookie with the 11 stars arrives on the market with the Cono Pan di Stelle and the revised and renewed Biscotto Gelato. Mulino Bianco thus enters the world of gelato for the first time with a cookie that has accompanied Italians since 1983; Baiocchi, whose gelato version features two cookies that enclose a creamy cocoa and hazelnut ice cream, made with premium ingredients. As for Ringo, a market leader of dry snacks in Italy since 1967, two recipes will be on the market – vanilla and cocoa – which innovate the already existing proposals. In the coming months, Gocciole and Togo will also be on the market in gelato versions.
For the five new references, the best high-quality raw materials are used, such as fresh Italian milk, fresh cream, 100% Italian honey and hazelnuts, eggs from free-range hens, and sustainable cocoa from certified supply chains.
The new gelato cookies are produced in Italy, in the Algida plant in Caivano (Naples). It is one of the world's largest plants of its kind. Every day, it can produce over five million gelatos and, overall, over 300 different items destined for the Italian, European, American, and Australian markets.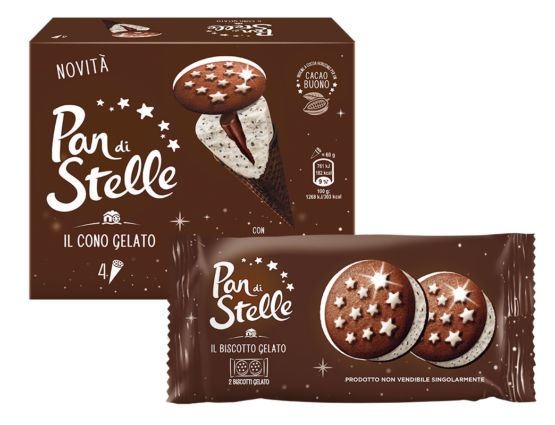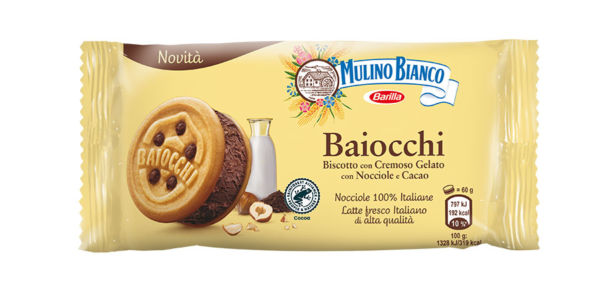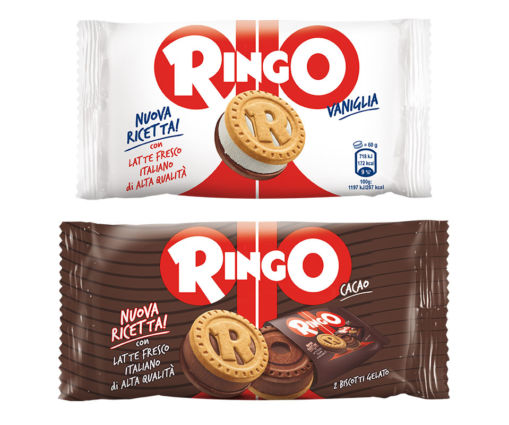 ALGIDA, THE INNOVATION CHALLENGE
Gelato is confirmed as an Italian passion: as many as 22 million households bought packaged gelato in 2021, for a total of 428 million packs sold.
"A typical Italian history, production capacity, and know-how make Algida a point of reference for this market in Italy and around the world. A unique model that combines tradition and innovation and is recognized globally for creating iconic products such as Cornetto, Cucciolone, and Magnum," says Quirino Cipollone, Vice President & General Manager Unilever Ice Cream Italy. "The partnership with Barilla stems from shared values and ambitions, taking up the great challenge of transforming some of Italy's most popular snacks and cookies into gelatos capable of offering a consistent yet unprecedented organoleptic experience".
BARILLA, THE GROWTH OF BRANDS
The agreement with Algida allows Barilla to ensure consistent summer seasonality for its successful cookie and snack brands, capitalizing on some beloved and iconic brands.
"We are very proud to introduce these new products," says Julia Schwoerer, Vice President Marketing Mulino Bianco, and Pan Di Stelle. "Within Barilla, we have much-loved brands; over the years, our consumers have often asked us for the gelato versions as well. Today we are pleased to be able to count on a partner like Algida, excellence in this sector. We are certain that, thanks to its expertise, our products can be enjoyed in a different format, ideal for the summer season".
© All rights reserved