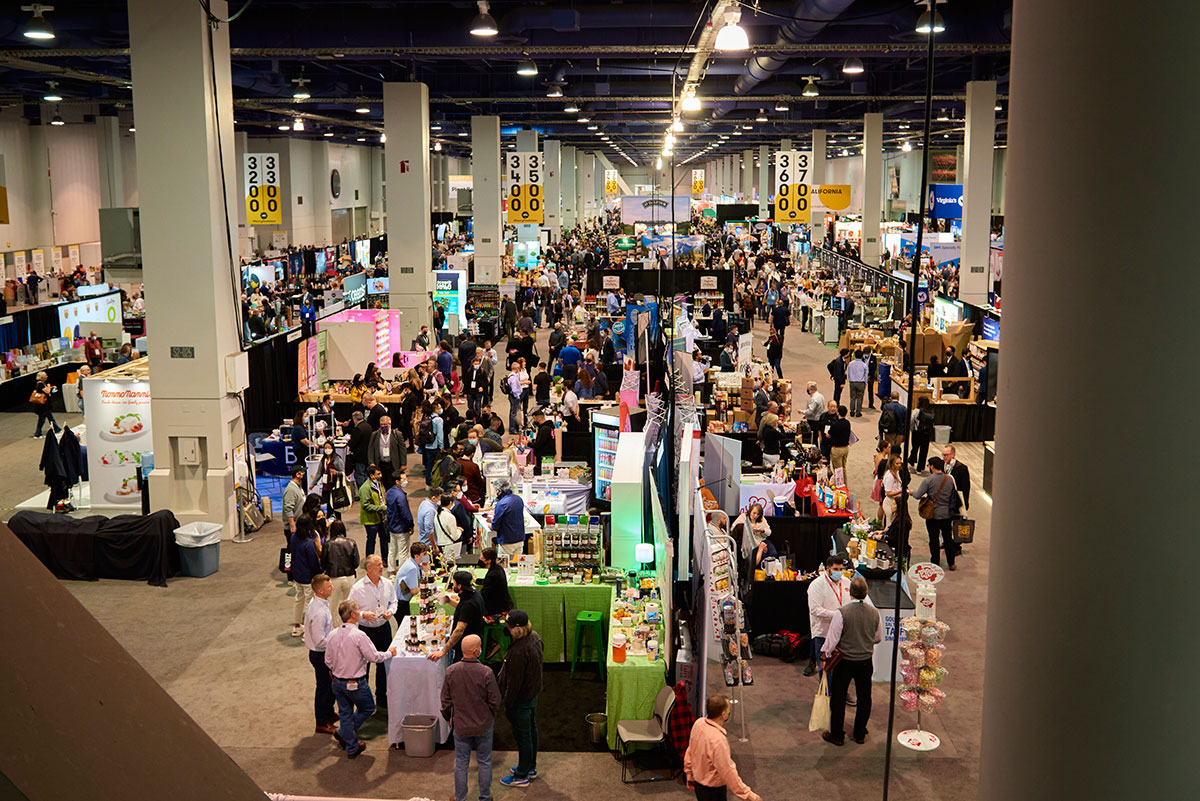 Overall, specialty snack items were the biggest food items Italianfood.net spotted throughout the Winter Fancy Food Show organized the Specialty Food Association. They ranged from various flavors of chips to peanut butter bites. This attributes to the trend where Americans are consuming more snacks. According to Mordor Intelligence, the global specialty snacks market is expected to grow slightly over 6% (between 2020-2025). American consumers are constantly looking for snacks made with healthier ingredients. Italian products fit into that demand.
Find new products of snack category on our platform
THE ITALIAN SPECIALTIES SHOW
At the Italian pavilion, cheese, salami and truffle companies dominated the booths. Visitors walking through it learned about the different Consortiums that promote and protect authenticity of cheeses. Some cheese exhibitors included the Consorzio Grana Padano, Parmigiano Reggiano (icons of European Taste), and Auricchio Locatelli. As for salami imports, Veroni displayed their pre-sliced product ranges including their snack line, which is doing well thanks to the popularity of snacking and charcuterie boards. Just like the cheese category, the Consorzio Prosciutto di Parma and Consorzio Prosciutto San Daniele both icons of European Taste were present to educate show participants. Martelli promoted their line of antibiotic-free sliced cooked ham obtained from the thighs of Padano Heavy Pigs bred without the use of antibiotics.
Discover more Italian deli producers and their specialities on our platform
THE TRUFFLE TASTE IS TRENDY
Truffles are another category that had a huge presence at the Italian pavilion. Americans are craving the flavor of truffles across different categories from fine dining, fast casual restaurants, and even on snacks. TartufLanghe displayed their new product the company invented, the Truffle Caviar, a cost effective condiment has the texture of caviar but the taste of truffles. It goes well on crostini bread or use it to garnish fresh cheese, and sliced hams. This product elevates the snack category that consumers are craving. Another truffle company, Le Vie Del Tartufo – Jimmy Tartufi, says truffles is a booming category. The company developed a product Truffle Chef, a truffle sauce perfect to top off hamburgers and pizzas to serve the fast food industry. As for truffle snacks, Italianfood.net also noticed truffle seasoned chips and nuts on display.
Discover more Italian producers of truffle products on our platform
PARTNER WITH THE US RETAILERS
On the minds of every exhibitor, attending was the supply chain crisis. Italianfood.net reached out to get advice from Jeff Grogg, Managing Director of JPG Resources, one of the speakers at the Winter Fancy Food Show addressing the supply chain crisis. "In the short term, do the best possible job to have excess product in the US warehouses so your brand can be the one filling the voids and not the one left out. We have seen brands get significant sales gains because they've been aggressive on having inventory available. There is obviously a cost to this, but it's much smaller than losing the sale to your competitor! – Grogg told Italianfood.net –. Certainly it's also very important that brands are communicating well with their distributor and retailer partners. It's better to give bad news when planning can be done to mitigate the impact than holding the information until it's too late and even more disruptive."
Later this year, Italian companies will have another opportunity to display their products at the Summer Fancy Food Show. The Italian pavilion will be at the Specialty Food Association's Summer Fancy Food Show in New York City June 12-14, 2022.
© All rights reserved