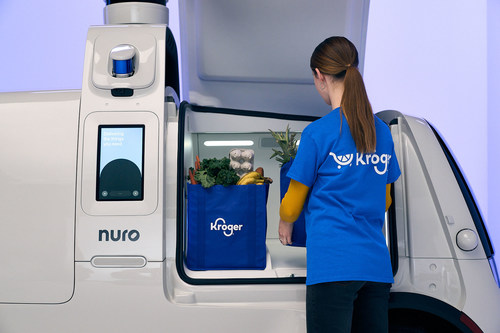 After Domino's, here comes Kroger. After the ghost kitchen, here comes grocery delivery with robots. These are definitely intense days on the innovation side for the American retail giant.
ROBOT DELIVERY
Last Wednesday, in fact, the company announced the launch of grocery delivery with self-driving vehicles in the city of Houston. As with Domino's, in this case the partner will be Nuro, a Silicon Valley technology company and leader in the field of robotics.
The announcement comes after "tens of thousands" of tests already carried out, but with the presence of a safety driver inside the vehicle and especially after Kroger's participation in Nuro's latest investment round, a $ 600 million Series D round closed last November.
CHANGING CUSTOMER NEEDS
"Our close partnership with Nuro supports Kroger's commitment to providing fresh food, at a great price, all without asking our customers to compromise", said Yael Cosset, Senior Vice President and Chief Information Officer at Kroger. "The role of autonomous vehicles in our ecosystem continues to grow, helping to meet our customers' needs in their daily context without compromising quality or value, while contributing to our long-term growth and sustainability goals".
A SUCCESSFUL PROJECT
"We are excited to expand our long-standing strategic partnership with Kroger and further our shared vision for the future of grocery delivery – said Dave Ferguson, Co-founder and President of Nuro –. We look forward to leveraging our third generation of self-driving vehicles, the most advanced to date, to continue adding pieces to the success of that program".
© All rights reserved