Last year brought lockdowns, restricted movement and social distancing to the lives of consumers like never before. Food retailers and manufacturers also had to quickly adapt to supply chain challenges, government regulations and changes in consumers' priorities. Although the long-tail impact of economic slowdown will continue into 2021, according to a survet by Nielsen the success of the FMCG industry depends on how retailers and manufacturers address evolving behavior and shifts in the retail landscape by leveraging best-selling locations (golden stores) and e-commerce, assortment and promotions.
Click here to discover the authentic Italian food and beverage products on Italianfood.net platform
According to Christian Saldi, Director at Vicenzi United States, "remote working has not only changed how we do business but also how we shop and live. Daily habits have changed and consumers today visit shops that they had never made purchases in before. The so-called gold stores (those located near the workplace or near commuter stations) have been replaced by new ones and this has had a great impact on distribution and products consumption".
CONSUMABLES ARE KING
The closure of restaurants and shelter-in-place regulations led in fact to an increase in in-home consumption. Food and beverage categories, particularly perishables, saw strong growth as consumers in North America, Latin America and Europe increased their monthly budget allocation for in-home food and beverages. Nielsen expects the need for in-home consumption to continue in the first half of 2021.
Manufacturers should therefore optimize product distribution to ensure their availability in the most-demanded categories, while retailers should ensure that they have the right products in the right stores and distribution centres, based on the new shifts in purchase patterns. Both should work together to focus on consumables to drive store traffic, basket size, profits, share and loyalty.
RATIONALIZING ASSORTMENT AND OPTIMIZING PORTFOLIO
The pandemic gave rise to two distinct shoppers: constrained shoppers (those financially impacted by the pandemic) and insulated shoppers (those who experienced no financial impact). These two groups have distinct priorities and shopping behaviours, and they each gravitate toward different types of products.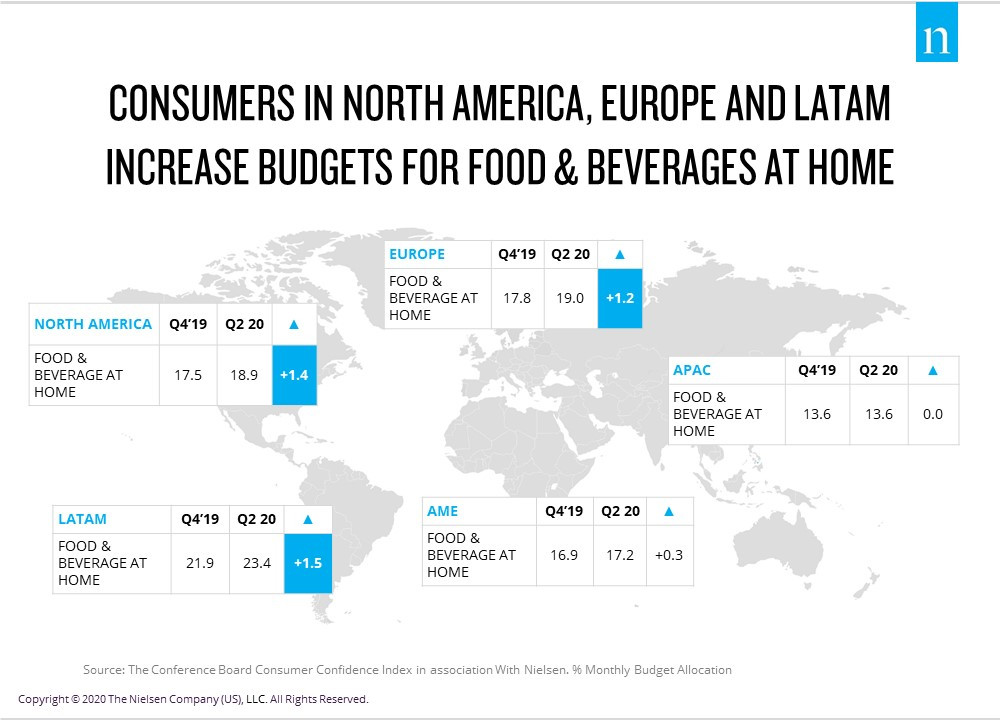 Due to health and safety concerns, both groups are shopping at physical stores less often, and when they do, they come more prepared and they spend less time in store than before the pandemic. While they make fewer trips, they buy more products each trip to meet their consumption needs.
Given that one-third of global consumers have been financially impacted by the pandemic and unemployment spiked in many parts of the world, Nielsen expects belt-tightening to persist in 2021. Shoppers will also likely remain cautious about the risk of infection when shopping in public places, as the vaccine slowly begins to become available. Manufacturers should rationalize their assortment to address the needs of constrained wallets as well as the increase in in-home consumption. For constrained shoppers, introduce economy products and pack sizes to meet need for affordability; for insulated shoppers, introduce value-for-money and family size packs to meet in-home consumption needs.
GOLDEN STORES
Store closures and travel limitations led consumers to visit stores they hadn't shopped at previously. Globally, consumers who shopped at a store they'd never shopped at before grew from 39% in May 2020 to 45% in September 2020 (up +6% overall).
As working from home has become the new normal for many, consumers have replaced or eliminated shopping trips close to the workplace and near commuter stations with trips to stores in residential areas. This has changed the concentration, or number of stores, that account for 80% of F&B sales, often referred to as "golden stores."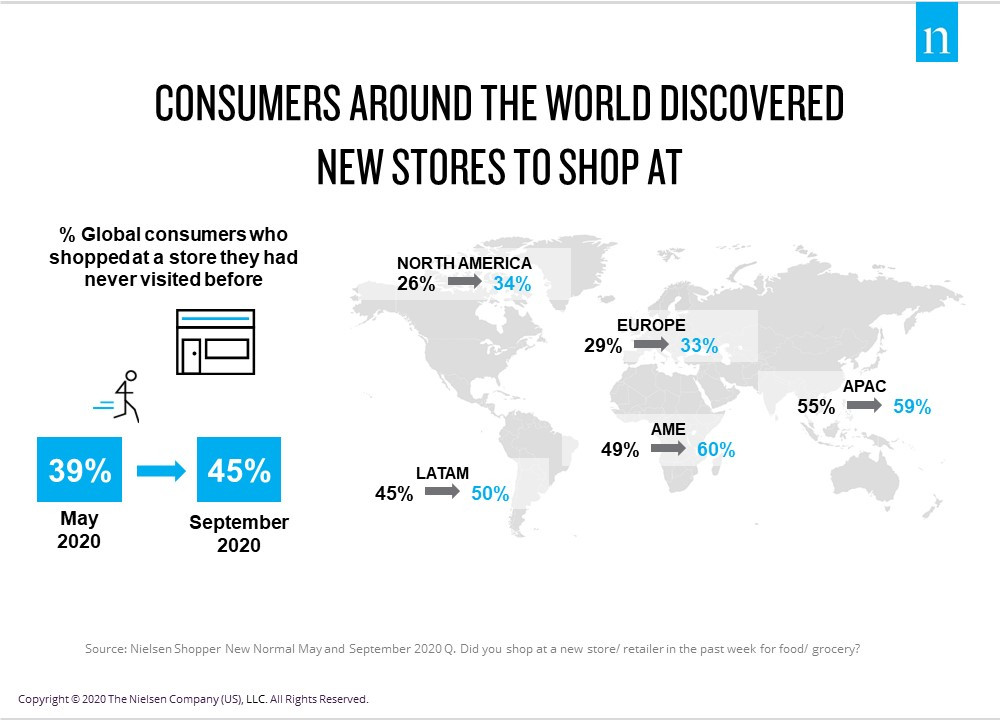 Location is thus a key determinant of growth, and manufacturers and retailers should identify their new golden stores. Retailers should also review their real estate strategy based on new shopping locations.
PROMOTIONS MATTER…WHEN DONE RIGHT
In North America and Europe, the increase in in-home consumption sparked food and beverage growth in the second and third quarters of 2020. At the same time, promotional levels declined, with sales on promotions reaching four-year lows in markets such as the U.S., Spain, Germany, Italy and France in Q2 2020. Nielsen research showed that a whopping $5.9 billion in sales were lost as a result of decreased trade promotion and a loss in trade promotion effectiveness in 2020 compared with 2019.
There is an opportunity for manufacturers and retailers to use price and promotions in the right way to drive incremental revenue. Retailers and manufacturers should align on the role of promotions and how to develop mutually beneficial consumer incentives. It will also be essential to win shopper loyalty, design promotions that appeal to consumers' needs and behavior and increase promotions on products that are shelf-stable and can be inventoried.
PREPARING FOR LIFE AFTER THE PANDEMIC
As a result of the pandemic, consumers are even more concerned about health, wellness and hygiene. The sale of consumables grew as consumers spent more time at home, and spent less money on out-of-home consumption. They also became more accustomed to shopping online.
As the first doses of the vaccine are administered and the effects of the pandemic abate, the question remains if retailers and manufacturers will be agile enough to respond to changes in consumers' priorities and shoppers behaviour. Brick and mortar retailers should explore how they can use the latest analytical models to create promotions that effectively compete against e-tailers. If they haven't already, brick-and-mortar retailers should develop strategies to cater to the omnichannel shopper.
© All rights reserved