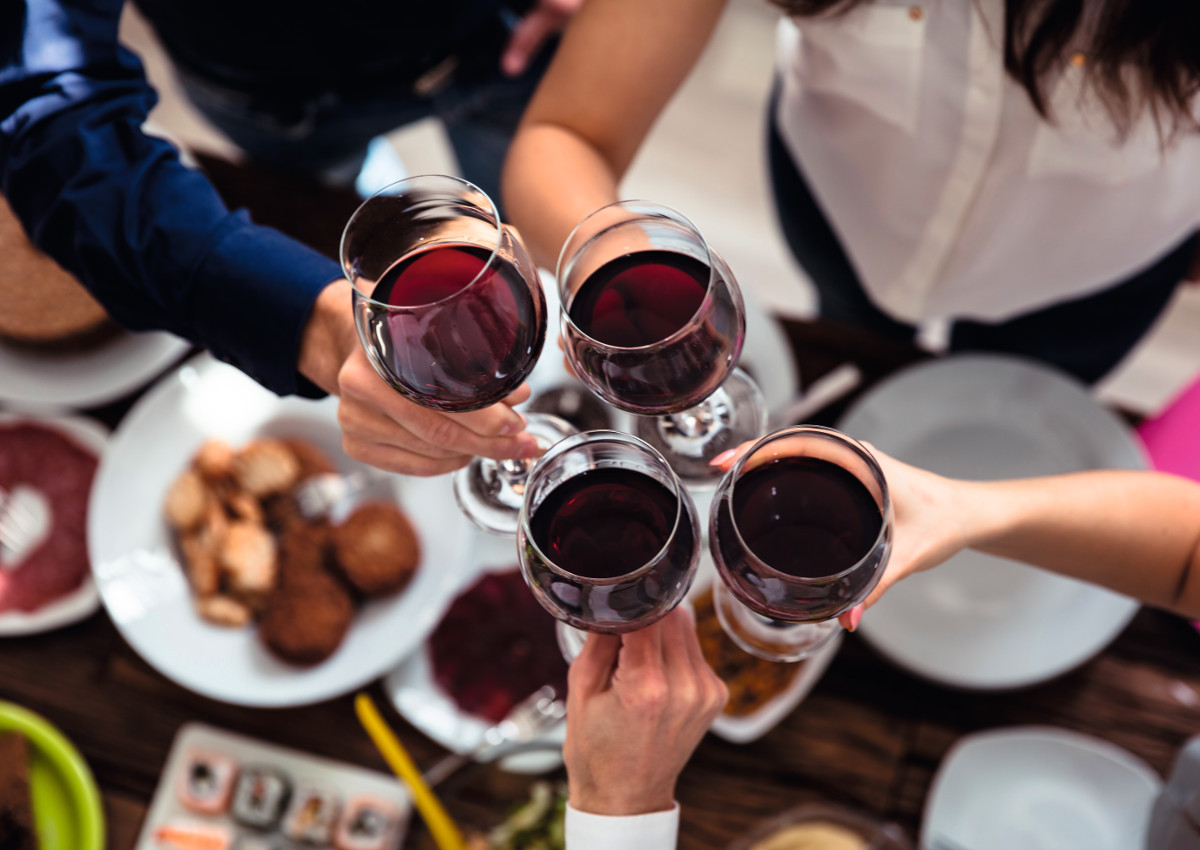 Italian wine exports continued to grow, and in 2019 were worth 6.4 billion euros (+3.2% compared to 2018). The biggest growth concerns volumes, which are close to 22 million hectolitres (+10%) allowing Italy to regain world leadership. However, the evolution of revenues has been lower than expected. This is due to the fall in average prices, both for dynamics linked to wine lists and for the different composition of the exports basket.
These are the final data on Italian wine exports in 2019, processed by the Unione Italiana Vini Wine Observatory – ISMEA on ISTAT data.
The most important increase was, in fact, in 'ordinary' wines which, with 4.9 million hectolitres, mostly in bulk, grew by 18% in volume with a drop in revenue (-3%).
Click here to discover the authentic red and rosé Italian wines on Italianfood.net platform
ITALIAN WINE EXPORTS: 2019 IN NUMBERS
The strong increase in exports of bulk table wines – which have a natural destination to EU markets, particularly Germany – contributed to a more marked overall increase in terms of quantity to EU countries (+12%) than to third countries (+7%). Exports to non-EU countries in value terms, equal to 3.22 billion euros, are therefore slightly above 3.20 billion euros to the EU. Non-EU countries, therefore, succeeded in overtaking the EU area in terms of spending on Italian wines.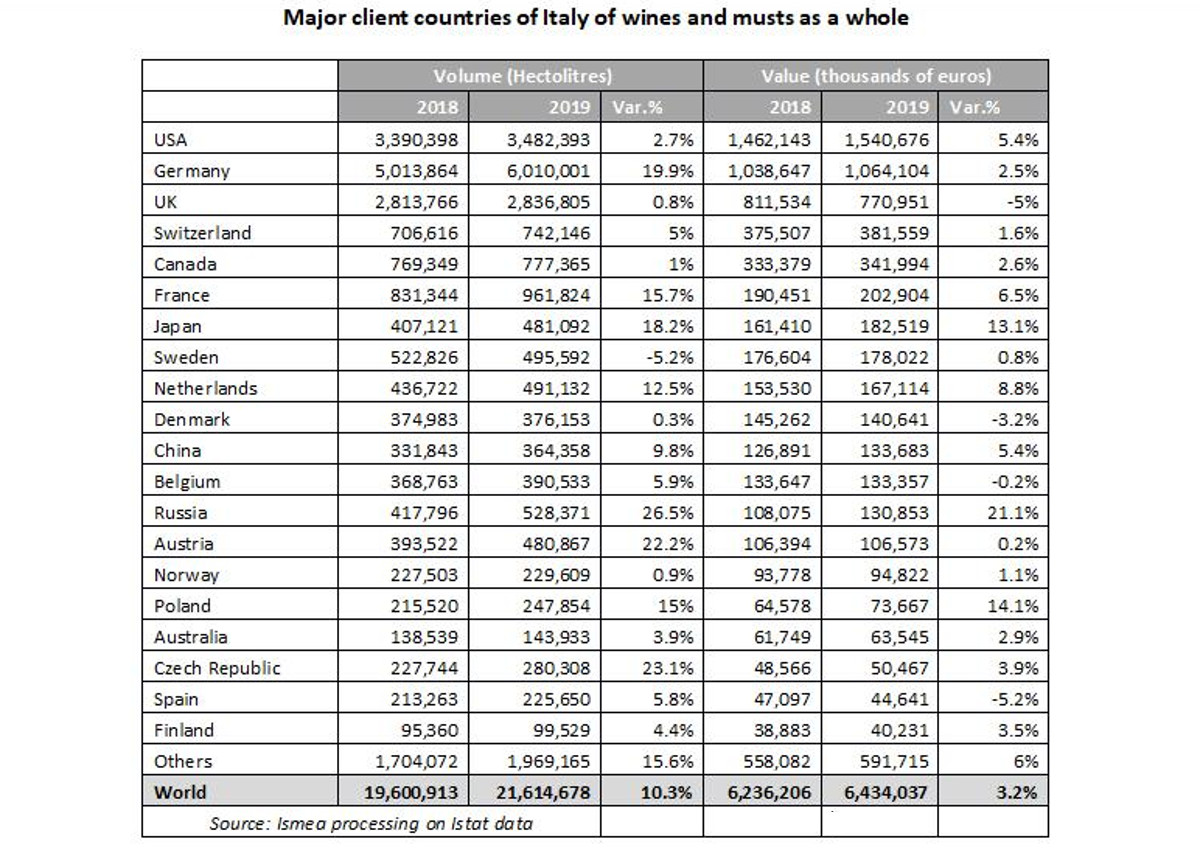 SPARKLING WINES: THE IMPORTANCE OF BEING PROSECCO
Italian exports are also driven by sparkling wines. The 2019 figures are positive, there is, however, a substantial slowdown in the race that for years had recorded double-digit increases. For the first time, in 2019 exports of Italian sparkling wines exceeded 4 million hectolitres (+8%) on an annual basis. Although the sparkling wine sector has grown, foreign demand is essentially driven by Prosecco and many see this excessive dependence on a single product as a weakness of the sector.
Click here to discover the authentic Italian sparkling wines and Prosecco on Italianfood.net platform
The strong progression of Prosecco, which represents 65% of the entire export by volume of the sparkling wine segment, which recorded +21% in volume and +16% in value, is contrasted by a rather negative year for Asti (-10% in volume and -2% in value) and other kinds of PDO sparkling wines.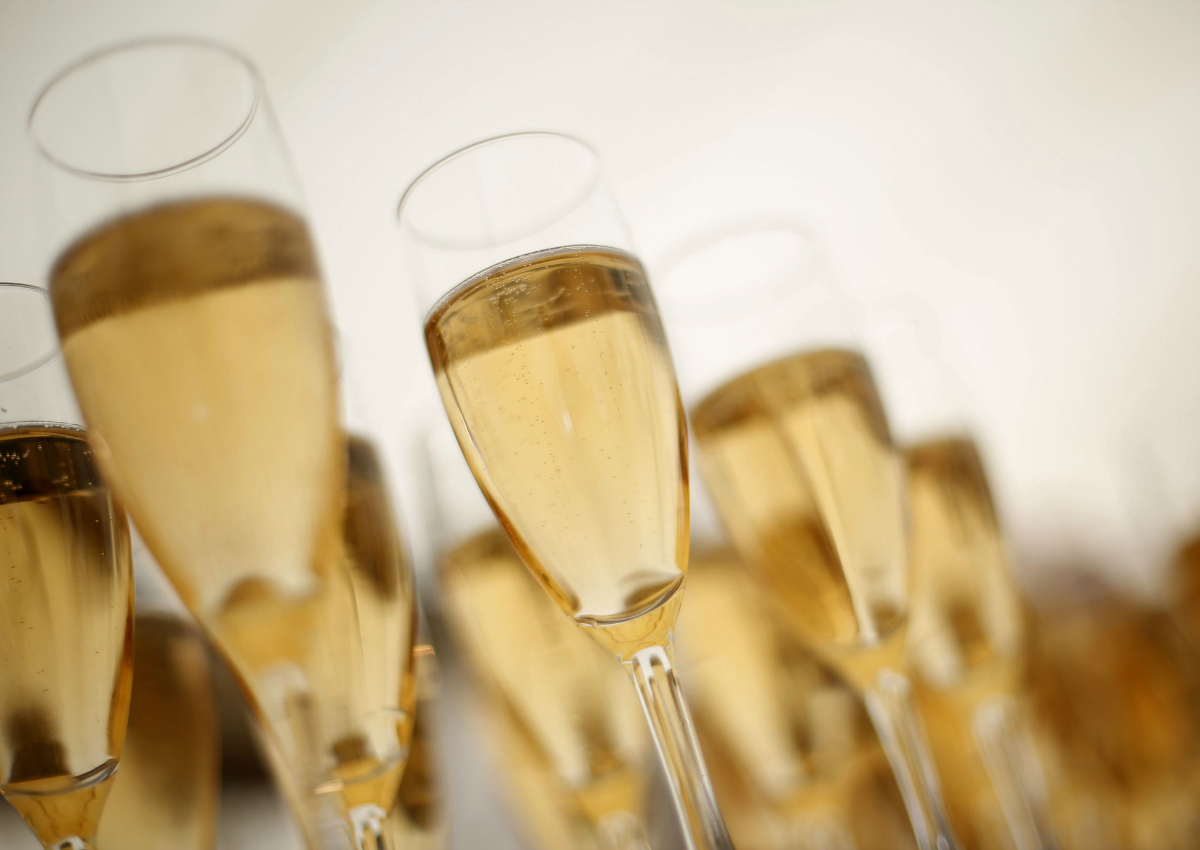 PDO, PGI WINES
There was also a marked increase in PDO wines sales, especially still wines (+13.5% in volume and +9% in value), which offset the reduction recorded in the PGI segment. PGIs, however, showed a decisive setback both in still wines in bottle (-5% in volume and -4% in value) and bulk (-10% in volume and -13% in value), while bag-in-box performed particularly well (+8% in volume and +8% in value). This kind of packaging, however, grew significantly in 2019 compared to 2018 (+8% in volume and +10% in value).
Click here to discover the authentic Italian white wines on Italianfood.net platform
DESTINATION COUNTRIES
Las for customer countries, the top three destinations absorb more than half of total exports both in volume and value.
A recovery in value was achieved especially in the summer thanks to exports to the United States, which grew by +3.6%. Sparkling wines also performed well, with an increase of 14% in volume and 12% in value. Also worth noting in the U.S. market is the double-track trend between Prosecco, which is growing at a 40% rate compared to 2018, and the other Italian sparkling wines which instead are losing ground. In the USA, there is expectation and concern about the increase in duties. Even in the second 'revision', Italian wine has not been affected, but nevertheless attention remains high.
Exports to Germany have increased sharply, by 20%, driven by bulk wines (+39%) which, with over 2.8 million hectolitres, represent 46% of total imports from Italy. Bottled wines are doing well as well, while the German market is bucking the Italian sparkling wines trend with a 7% drop in demand in volume due to a drastic reduction in demand for both ordinary and Asti sparkling wines (-33%). Prosecco continues its progression, achieving a +11% increase in volume and a +3% growth in value.
In the UK, exports in volume have been holding up (+1%), although there was an overall drop (-5%) in value on an annual basis. It was mainly bottled still wines that marked the highest demand in the UK, with an increase of +2% both in volume and in values. On the other hand, demand for sparkling wines is holding back, even though the British market remains Italy's main destination market for this segment.
The Far East performed well too, starting with Japan which recorded double-digit increases (+18% in volume and +13% in value), thanks also to the signing of the free trade agreement with the EU. China has achieved a +10% increase in demand for Italian wines: 364 thousand hectoliters for a value of 134 million euros (+5%).
© All rights reserved