The market for organic food products continues to grow in Europe (+8% compared to 2017) where it reached a value of 40.7 billion euros. It is the top second marketin the world after North America (43 billion). These are the updated figures from the Fibl yearbook, the Italian research institute for organic agriculture, presented at Biofach 2020 in Nuremberg, Europe's largest trade fair for the sector.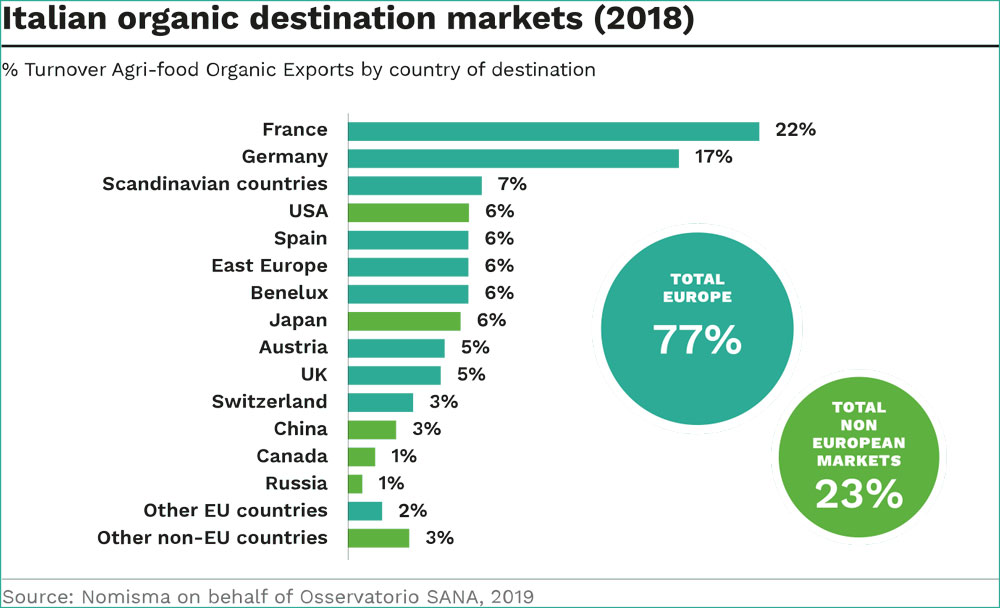 Italy is the EU country with the highest number of companies, while Spain remains the EU leader for organic areas with 2.2 million hectares.
ORGANIC FOOD: THE AVERAGE EXPENDITURE IN EUROPE
The markets with the highest turnover are Germany, France and Italy, while Switzerland and Denmark are the ones whose consumers spend more on organic food products, with 312 euros per capita per year compared to a European average of 76 euros.
Click here to discover the Italian companies attending Biofach 2020 in Nuremberg
ORGANIC PRODUCTS ENTERING MORE SHOPPING BASKETS
According to Mintel, demand for organic food continues to rise, offering opportunities across many food and drink categories.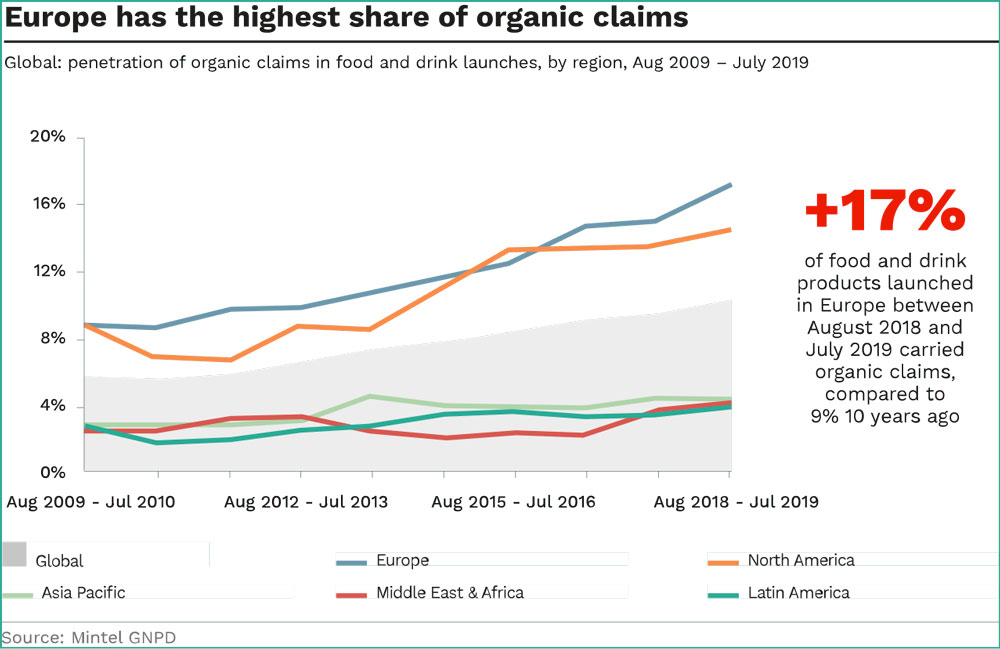 There are opportunities to market exciting, more premium organic food and drink products to younger consumers who consider themselves to be 'foodies' and expect constant engagement with food brands through new and exciting launches, quality ingredients and ethical positioning.
39% of Polish consumers buy organic food and drink products once a week or more;
31% of French consumers are prepared to pay more for organic food and drink;
28% of Italian consumers agree that organic products represent good value for money.
CONSUMERS PERCEPTION
Although health and nutrition are still the most important drivers for organic products purchases, today's consumers expect organic brands to stand for more. A distinction that may become more challenging to make in the future.
With environmental and ethical credentials fast becoming an integrated part of organic consumer expectations, the organic brands must be willing to walk the talk, adhering to the fundamental principles of the organic ethos and backing up their marketing promises.
No additives/ preservatives
50% of Spanish consumers say they buy organic products to avoid artificial additives/preservatives
No pesticides/ chemicals/ hormones
46% of French consumers buy organic products to avoid pesticides, chemicals and hormones in animal products
Support local produce
44% of German consumers agree that buying organic products means supporting local farmers and agriculture
© All rights reserved