Canada ranks among the ten largest economies in the world as demonstrate the latest nominal Gross Domestic Product (GDP) levels. In 2018 Canada's GDP was worth US$ 1.711 billion with a 1.8% growth on the previous year. Also in 2019 the GDP is expected to continue the positive trend at the sustained rate of 1.5%. In the last years the economy has performed well at a time when many other countries underwent significant macroeconomic shocks. For this reason Canada is now among the richest nations in the world, characterized by an environment conducive to stimulating the consumption of goods and services, both domestic and imported.
About 80% of Canadians live in metropolitan areas, and much of it in Canada's six largest cities: Toronto, Montreal, Vancouver, Ottawa, Calgary and Edmonton. They are well-informed customers and a lot of them are already familiar with agricultural EU F&B products through travel, media, university experience and the way as foreign cultures are integrated in Canada.
At the same time many EU foods, especially those with Geographical Indications (GI), fit well with Canadian consumers' interest for high-quality and premium price goods.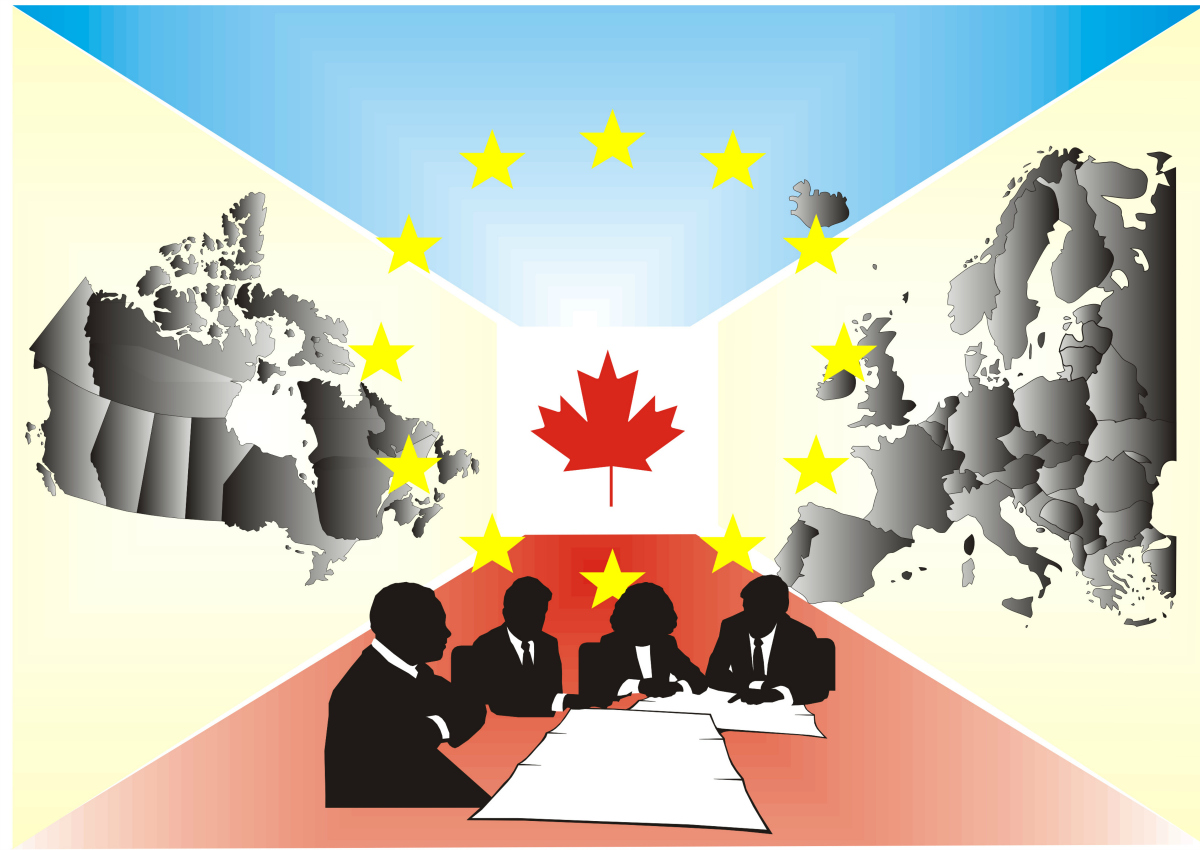 THE IMPORTANCE OF CETA AGREEMENT
CETA entered into force on September 2017. The agreement includes a significant reduction of existing tariffs between both the two areas and improves market access for goods, services and investment. In the agricultural sector, EU and Canada have granted each other tariff and quota-free access to almost all goods. Only a few products are yet exempted (e.g. dairy).
Moreover, Geographical Indications (GI) protected by the law in the EU will receive, in principle, the same protection also in Canada. All of that makes Canada a very attractive market for international exporters of agriculture and Food & Beverage (F&B) goods.
FROM EU TO CANADA: F&B EXPORTS PROSPECTS
The general appreciation for EU F&B products, a widespread interest for foreign foods among the richest classes of the Canadian urban population likewise the future positive effects of CETA on bilateral trade make of Canada an interesting market for Italian exporters. However, not all F&B EU products offer the same business opportunities.
For this reason it is important for Italian exporters to understand which are the most interesting in the mid-term. In 2018, wine accounted for 39.8% of Italy's food exports to Canada.
WINE
In the Jan-May 2019, total imports of wine to Canada fell by -4%. Italy's exports also declined, except for sparkling wines which instead grew by 9.9%, at the opposite of France (-8.4%) and Spain (-11.4%).
In Canada wine consumption is set to increase and the entrance into force of CETA is expected to further strengthen the position of European wines. Canadians are increasingly seeking unique and high quality products also in among beverages, a trend that advantages the foreign wine industry. Consumers are improving their knowledge with regards to wine. Quality is appreciated, and this will benefit high quality European wines, particularly of the most excellent. In 2018 total per capita sales amounted to US$ 189.4 (CAD 245.5) (Source: Statistics Canada).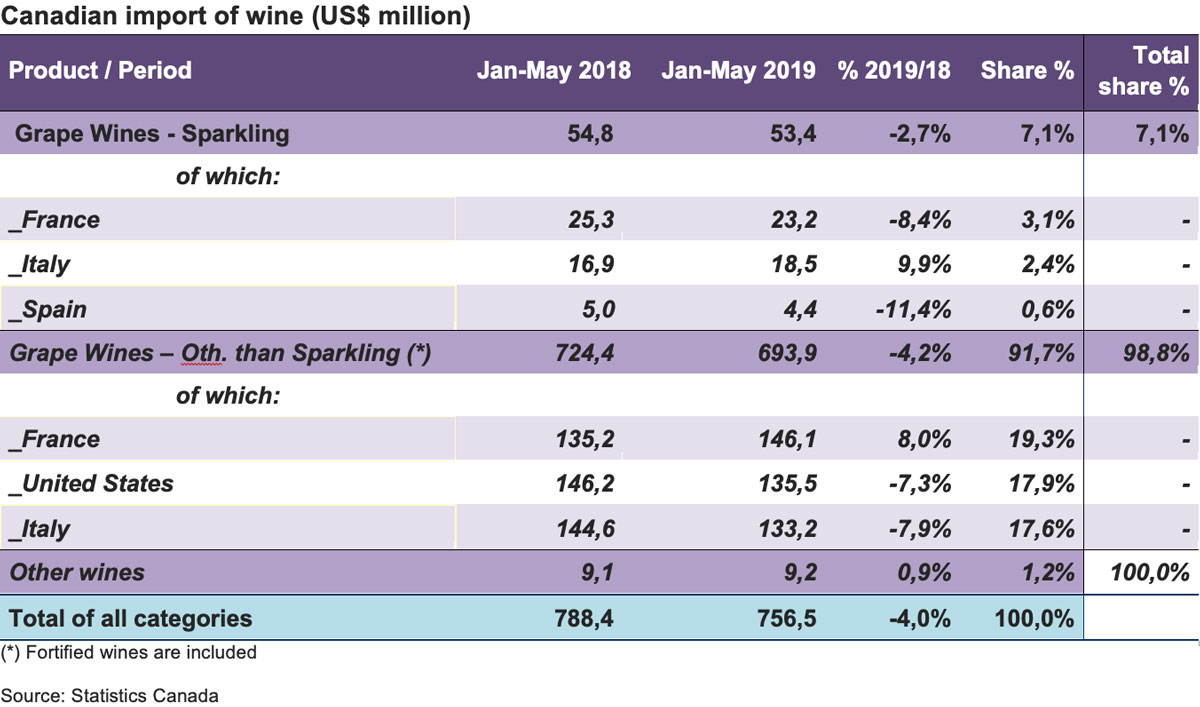 The market potential for imported wines in Canada seems huge, but France and the US are not the only rivals. The trading of foreign wines is yet difficult. This is due to the fact that several government procedures and trade barriers are imposing discriminatory policies in order to develop the local wine industry.
OLIVE OIL
In 2018 the second most important Italian food product exported to Canada was olive oil which weighted 10.6% on the Italian F&B trade. Olive oil is not a main ingredient in Canadian cooking, but its consumption in private households is fast increasing. It is more and more used as a healthier alternative to butter and canola oil. The increasing attractiveness of the Mediterranean cuisine among Canadians and its inherent benefits for health open up potential market niches for foreign olive oil producers.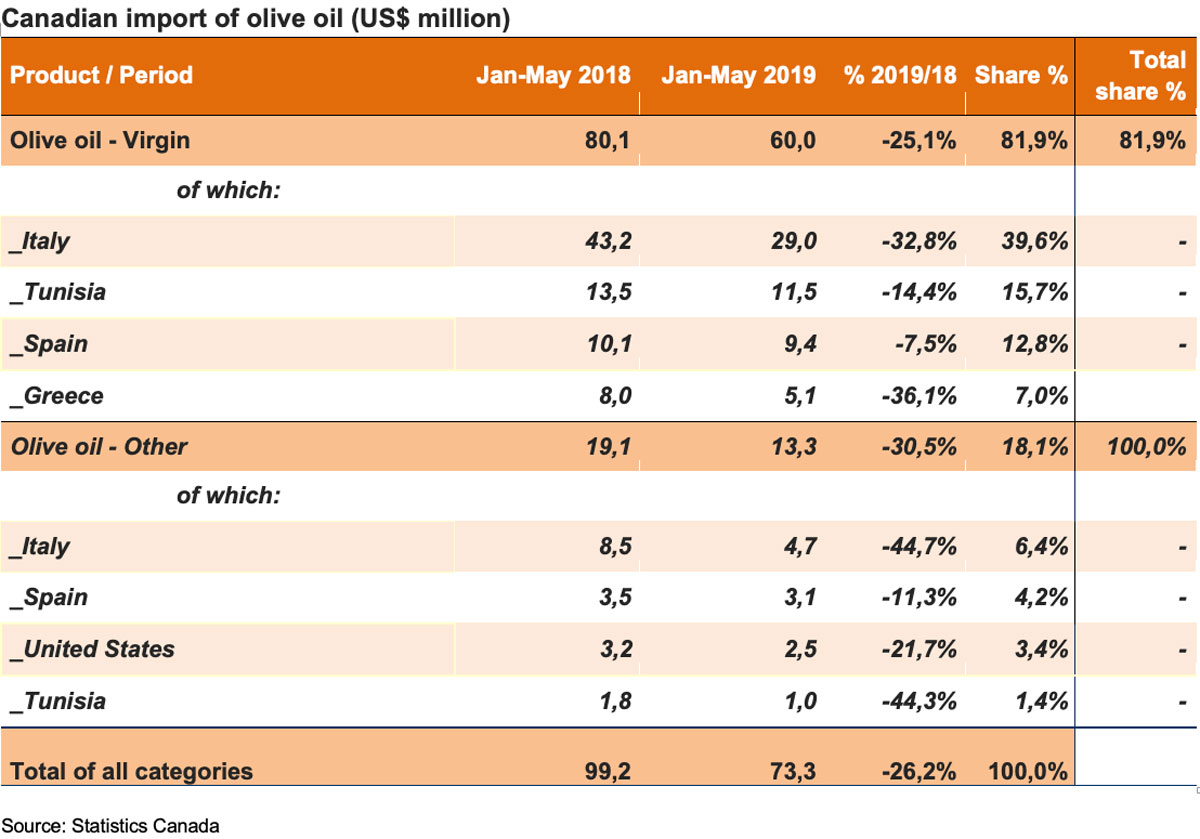 The purchase choices of high-income Canadian consumers must be more and more influenced by promotional campaigns promoting the nutritional benefits of Italian extra-virgin olive oil. An institutional long-term communication plan is central to overcoming future challenges in this product category.
CHEESE AND DAIRY PRODUCTS
Due to its size and proximity Canada's cheese trade is strictly connected with the US market. European exporters are going to gain a market share the more wide the faster Canadians preferences will shift away from industrial dairy products towards artisanal, hand-made high-quality goods with a Geographical Indication (GI). Overall, the EU members are an important trading partner for Canada and some of them are forecasted to gain significantly higher share of exports in the next years.
The greatest opportunity to let access more easily EU cheeses to the Canadian market comes from CETA. This bilateral agreement is going to protect the EU GI already recognized in the European market. The EU GI cheeses that will receive protection by CETA are nearly 50, of which 11 of Italian origin (23.4%).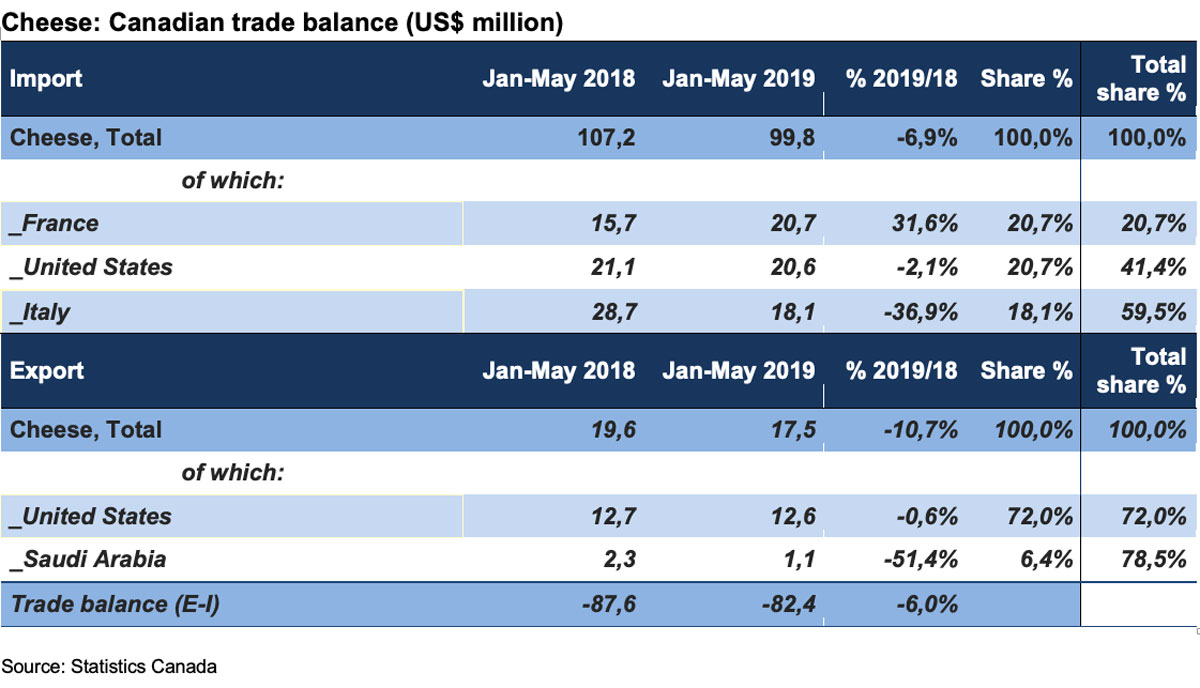 A recent survey on the degree of awareness toward Italian GI cheeses has shown that 52% of Canadians knows that Parmigiano-Reggiano is manufactured in a delimited territory; then 72% of them have correctly quoted Italy as the country of origin of this cheese (Source: Agrifood Monitor, 2017).
A good knowledge of the features of a cheese by Canadian consumers is an important step for an effective sales policy. Italy still needs to improve on this matter. Exporters must take it into account to assess the real business opportunities that the Canadian market offers to the foreign cheeses.
Fabio Lunati (Nomisma)
© All rights reserved