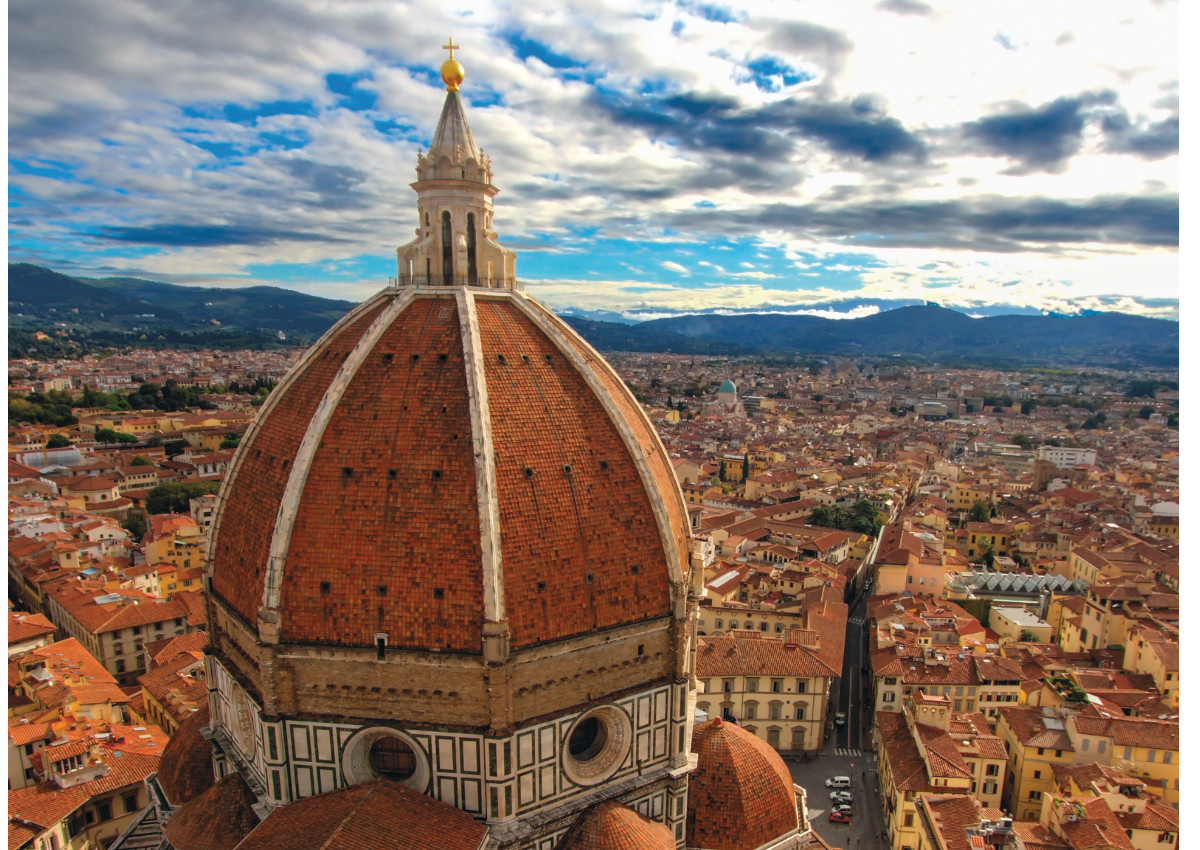 The region's king? Olive oil! More than 100 Italian cultivators are from Tuscany. Pretty much every single corner of the entire region produces extra virgin olive oil. So many producers but some – Chianti Classico, Lucca, Seggiano, Terre di Siena, Toscano – are also protected by a designation of origin and a geographical indication recognized by the EU. The Tuscan olive oil supply chain is complex and articulated: from the olive groves of the Florence, Siena and Arezzo areas – replanted after the harsh winter of 1985 – to the ones of Monti Pisani and Versilia and, last but not least, the large trees of Maremma. Olive trees have always been a defining feature of the Tuscan landscape.
Click here to discover the authentic Tuscan F&B companies and products on Italianfood.net platform
Olive oil is a symbol of this region, however, its rising production costs are beginning to hurt the profitability of the producers. The olive oil sector relies on approximately 92,000 hectares of land, 15 million trees, 50,000 farms, 400 mills, as well as numerous packaging plants. The result is an average annual production of 170-180 thousand tonnes of finished product, from olive groves mostly found on hilly terrain. There's plenty of wine too. Tuscany has always been famous for its wealth of varieties, above all, a few top-quality producers widely known in the wine industry as the "supertuscans".
CHIANTI: NOT ONLY A BYWORD FOR WINE BUT ALSO PDO OLIVE OIL
About 80% of PDO extra virgin Chianti olive oil is made from 4 cultivators: Frantoio, Leccino, Moraiolo and Correggiolo. Frantoio makes a fruity and slightly spicy olive oil while Leccino's is sweeter and more aromatic. Finally, the slightly bitter Moraiolo and Correggiolo, with its delicate and fruity hints.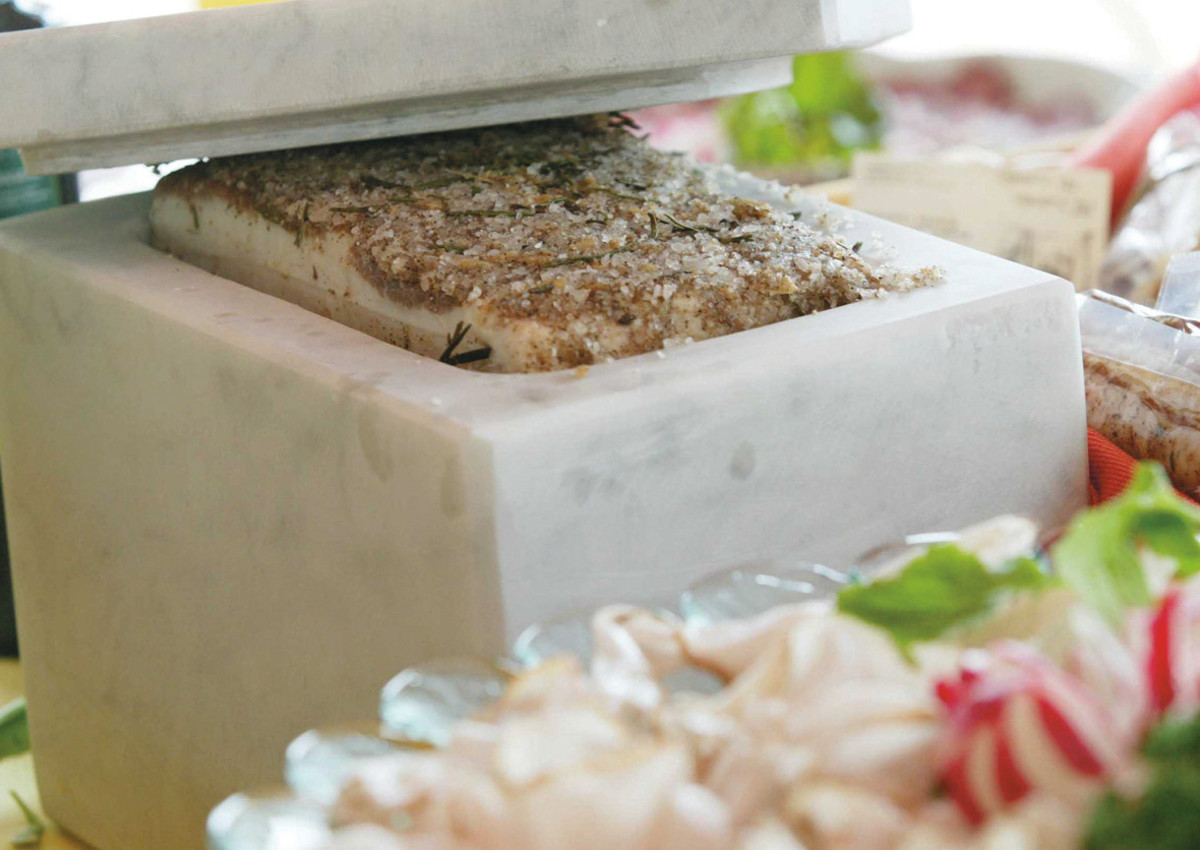 The olive harvest, which is done by hand before the fruit is fully ripen, takes place between October and December 31st. The olives, which are crushed in the local mills within 24 hours to avoid oxidation, produce a low acidity olive oil, rich in oleic acid and phenolic antioxidants (in excess of 150 ppm). The high concentration of oleic acid gives it excellent therapeutic properties, making it a powerful ally (especially if uncooked) against "bad" cholesterol: 100g of Chianti olive oil contain 900 kcal, 100g of fat, as well as plenty of vitamin E and polyphenols – a powerful antioxidant.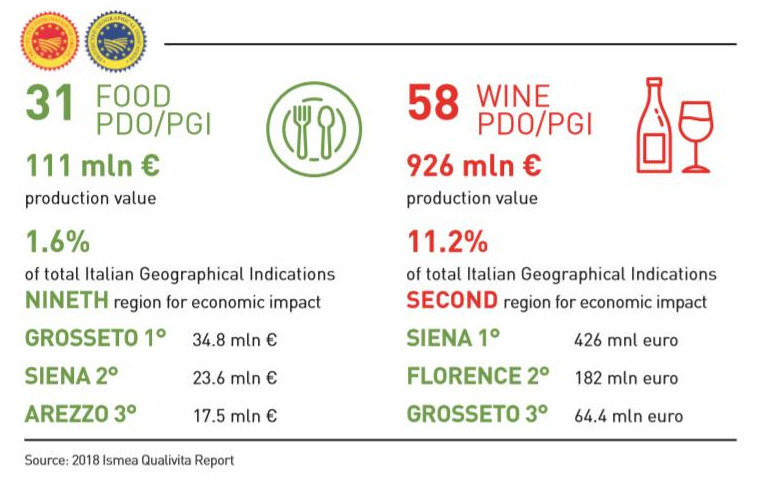 TUSCANY, A LAND OF COLD CUTS
Tuscany has always made some of the countries best cold cuts. Thanks to the century-old experience of the local producers in raising pigs, the utmost respect for ancient traditions and the unique characteristics of the area, Tuscany is able to produce top quality cold cuts, such as the famous PDO Prosciutto Toscano. The said well-rooted traditions and the unique geographical characteristics of the region earned this local delicacy the EU-recognized status of Protected Designation of Origin.
PDO Prosciutto Toscano has very interesting nutritional characteristics: plenty of proteins, vitamin B and important minerals. Most of the fat is in the outer layer, therefore, by simply removing it, one can enjoy a tasty, easy to digest and light product. As a matter of fact, despite the use of pork meat and fat, PDO Prosciutto Toscano is a fairly lean cold cut. About 90% of this product is consumed in Italy. The remaining 10% is exported to Germany, the UK, France, Belgium, Denmark, Luxembourg and Norway. Some of it though goes as far as the USA, Japan and Canada, where the Consorzio del Prosciutto Toscano has registered the trademark so that no one can misuse the name.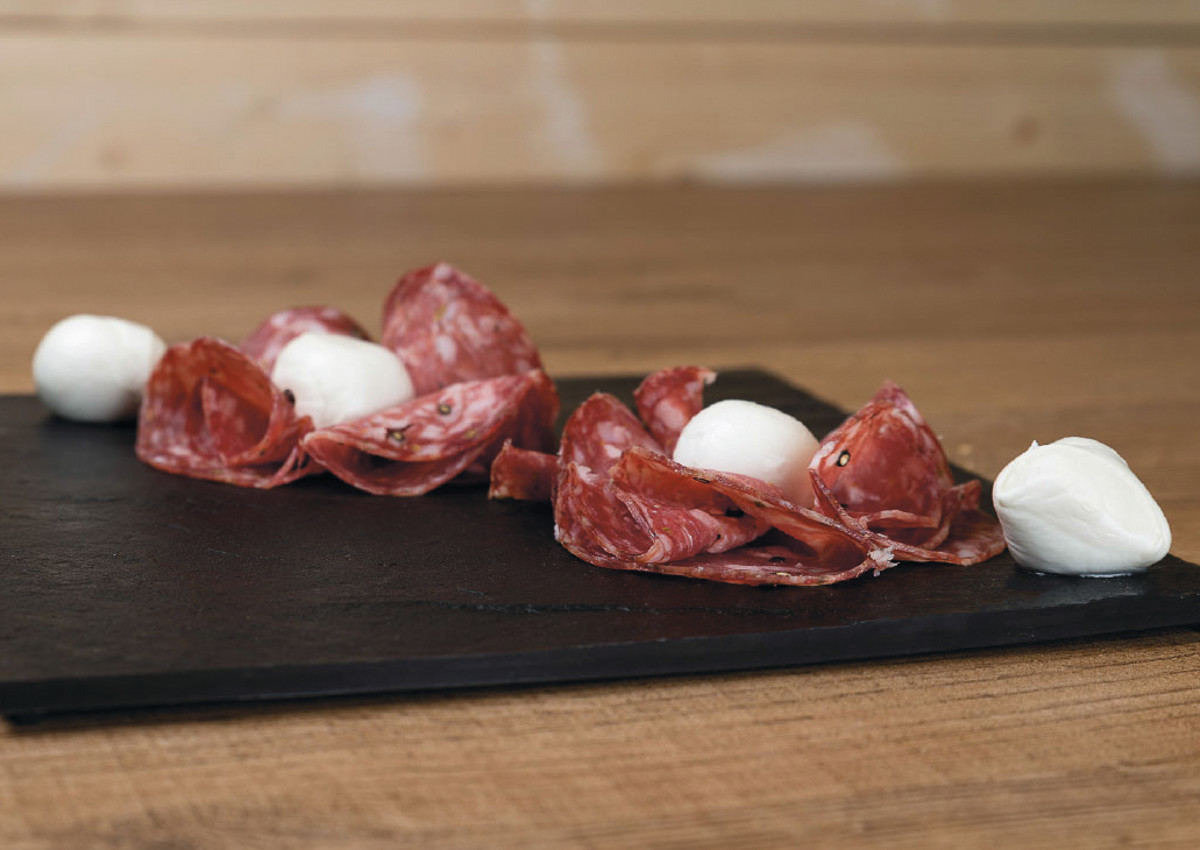 WHAT ABOUT TUSCANY'S PDO CHEESE VARIETIES?
PDO Pecorino Toscano is produced in two versions: a tender, fresh and delicate one and another that is semi-hard, with a stronger flavor and great nutritional values. Pecorino Toscano was awarded a Protected Designation of Origin certification (1996), therefore its production must comply with strict regulations. The production area of PDO Pecorino Toscano stretches from Tuscany to a few towns in the Lazio and Umbria regions. Both the milk used to make this delicacy and the fodder, hay and feed given to the sheep must come from this area. Also PDO Pecorino Toscano has some very interesting beneficial properties, which come from the sheep's milk used to make it.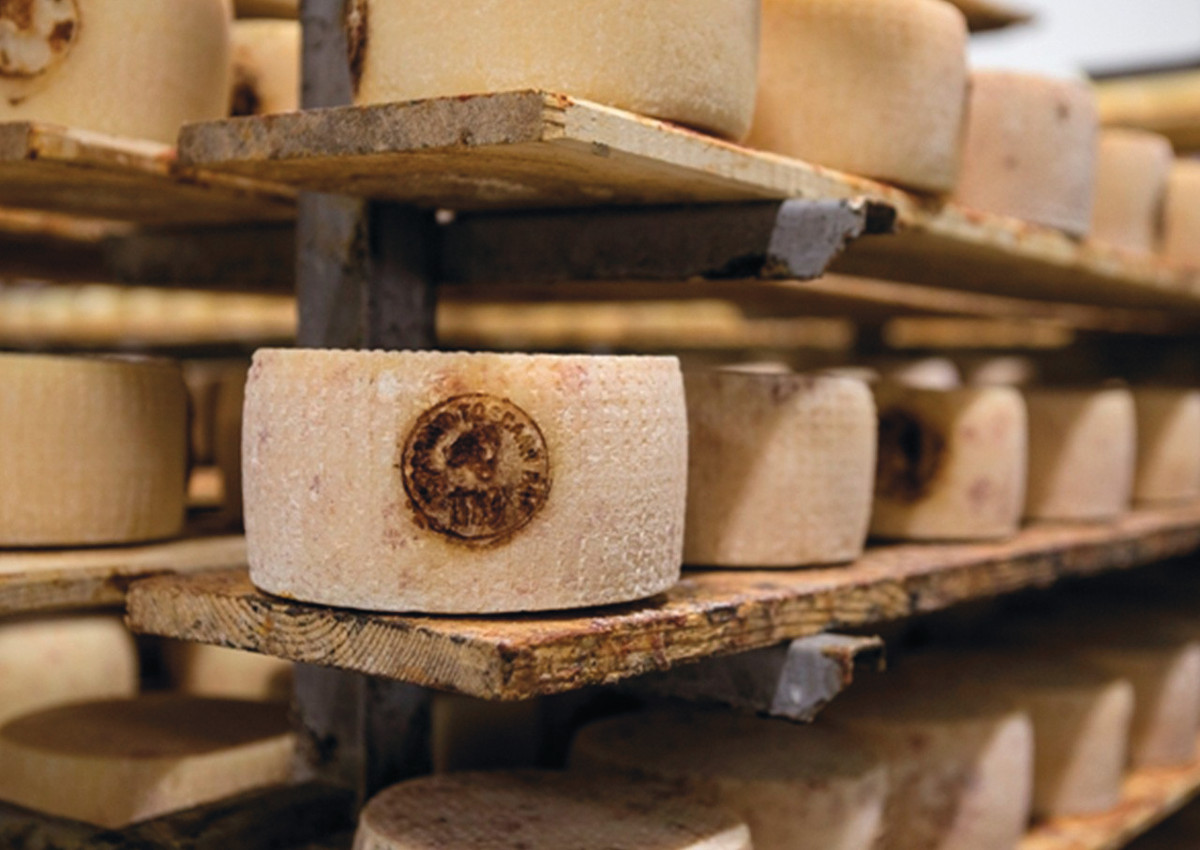 Soft cheese contains fewer calories thanks to shorter maturing periods, moreover, it also has a few additional properties. Mature Pecorino Toscano cheese is harder, therefore it can be easily grated and sprinkled on most pasta or gnocchi dishes and also Tuscany's very own "Pici" – a fresh pasta shape similar to spaghetti but a little thicker and much shorter. Pecorino Toscano, which also makes a great filling for stuffed pasta such as tortellini and ravioli, goes well with fig jam and especially nuts: slight bitterness with a touch of sweetness from the cheese. Another excellent combination is that with honey, especially the slightly sour and bitter Miele delle Dolomiti Bellunesi, a dandelion variant from the Dolomites near the Italian town of Belluno.
TRADITIONAL DESSERTS: CANTUCCI, RICCIARELLI AND PANFORTE
A proper Tuscan meal cannot do without the local ultimate dessert: cantucci, possibly the most famous Tuscan confectionery product. Cantucci, which is normally served with Vin Santo (a local dessert wine), are dry biscuits with almonds, made by slicing the dough while it is still warm. They are originally from the town of Prato, however, they are also very popular in Florence, Pistoia and Siena.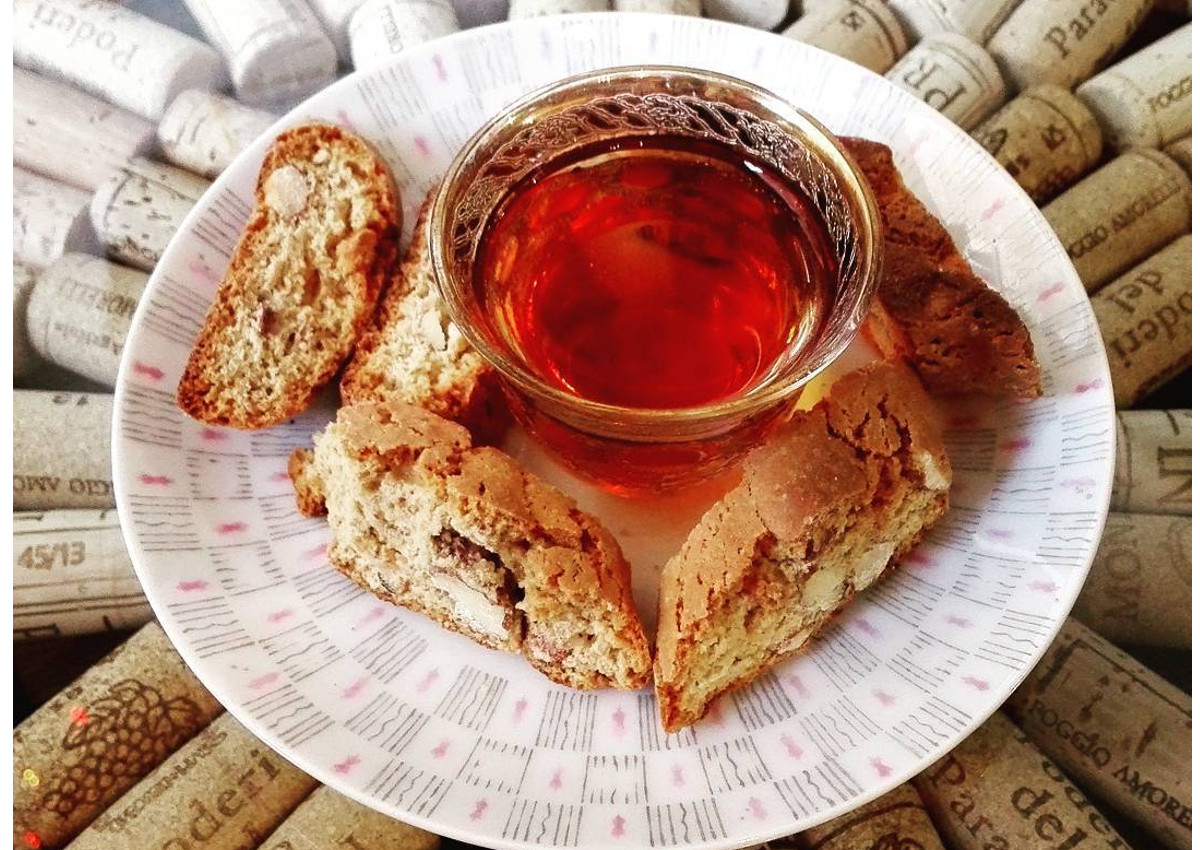 One of Siena's local dessert is Ricciarelli, which are biscuits made with almonds, sugar and egg whites. The town is also known for panforte, a local gingerbread (typical of the Christmas period) originally made with honey, candied fruits, almonds and pepper. Over the centuries though, the locals have created other versions by adding white sugar, flour, cinnamon and cloves.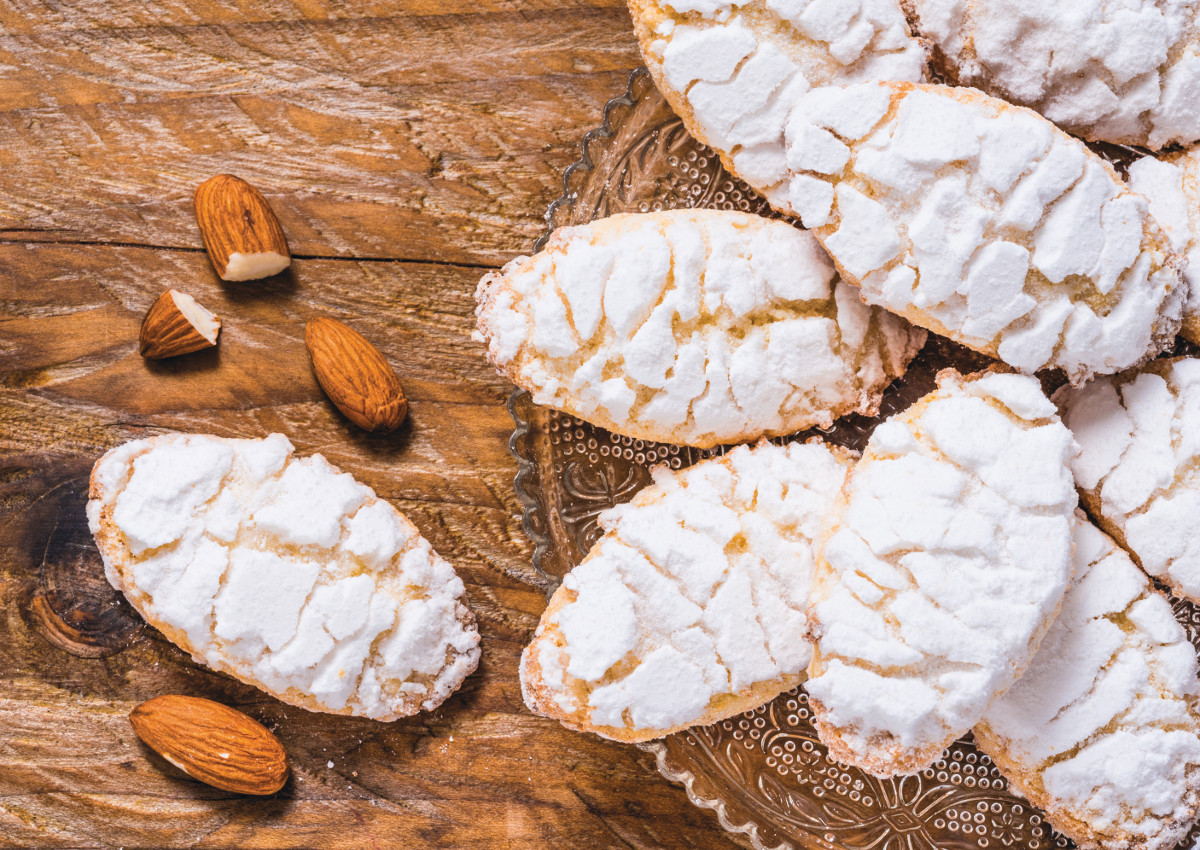 © All rights reserved