Some recipes can enthuse even outside the table. Carbonara is the most striking case, so much so that it deserves a dedicated day. It is easy to say Carbonara: while experts are divided on its origin (is it an Italian typical pasta dish or rather a recipe invented by Americans?) thousands of interpretations confirm it as the most loved pasta recipe by Millennials. Tomorrow, CarbonaraDay will be back. Last year the event – created by Italian pasta makers of Unione Italiana Food and IPO – International Pasta Organisation – mobilized 270 million pasta lovers on social networks. On Twitter, Facebook and Instagram, 24 hours will be dedicated to a #CarbonaraChallenge between chefs, bloggers, experts and enthusiasts.
MILLENNIALS' FAVOURITE DISH
Once a traditional dish, Carbonara has become trendy in the kitchen and on social media. This is also thanks to the passion that new generations show for this recipe. Research carried out by Doxa for Italian pasta makers reveals that Carbonara (along with baked pasta) is the recipe of the heart of Millennials (from 15-35 year old). And according to the 'Just Eat Observatory' – the leading app for ordering lunch and dinner at home online throughout Italy and worldwide – it is also the most popular kind of pasta of 2018 in food delivery, with almost 6,000 kg delivered at home. Millennials are confirmed as the age group most likely to order ready meals from home: the 2019 edition of CarbonaraDay is ideally addressed to them.
TALKING ABOUT CARBONARADAY
When Millennials talk about Carbonara (or share their results in the kitchen on social networks), the traditional recipe with only 5 ingredients to season pasta (pork cheek, Pecorino cheese, egg, salt and pepper) is just a starting point. Reinterpretations (bacon, garlic, egg yolk or whole egg, Parmigiano or Pecorino cheese, etc.), come from personal tastes and family habits. More and more often, inspiration comes online. To date, on Instagram there are over one million posts with the #Carbonara hashtag: and there will be much more after the next CarbonaraDay. An analysis carried out by Unione Italiana Food reveals that Carbonara is the 'laboratory' of pasta that intercepts new food lifestyles and consumption habits, between last minute reworkings, improvisations, and new or unconventional ingredients.
VEG, ANTI-WASTE, LIGHT OR REFRIGERATOR-EMPTYING
Speaking of alternative versions, vegetarian Carbonara is having great success on social networks. With courgettes, artichokes, pumpkin, and mushrooms instead of pork cheek, or made with fish, which is more delicate and fragrant. There is also the 'royal' one with truffle, and the anti-waste one where pasta is prepared with indirect cooking to save water and energy. On the web it is also possible to find tips for making a light Carbonara: only 1 egg yolk for 2 people, microwave low-fat pork cheek, turmeric and pepper. There are also those who take advantage of the opportunity to empty the refrigerator, cooking Carbonara pasta with alternative ingredients (bacon, bacon or 'nduja instead of pork cheek, Parmigiano instead of Pecorino) . And finally those who instead show their love for tradition by using only expensive 'niche' ingredients, directly purchased from the farmer.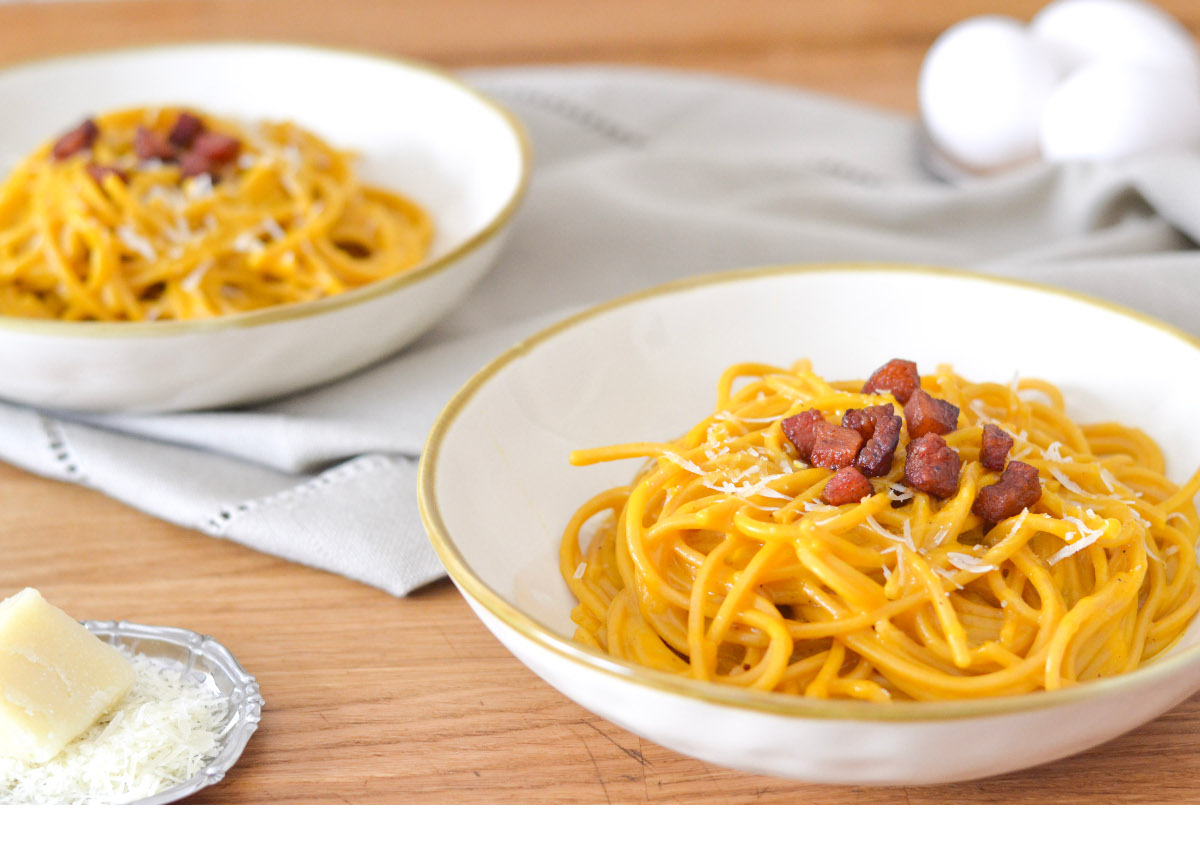 THE FUTURE: FROM STREET FOOD TO SPREADABLE
The last frontier is, perhaps, the 'Essenza di Carbonara' (Carbonara essence). That is to say, a dish-concept that keeps the visual and taste elements of the Carbonara – namely creaminess, flavor and crunchiness – but made with totally different ingredients: an example is the Carbonara with a recipe based on wholemeal pasta, yellow tomatoes cream and Tempeh. Or a deconstructed and recomposed pasta for different occasions of consumption. Like the Supplì di Spaghetti alla Carbonara designed by Gabriele Bonci, or the Carbonara Spalmabile (spreadable Carbonara) by Elio Sironi. Even when Carbonara is prepared according to tradition, there can be several variations. The result is similar even if it can be achieved in different ways, thanks to online tutorials or family tricks. Is it better to cook eggs with the same water used to cook the pasta, or mixing them cold in a boule far from the stove? What is the right size of pork cheek: square or striped? Should it be cooked slowly or quickly?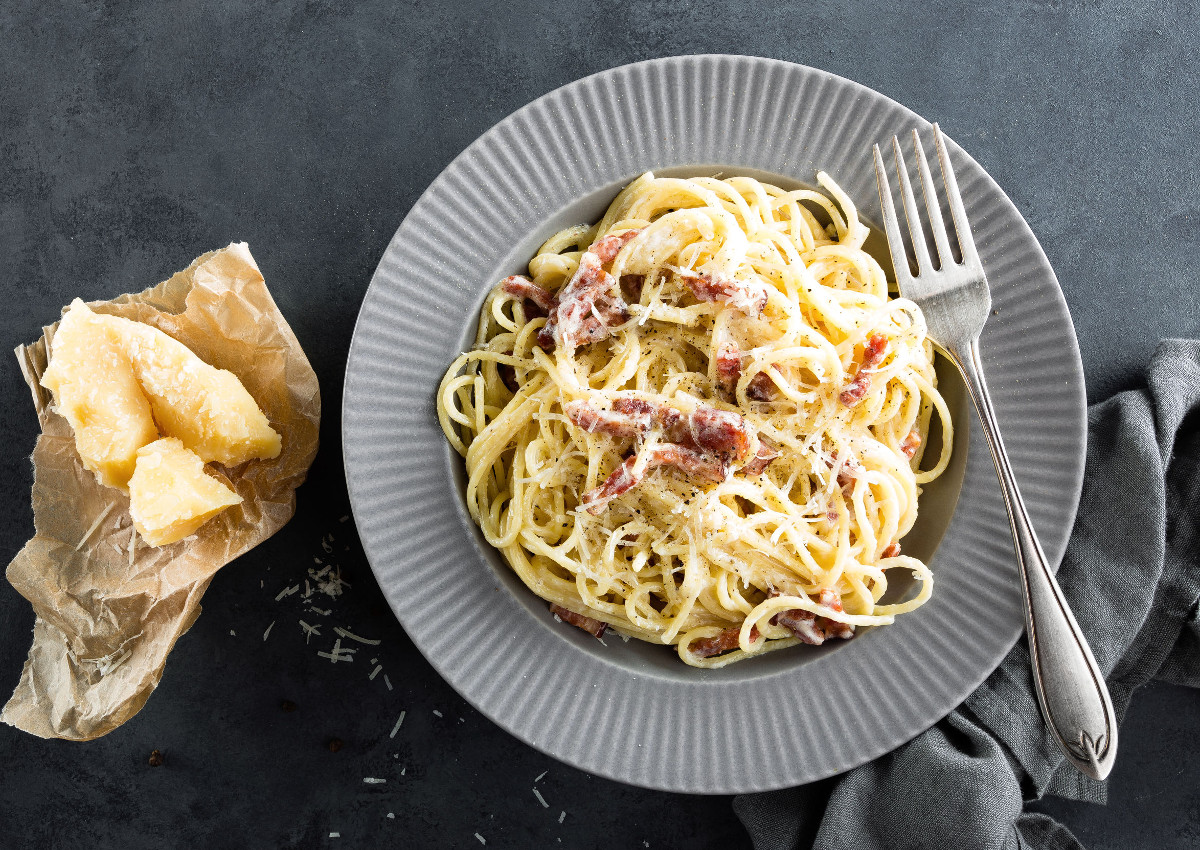 A DISH TO BE CELEBRATED
According to Riccardo Felicetti, President of the Unione Italiana Food's pasta makers, "Carbonara is the favourite dish of many… and mine as well. Each one has its own secrets and its version. The equation of a perfect Carbonara is a challenge that fascinates millions of foodies and chefs around the world. We wanted to celebrate this dish going beyond the 'ideal recipe'. Pasta is so successful in the world because it is good and versatile, and there are excellent Carbonara that also include 'wrong' ingredients. In fact, creativity and passion can make up for the lack of traditional ingredients".
© All rights reserved