For those who love to be fit, eating light and healthy, the secret of a good kitchen lies in the quality of basic ingredients such as oil. The oils of the Benvolio 1938 Organic line draw the best from nature, offering a natural product from certified and guaranteed organic farming. All our products are part of the great family of Wellness Oils – says Martina Manna, Sales Director of Benvolio 1938 – and in addition to possessing unique organoleptic characteristics they are born as functional foods at the service of healthy eating, and able to help people feel good starting from the table. Each one is the result of a 100% Italian organic production chain without GMOs.
The company
Benvolio 1938 is one of the most important Italian oil companies specialized in the production of organic and traditional seed oils and olive oils. The company's history has been passed down through the generations, with over 80 years of experience in the sector. This allowed it to specialise in production, developing an assortment in line with current trends and constantly improving the performance of its products in terms of quality. This is confirmed by figures: 165,000 square meters of farming land in Inveruno (Milan), 45,000 tons of organic seeds processed in 2017 and an increase in Italian large-scale distribution of +134% in volume and +174% in value (source: Nielsen, to February 2018). All this can be achieved using 100% Italian raw materials and a production chain controlled from farm to table, with about 150 controls on the production process in addition to those required by current regulations. Our quality is uncompromising, as is confirmed by the product and plant certifications that we have achieved over time – explains Manna. Such as those related to food management and safety (ISO 9001 and FSSC 22000) or those that show our ethical and environmental commitment: Bio, Vegan Ok and Friend of The Earth.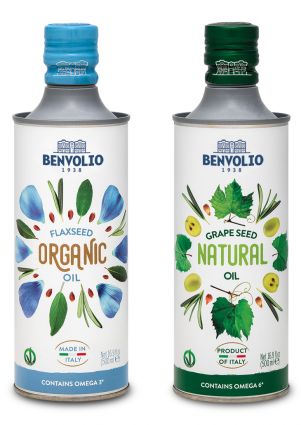 Organic oils for wellbeing
According to Nielsen data, organic oil sector is characterized by double-digit growth rates in Italy (February 2018): in particular, Olio di Oliva Bio (Organic Olive Oil) is growing by 52.28% in volume and by 40.56% in value, while Olio di Semi Bio (Organic Seed Oil) is growing by 14.95% in volume and by 32.66% in value. The rich proposal of products from Benvolio 1938 Organic line is composed of more than 10 references among the most traditional and innovative oils. Among the organic oils of the company we can find: Olio di Semi di Lino (Linseed Oil), with a high content of α linoleic acid, rich in essential fatty acids Omega 3 and Omega 6, which can be used on delicate dishes such as salads and white meats; Olio di Semi di Vinacciolo (Grape seed Oil), with cold-pressed grape seeds, source of unsaturated fatty acids useful for maintaining normal levels of cholesterol in the blood; Olio EVO (Extra Virgin Olive Oil), 100% Italian with an unmistakable fruity flavor, excellent as a condiment or for cooking. Moreover, there is an authentic innovation for the Italian organic market: Olio di Semi di Arachide (Peanut Seed Oil), with a high percentage of polyunsaturated fatty acids and mono-unsaturated fats. In addition to being important for regulating the level of cholesterol in the blood, they have a strong stability at high temperatures making it ideal for frying.
Growing abroad
The philosophy of Benvolio 1938 is increasingly recognized and appreciated abroad, where the company has also recently entered into a partnership with Eataly. We are expanding our presence, thanks to an agreement for the distribution of our oils in the international Eataly stores which are the ideal ambassadors of Italian taste and culture – concludes Martina Manna. In addition to this, we have already been present for about 50 years in the United States and in the most important European markets (France is growing rapidly) and we are expanding in Asian countries starting with South Korea and Japan.
© All rights reserved