David Tamburini arrives from Vinci, in the heart of Tuscany, and he's the chef of La Scala, the Italian restaurant of the Sukhothai Hotel in Bangkok. Prior to his landing in the Thai capital, Tamburini worked with important Italian chefs such as Pietro Leeman and Paolo Lopriore: I worked in different parts of Italy, from the north to the far south, he summarizes. In 2011, as chef of the restaurant 'Casa Grugno' in Taormina, on the Eastern coast of Sicily, he was awarded with a Michelin star. Later on, I moved to Modica, near Ragusa, working at 'La Gazza Ladra' the restaurant of the Palazzo Failla Hotel where, again, I was awarded for the second time with a Michelin star that was duly confirmed for the following two years. In 2015, Tamburini relocated to Hong Kong at 'Giando Italian Restaurant', before joining La Scala as chef de cuisine in 2016.
The restaurant
The Italian restaurant of the Sukhothai Hotel first opened doors in 2002 and, last year, it underwent a six-month renovation by Spinoff Co Ltd Tokyo, known for spaces that provide a calm and quiet atmosphere. The interior is designed to stage the culinary team's performance in a wide open theater-like kitchen, whereas a second focal point is represented by the grand wine cellar that covers an entire wall. To provide customers with a truly contemporary choice of Italian cuisine is not an easy task. Most of our products are imported from Europe, in particular from Italy and France. Considering where they come from, the biggest challenge is transportation. Finding a trustworthy supplier who can guarantee top quality is another challenge, as is getting special items from small producers, though with the help of our suppliers we can source almost anything, says the chef. The most difficult products to outsource are vegetables with a short season: Think about agretti, fresh chickpeas, sanapo, peperoni cruschi and the products of small producers, for example Agresto from San Miniato, Origano di Vendicari and tomato paste from Vittoria.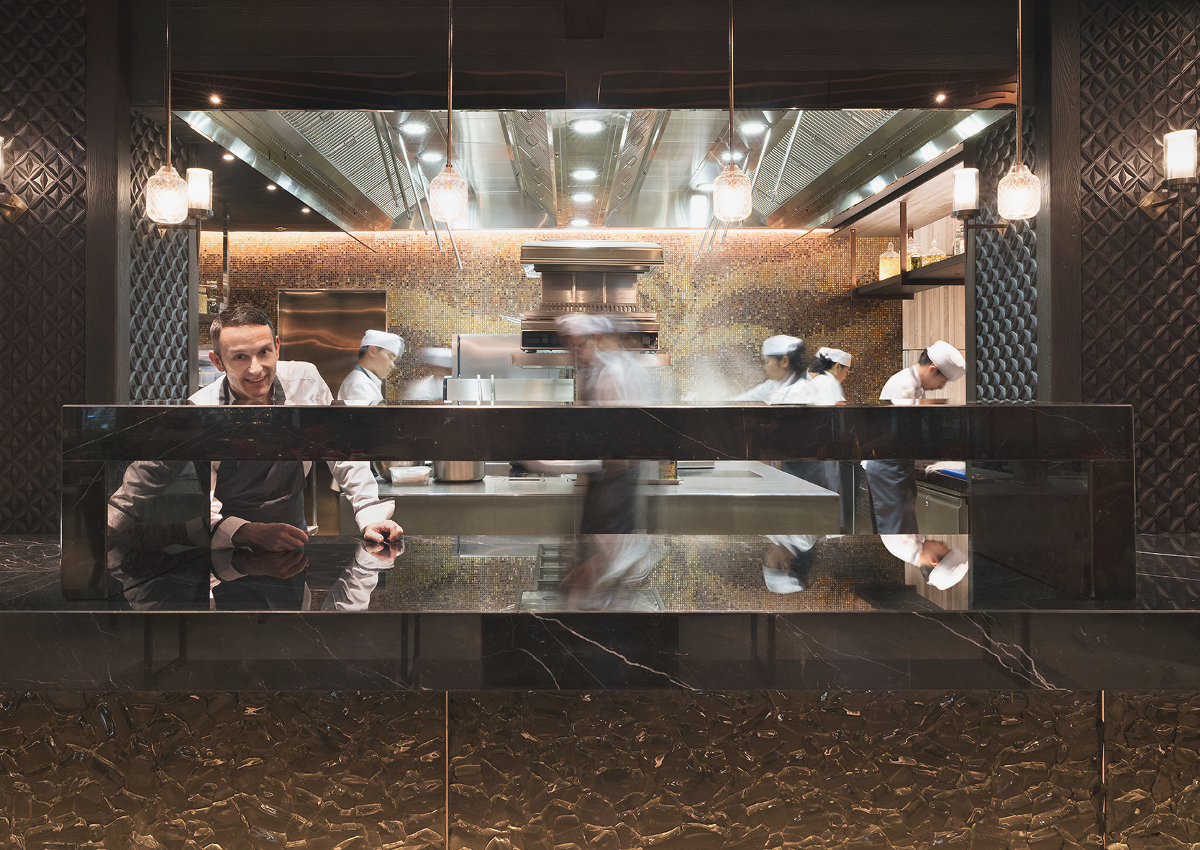 The wine assortment
Coming to the wine list, La Scala chooses an innovative approach: the labels, in fact, are introduced as different wine styles, grapes, and varieties. The list presents a short brief on each wine with details of its unique history, elegance and taste. To name a few, amongst the Italian wines there are Sangiovese Tenuta Mara Maramia IGT; Dolcetto d'Alba Superiore Viberti Giovanni; Trinoro Magnacosta Rosso Toscana IGT, Vernaccia Vigna del Sole San Gimignano DOCG, Est, Est, Est di Montefiascone DOC, and Brecceto Grechetto IGT. The selection, designed to complement the cuisine, includes also labels from France, Germany, Argentina, Chile, Australia, Spain, and Thailand. From time to time, La Scala hosts special events: In addition to our 'Art of Dining' occasions, to which we have been inviting Michelin guest chefs to demonstrate their skills since 2009, we have wine dinners. Looking ahead, to grow the knowledge of Italian food and wine – still moderate amongst the Thai clientele – Mr. Tamburini counts on his staple weapon: keep on capturing the essence of contemporary Italian dining.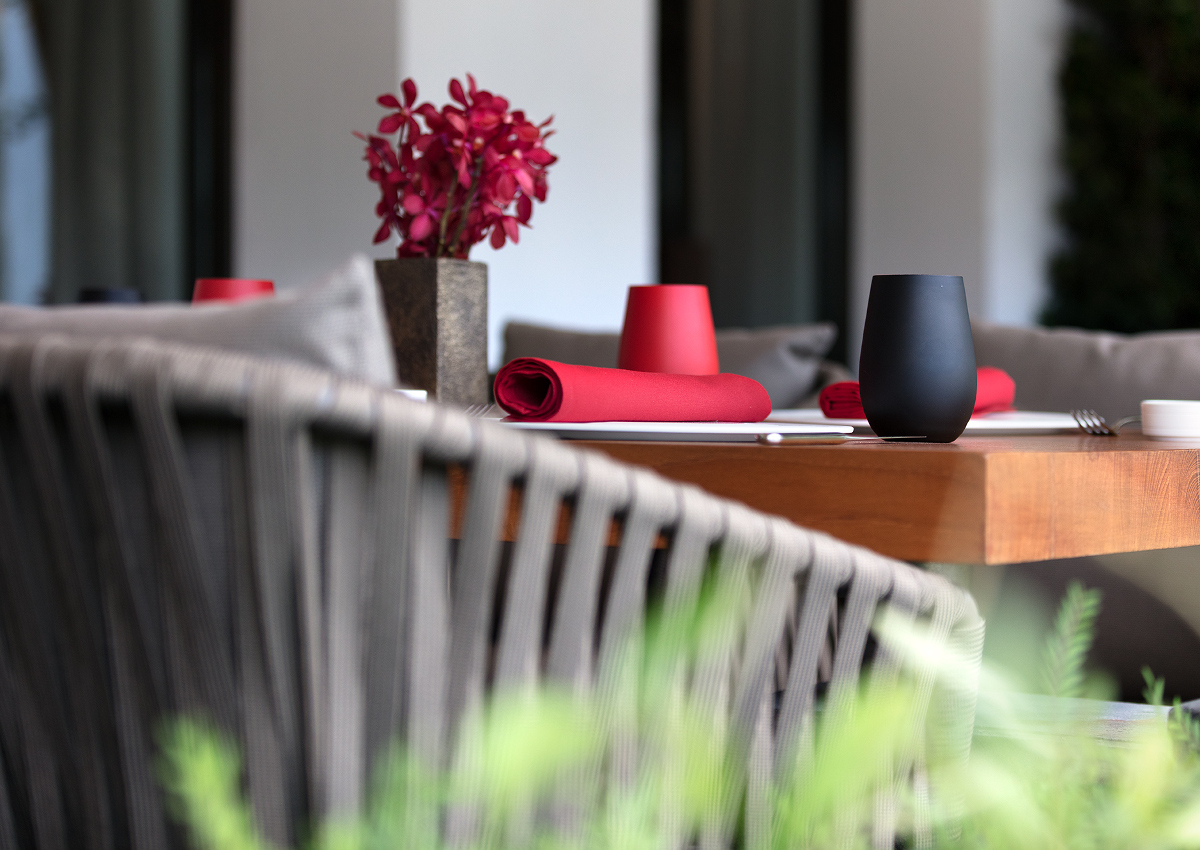 The Italian icons of the restaurant
Talking about Italian products that are considered a 'must' amongst the clientele of La Scala, where Thai customers make 70% of the total, there are the red prawns from Mazara del Vallo, in Sicily. Having worked in Sicily for five years, I know all too well the quality of this particular prawn and I am very happy to see the success it is having worldwide. Mr Tamburini, in fact, tries to present La Scala's guests to the lesser known variations of Italian flavor, whilst always trying to understand the requests and expectations of Asian customers without compromising the basic essential identity of Italian food – simplicity, taste and beautiful appearance. While it is difficult to pin point the most successful dishes, because there are so many, the ones that feature seafood are possibly the most popular. Though one dish that Mr Tamburini and his customers particularly favor is 'Spaghetti alle melanzane bruciate', a twist of a classic Sicilian 'Pasta alla norma' of which David says: We cook the eggplant on the grill and then squeeze out the juice, that's a little smoky and sweet and we use it to cook the pasta inside like as we would a risotto, then finish with confit datterino tomato, deep fried eggplant and salty ricotta.
© Riproduzione Riservata