A true symbol of Italian quality for more than 80 years, San Carlo is focusing on its timeless appeal and food passion to deliver its iconic potato chips to a new generation of foodies looking for a unique bite of style. The history of San Carlo, a great example of Italy's family-run food companies, began in 1936 when Francesco Vitaloni opened in Milan a 'rosticceria', a typical rotisserie and delicatessen shop, and named it after the nearby San Carlo church in the heart of the Italian fashion and design capital. The hand-sliced, perfectly fried and lightly salted "crispy potato chips" were initially delivered to bars and bakeries by bike and Fiat "Topolino" cars. After three generations of family business, San Carlo sells in more than 30 countries. In line with its pioneering spirit, the company is looking to increase its presence abroad helped by new flavors and a new distinctive look.
The claim "Milano, A Bite of Style" represents the identity of San Carlo, born in the italian capital of fashion and design
Cool packaging for fashion hunters
San Carlo is introducing in Autumn 2017 a new international packaging to speak with a unique voice to cosmopolitan young adults looking for distinctive and innovative brands. The claim "Milano, A Bite of Style" represents the identity of San Carlo, born in the Italian capital of fashion and design. In the new packaging, San Carlo's potato chip stands out as a sinuous, trendy model on a clean, white background. The iconic minimalist design combines the "Made in Italy" tradition with style. The family company is led by the founder's grand-daughter and Ceo Susanna Vitaloni with the same tenacity, passion, and creativity. Under her grandfather Francesco and father Alberto, San Carlo became the first potato chips maker in continental Europe, the first food company to include a gadget for kids in the package, and the first to introduce an all-white pack in a market where competitors used bright colors. The company is famous for its evergreen plain chips – the simply salted "Classica", the thick and crunchy "Croccante", and the potato sticks "Stiletto", but it is also focusing on the "Più Gusto" line, which offers innovative flavours such as ginger, lime and pink pepper, Italian cherry tomato, mint and chili pepper, and paprika. The new packs designed for international markets are available in different sizes – 50 gr, 150 gr and 180 gr – to better serve all distribution channels, from retail and ho.re.ca to delicatessen.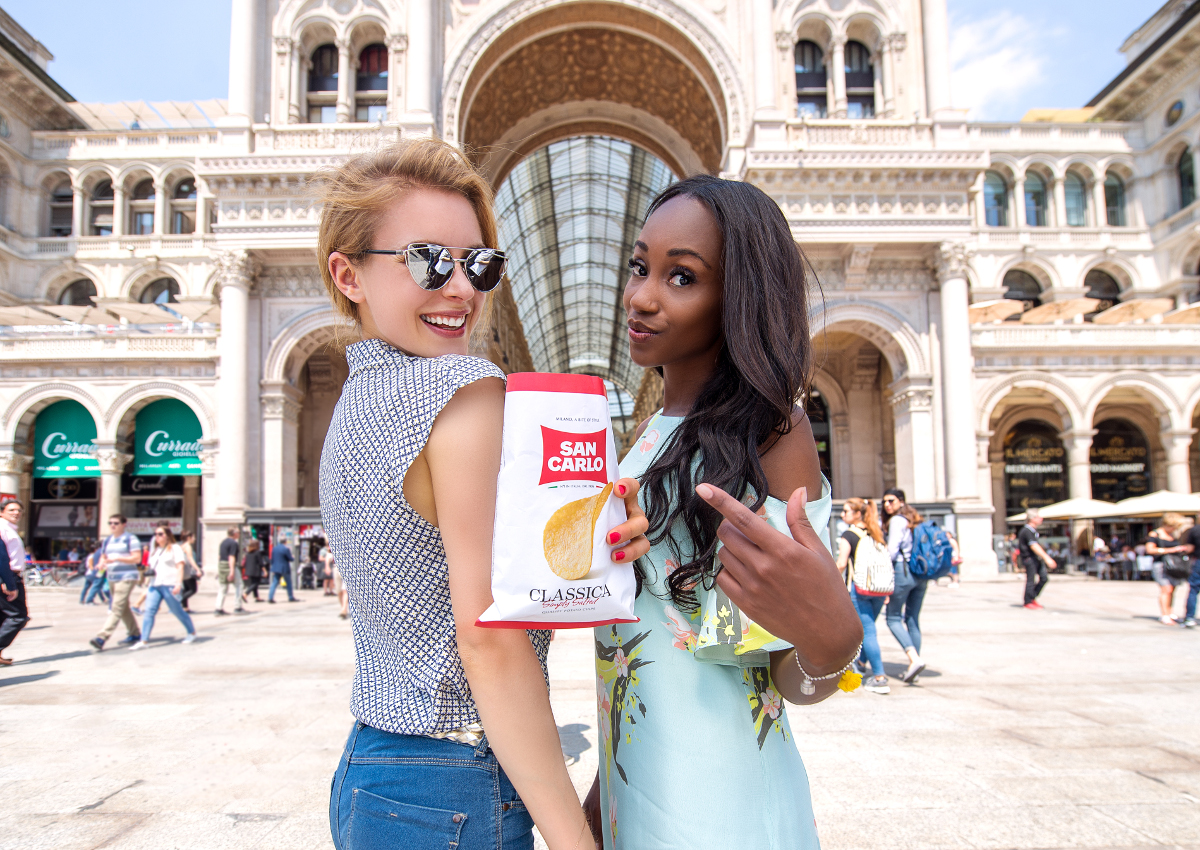 Premium ingredients for unique taste
San Carlo has made important investments to produce high-quality, crispy, gluten-free chips. The varieties of potatoes come from selected farms, are washed gently to keep all the nutrients, and sliced carefully to ensure regularity of cut. Since 2009, the company has introduced a new innovative cooking system that allows to cut the absorption of oil by up to 40%. The chips are packaged in protective atmosphere to ensure that the product is always fresh and crispy.
The key factors of success
Today, San Carlo is an undisputed leader in Italy in its category with a 60% of the Italian salty snack market share, and annual revenues of 320 million euros. The brand is distributed in more than 30 countries, mainly concerning Europe, Middle East and Far East. It sells over 1 million packs per day made in 4 production sites, reaching over 225,000 points of sales with more than 1.300 vans. The company aims at increasing its customer base from 22 million to 40 million through its owned local 2 central warehouses and 169 depots. The iconic Italian chips brand is well positioned to increase its international presence as it develops new products while ensuring a strict control of the entire production cycle.
© Riproduzione Riservata