Ferrarelle is an Italian company operating in the bottling and distribution of natural mineral water since 1893. Its naturally sparkling mineral water is bottled directly as it gushes from the source. Its delicate bubbles, fine and persistent like Champagne's perlage, slowly originate from the underground rock layers of Parco delle Sorgenti Ferrarelle, a more than 160 hectares' area boarded by the extinct volcano of Roccamonfina. Here, after a water journey of 30 years, the rain water is enriched with several mineral salts and mixes with carbon dioxide to give Ferrarelle water its unique, soft and sweet taste. In this territory, which is located in the highlands of Caserta on plains that are rich in mineral salts and within the framework of a careful plan aimed at preserving this historical park, Ferrarelle established the Masseria delle Sorgenti Ferrarelle, an old farmhouse within the park completely renovated to rediscover the company's agricultural vocation and great natural culinary heritage.
A healthy and certificated mineral water
A natural effervescence certification, bestowed by the independent inspection and verification company SGS, also assures that Ferrarelle bubbles are 100% naturally originating and that the amount of CO2 contained in each bottle and in the water flowing from the spring are exactly the same. Ferrarelle is therefore the Italian naturally sparkling mineral water par excellence, that also can boast a unique combination of healthy mineral salts. In fact, one litre of Ferrarelle contributes to satisfy 40% of the RDA of Calcium, essential for our bone structure, while thanks to bicarbonate (1403 mg/L) it helps the digestive process and attenuates the effects of gastric hyperacidity. That's why Ferrarelle is ideal for the entire meal and even after it. The delicate effervescence and the velvety sensation of its bubbles, perfectly balanced with the amount of dissolved salts, makes Ferrarelle the perfect complement to fine flavours of outstanding cuisine. Moreover, thanks to more than 615 quality tests made on a daily basis and thank to the countless certifications of quality and food safety that are updated and renewed every year, Ferrarelle mineral water is controlled and guaranteed to be unique and special. Coming exactly from the same source, Natìa is a low mineral content water with a predominance of calcium, bicarbonate and a lightly saline aftertaste which makes it delicately savoury. Together with Ferrarelle, Natìa brings Italian style enhancement to the best international tables. For its low mineral content, it has great diuretic properties which help us to eliminate our body's waste and excess fluids.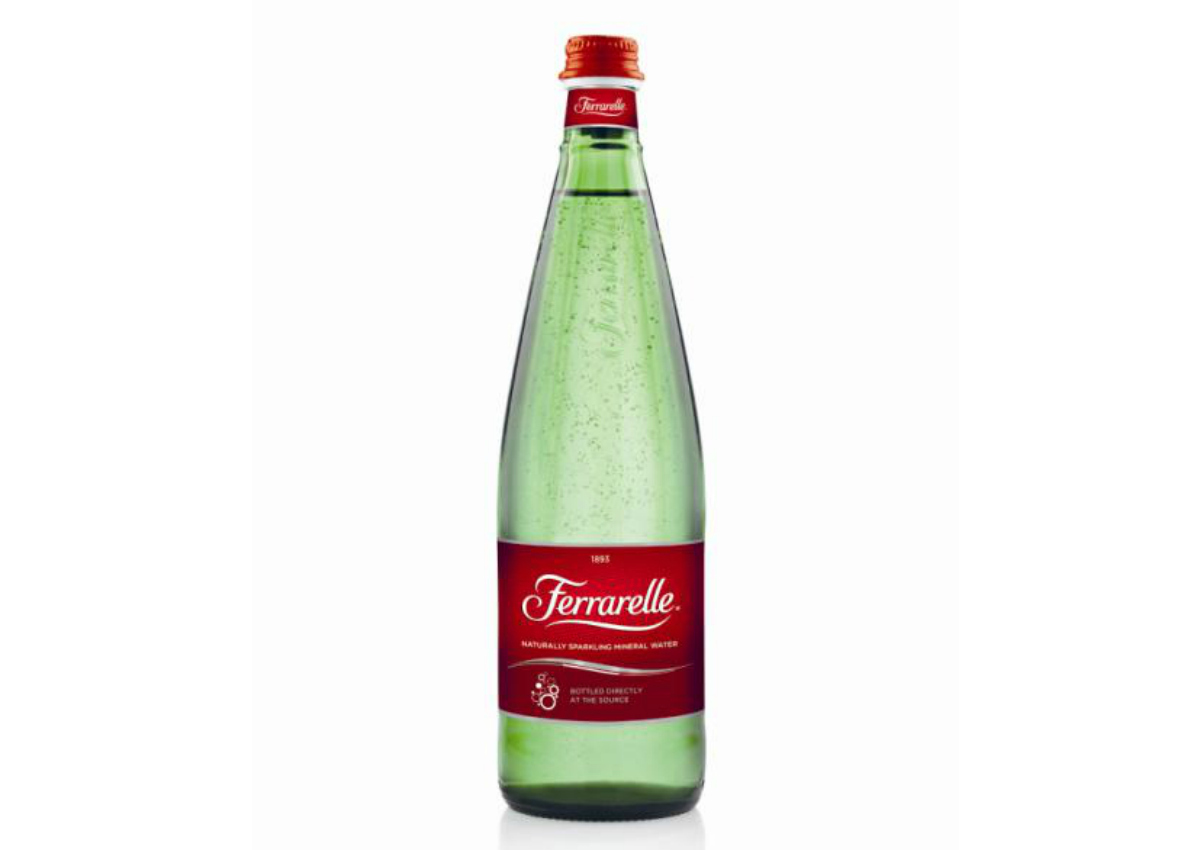 Recycling
Before being given back into the environment, the operational waters coming from the washing of returnable glass bottles are treated by law with a technological process which neutralizes and separates the sediments from the water, mainly residues of glue and paper labels. The plant is fitted with modern equipments able to recycle most part of water in order to reuse it again for washing glass bottles. All solid waste coming from packaging material refuses produced in bottling line operations is sorted out, compacted and shipped to Companies which reuse these materials. Ferrarelle has recycled more than 90% of the materials discarded from the manufacturing process in its two plants. Thanks to new bottling lines, the company has raised the level of food safety and quality, reducing at the same time the weight of packaging. Thanks to the lightening of the PET bottles' weight while maintaining or improving the quality of the finished product, it has been possible to save about 1,000 tons of PET per year and 365 tons of HDPE (plastic caps) per year.
Photovoltaic system
In 2008, in Riardo, a photovoltaic plant was installed, thanks to which Ferrarelle became the first company in the mineral water field to have installed such a powerful solar equipment. Energy is converted into alternating current to be used directly in the factory or to be fed into the national electricity grid. The plant, made up of about 5,000 panels from Sharp and built with technical support from Siemens, covers a surface of about 16,000 m2. The system has a capacity of 1 MW, allowing the production of 1,400,000 kWh per year, which is equivalent to the amount of electric energy needed to cover the annual requirements of about 500 households. Further improvements in environmental performance have been achieved by modernizing the thermal power plant used to produce steam, insofar as the old plant fired by oil has been replaced by a new one powered by methane with less impact on the environment.
© All rights reserved