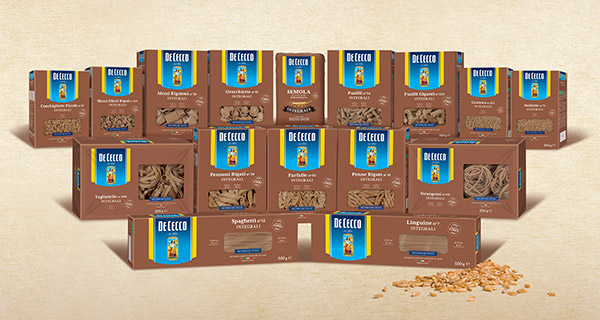 Italian leading pasta maker De Cecco has enriched its offer of whole wheat pasta to bring all the benefits of a high-fiber diet to the dining table. De Cecco produces wholemeal semolina directly from its own mill, mixes it with cold water from its source and, after bronze plate drawing, the pasta is slowly dried at low temperature to preserve its nutritional quality.
A positive trend – The number of households buying De Cecco's pasta is growing strongly (up 20% year-on-year) and on average purchase 3.4 kg of pasta (up 6% from the previous year). De Cecco was the fastest-growing brandin both volume and value terms in the Italian modern distribution channel in 2016.
The De Cecco way –  The group has followed the same traditional recipe for over 130 years. Since 1886, De Cecco has been choosing the best durum wheat, that before being milled must pass strict quality controls to make sure it is healthy. During the milling process, the fibers contained in the grains and the precious "wheat germ" are not heat-treated, thus conserving their nutritional characteristics and the true flavor of fresh ingredients. The high-quality wholemeal semolina used to make the pasta is "coarse" to preserve the gluten integrity and achieve a "sweeter" taste.
A complete range – De Cecco has a large assortment of 15 formats of wholemeal wheatpasta and launched the Wholemeal double-milled durum wheat semolina with a six-month shelf life.
© All rights reserved