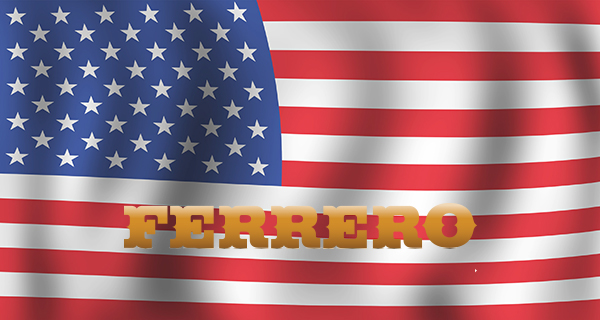 The merge failure between Mondelez International and its competitor Hershey ($23 billion) it's good news for Ferrero. Italian confectionery biggest group can now grow in the USA marketplace. A chance that would be unreal had the two American confectionery giants succeeded in creating a single group. Giovanni Ferrero, the Italian company AD and owner, stated it clearly last August in an interview with WSJ: USA is the most important marketplace for Ferrero group. Particularly for future development strategies.
USA MARKET DREAMING – Growing in the USA market is a priority for Giovanni Ferrero. Although it looks like a much more difficult challenge compared to any other marketplace, where it will take at least ten years to achieve critical mass. Ferrero American confectionery market share is currently 2,3%, according to Euromonitor International data. Not much, compared to Hershey and Mars (60% altogether), but just the same market share as Mondelez, who could have been in the top position had it succeeded in acquiring Hershey. In the past, Ferrero family as well returned some important acquisition proposals (like Nestlè) for the Italian snack multinational corporation – international blockbuster brands like Nutella and Kinder manufacturer.
FERRERO IS BUYING TOO – On the contrary, breaking with its tradition Ferrero has started acquiring other companies. The first purchase concerned Turkish company Oltan, hazelnuts production international leading group. Hazelnuts are the most important raw material for Ferrero. The Italian confectionery group bought also UK company Thorntons, owner of an ancient chain of coffee shops in England and Ireland. This purchase made Ferrero a supplier of its own products. Moreover, thanks to Thorntons' acquisition Ferrero's consolidated turnover will pass €10 billion this year, with growth of 13% on 2015.
DELACRE COULD BECOME PART OF FERRERO – In 2015, Ferrero bought small Eurobase international in Belgium, where the Italian group is now trying to acquire Delacre as well. It's a cookie company put up for sale by Pladis holding (McVities, Godiva), in its turn part of Turkish group Yildiz Holding. Delacre's turnover is about €130 million, with two factories (in Belgium and in France) and more than 600 employees. Moreover, it 's already operating in the USA market.
LINDT, THE PERFECT BRIDE – If Ferrero's main goal is to redouble its turnover in the next ten years, an extraordinary operation will be needed. In 2015, an Euromonitor simulation showed what will happen should Ferrero acquire Swiss confectionery group Lindt – whose revenue amount to around €3,7 billion. This hypothetical union could achieve raw material cost savings (chocolate and hazelnuts, at all-time high these days). Moreover, Ferrero would become the third position player in the USA confectionery market. In Western Europe, Ferrero and Lindt could also overtake leader group Mondelez.
© All rights reserved