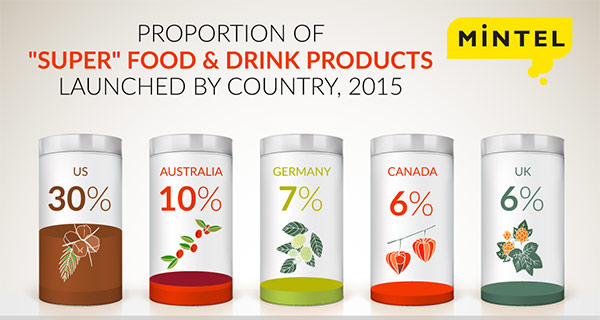 Super foods on the rise between 2011 and 2015. Mintel GNPD (Global New Products Database) reveals that there was a phenomenal 202% increase globally in the number of new food and drink products launched containing the terms "superfood", "superfruit" or "supergrain".
SUPER-FOODS ON THE RISE – In 2015, the US played host to the most "super" food and drink launches (30%), followed by Australia (10%), Germany (7%), the UK (6%) and Canada (6%). The surge in launches comes as a result of strong consumer demand for highly nutritious products. Today, over seven in 10 consumers in France (72%), Germany (71%), Italy (73%) and Spain (72%) agree that health-promoting benefits of natural foods, for instance fruit and vegetables, are preferable to the added benefits of functional foods. "The popularity of 'super' products is clear as food and drink manufacturers globally are tapping into a demand for these nutritionally dense ingredients – Stephanie Mattucci, Global Food Science Analyst at Mintel, said – . But superfoods are not only limited to food and drink, they are regularly springing up in the beauty, health and hygiene and pet food aisles as a result of today's consumers becoming much more aware of what they are putting into and onto their bodies."
Superfoods: the ones to watch – by Mintel
ANCIENT GRAINS: FLAVORFUL AND NOURISHING – In particular, the trend towards a wheat-free diet has resulted in a growing number of products containing the "supergrains" ancient grains. And whilst quinoa and buckwheat have all become household names in recent years, it's chia which has seen the biggest rise in usage. Between 2014 and 2015, there was a 70% increase in the percentage of food and drink products launched containing chia, whilst the percentage of food and drink products containing teff rose by 31%. Meanwhile, the percentage of food and drink products containing quinoa rose by 27%. "Desire for healthier, less refined alternatives to wheat has fueled the rediscovery of ancient grains. Flavorful and nutrient-dense, ancient grains offer an alternative to wheat but also come bundled with functional and nutritional components, and provide new textures. They are a great way for free-from products to talk about health." Stephanie continues. Alongside the hype in launch activity, there is also strong consumer interest in ancient grains as 30% of UK pasta consumers say that pasta made with ancient grains, for instance quinoa, is healthier than regular pasta. What's more, usage of these heritage grains is high, as two in five (41%) US consumers have eaten ancient grain-based cereals.

ADDED ATTENTION TO SEEDS AND PULSES – Whilst ancient grains have been in the spotlight over the past year, with the UN announcing 2016 the year of the pulse, pulses too have been receiving added attention. Over the past two years, the percentage of food and drink products launched with green split pea has grown by 126%, whilst the percentage of food and drink products containing coral lentils has grown by 62% and the percentage of food and drink products containing yellow split peas has increased by 21%. Mintel research reveals that super seeds have also seen an uptick in usage. Over the past two years, the percentage of food and drink products containing chia seeds has risen by 70%, whilst the percentage containing pumpkin seeds has grown by 27% and the percentage of food and drink products containing sunflower seeds has grown by 22%. "Some seeds, including chia and pumpkin seeds, offer complete protein, with all nine essential amino acids in the correct ratios. However, a lot of protein from seeds is incomplete. Blending seeds can help improve the quality of protein." Stephanie adds.
BEAUTY PROPERTIES OF TURMERIC AND MORINGA – Going forward, it seems that turmeric known for its anti-inflammatory benefits and moringa, said to have beauty and anti-aging properties, could be the superfoods to watch. "Turmeric has potential as an ingredient in supplements and functional food and drink products, particularly within products aimed at the growing senior population. Additionally, moringa could be used in anti-ageing beauty food products. Whilst currently the ingredient is used in many beauty launches, the leaves are nutritional powerhouses." Stephanie concludes.
© All rights reserved