After the postponement of the 2020 edition due to the Covid-19 pandemic, the SIAL Paris organization is back and ready for the upcoming 2022 edition (October 15 to 19, Paris Nord – Villepinte). The trade show is the equivalent of 100 supermarkets, with more than 7,000 exhibitors from 130 countries that will present more than 450,000 products. Italianfood.net interviewed Nicolas Trentesaux (pictured), Managing Director, SIAL Global Network, to know more about the show.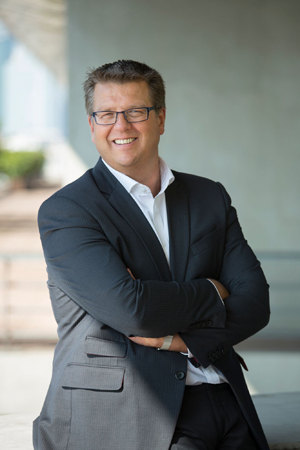 What do you expect from this special edition after a 2-year stop?
"As the 2020 edition had to be postponed due to the Covid crisis, we seized this forced pause as an opportunity to innovate and get the show further. We are convinced that a period of crisis is a very good time to accelerate changes and reinvent business models. We are thrilled to present many new features for this upcoming edition. SIAL Paris is back at full speed. The organization of the show is going really well and we look forward to running a SIAL Paris of the same size as in 2018. We are expecting a SIAL Paris as we are used to, with about 300,000 participants from all over the world."
What does the #ownthechange concept represent for SIAL Paris?
"The central theme of this year's edition is indeed 'Own the change'. SIAL PARIS is both a reflection of the market and the observatory of its transformation, which has further accelerated during this pandemic period. By carrying forward the 'Own the change', theme which began in 2020, the show continues to highlight these developments, transformations, and metamorphoses. We are all active participants in the change that is underway, and we must grasp the environmental, ethical, digital, and demographic challenges facing the planet. It is up to us to rise to the challenges of food security and changes in consumption habits. We must keep in mind our social responsibility overall, and we must collectively solve complex problems. For example, how to produce more while polluting less, or reducing the carbon footprint of our consumption. Our ambition is clear: to federate the food ecosystem around the principal transformations underway in the food industry."
What are the major new features of this edition?
"Our first highlight will be SIAL Innovation, which will feature the best in global food innovation. A jury of experts will reward the companies with the most innovative products in 15 categories. It is also important to mention SIAL Insights, which brings together exclusive studies on consumer expectations, product innovations, and restaurant trends. A new partner, NDP Group, has joined the team of Kantar and Protéines XTC experts in charge of the trend book. With FutureLab, we will invite visitors to take a journey into the future of the food industry by 2030. This immersive and forward-looking experience will deal with the major trends, from agriculture to retail and the plate. We have also launched several new spaces: Startup Village, which will present a fine selection of startups in partnership with Startup Sesame and FoodTech, and Business Lounge which will allow our stakeholders to conduct business meetings in a more relaxed environment. Also, SIAL Talks will offer a rich program of conferences. More than 100 international speakers and 60 conferences will offer expert analysis of the latest news and major trends in the food industry. Finally, we are excited to introduce a new great feature: CXMP marketplace, a platform to connect our buyers with the exhibitors and help them make business together. CXMP will not only help our visitors to find the exhibitors and products of their choice and organize their visit. Accessible all year round, CXMP will allow the buyers to stay connected to the international food community and order the products they need all year long."
What kind of professionals, chefs, and buyers will attend?
"To date, visitors from 150 countries have registered for the show. We are expecting good numbers in terms of quantity, but we have also put a lot of care into qualifying our visitors. We have worked and created a new category of visitors, the Top Buyers, by carrying out a work of qualification in order to know them better, understand their needs, accompany them in the search for new suppliers, and put them in touch with our exhibitors. In terms of buyer profile, you will meet distributors, importers, wholesalers, and buyers from the restaurant and catering industry."
Innovation is usually the key at these exhibitions. Can you mention some new big trends that emerged from SIAL Insights?
"There are several trends emerging this year. We can see a lot of innovation in the field of sustainability, alternative food products (meat, fish, dairy products), as well processes or services using blockchain technology for instance. The challenges facing the food industry are indeed directly addressed in the SIAL Insights publication. The 2022 study encompasses consumer expectations, the global innovation panorama, and the latest trends in out-of-home cooking. Studies show how eating had become a statement and 73% of consumers have changed their eating habits over the last two years. The publication has identified four key trends: health, enjoyment, environment and ethics, and price. According to the findings, eating is something people enjoy, and they want their experience to be both healthy and ethical, now and in the future. Sacrificing one of these factors in exchange for more purchasing power is set to be less and less acceptable given the ongoing crises. Economic pressure is evolving from the need to balance quality and price, towards a more complex equation: value for money. The plateau reached by the organic market over the period is a great example of that. But consumers do acknowledge that players are making changes. The challenge now is to be able to meet all their expectations with a clear offer that is affordable for as many people as possible. Attendees at SIAL Paris can also attend the program SIAL Talks for additional discussion about the state of the food industry. The 2022 program is designed to help attendees understand, analyze and debate the food scene of tomorrow and reflect on the trends happening in the food industry ecosystem. SIAL Talks will offer a rich program of conferences with more than 100 international speakers and 60 conferences."
What do you think about the role and presence of Italian manufacturers at the trade shows?
"Italians are greatly successful in establishing Italian cuisine in the four corners of the world. They have a strong appetite for exports and offer a simple and tasty cuisine that fits well into the consumers' daily life. The presence of Italian manufacturers is crucial for our show. With more than 730 exhibitors, Italy is the second exhibiting country right after France."
How can Italian food products meet the needs of consumers globally and in the new upcoming scenario?
"For Italian companies that are very strong in mature markets such as Europe or the Americas, we strongly recommend that they continue their efforts to raise awareness, educate, and penetrate the market. Especially in China, as soon as they reopen in Southeast Asia (Jakarta), and India (New Delhi and Mumbai), it is important to prepare for tomorrow's growth and ensure Italian meals become part of the daily lives of consumers around the world."
What about SIAL around the world? Can you anticipate any dates in 2023?
"2022 will remain a year of transition. The need to relaunch trade shows is strongly pushed by exhibitors and visitors around the world. Only sanitary or political obstacles can keep trade shows at a standstill. All the SIAL international network is starting up again with a very dynamic local demand and an international demand that is getting back on track. 2023 will be a busy year as we are planning to run nine shows on the SIAL Network, starting with SIAL America in March, SIAL India (Mumbai), SIAL Canada (Toronto), and SIAL China (Shanghai) in May, Djazagro (Algeria) in June, Gourmet Selection (Paris) in September, and finally SIAL China (Shenzhen), SIAL Indonesia (Jakarta), and SIAL India (New Delhi) in November."
© All rights reserved